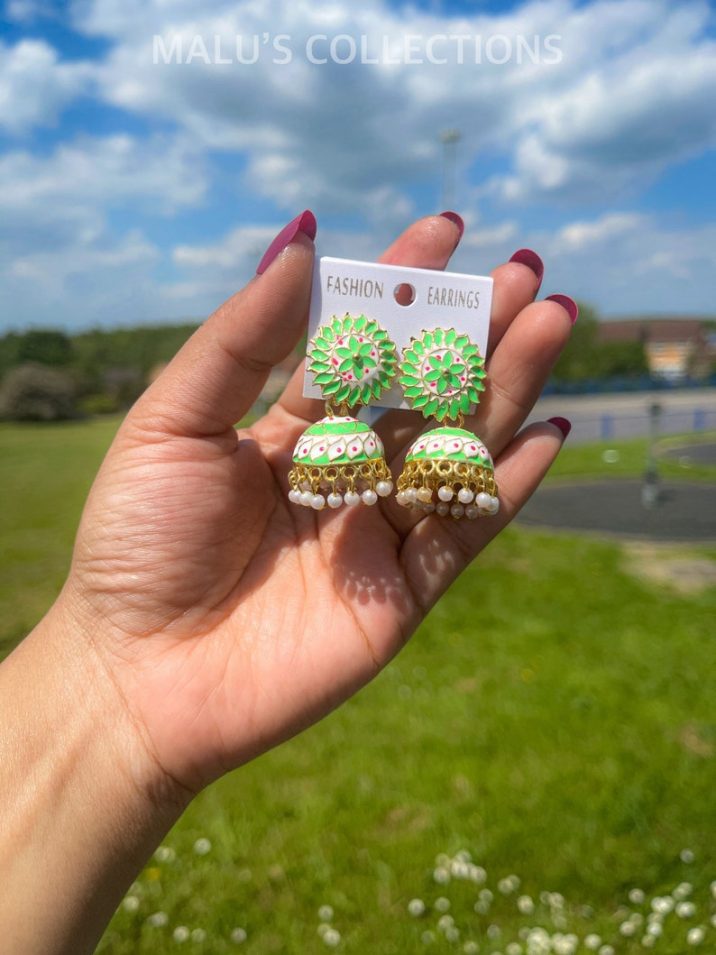 Disclosure: This post contains affiliate links, which means that if you click on one of the product links, a small commission may be credited to this site.
© All images are copyrighted by their respective authors.
Spice up your Diwali earlobes with our curated Indian earring style ideas.
Here's to assist you in brightening the earlobes of yourself (and/or your loved ones) for a low-key yet thoughtful celebration of the festival of lights.
From the classic gold jhumka earrings with intricate design to beaded and handpainted Diwali-worthy ear embellishments, you will definitely find something that will tickle your fancy, we promise!
For a muted yet festive ear game, opt for neutral combo of metals you love that come with neutral colored beads/pearls/crystals/threads. If you're aiming to go loud and proud, get the earrings extra large, dangly with a lot of bright and happy colors. These loud earrings pair well with festive Diwali clothing that is muted yet elegant. 
Kindly enjoy our selection of festive Indian earrings to welcome Diwali 2021:
10 Diwali-worthy earrings to hang up your earlobes...
Which earrings would you love to wear for Diwali? Share below. I love hearing from you!
Take care, keep your wits about you and take a break when you need to.
Cheers!
Are you an independent jewelry artist with a collection of unique earrings you're excited to show to the whole wide world? Drop us a message so we can have your designs featured here!
Stay inspired, eat healthy and be emphatic to others you meet in your path! We may be outwardly different but we're all the same life stuff on a journey. Take care!
Indian jewelry fashion inspo:
Home décor inspo for Diwali: