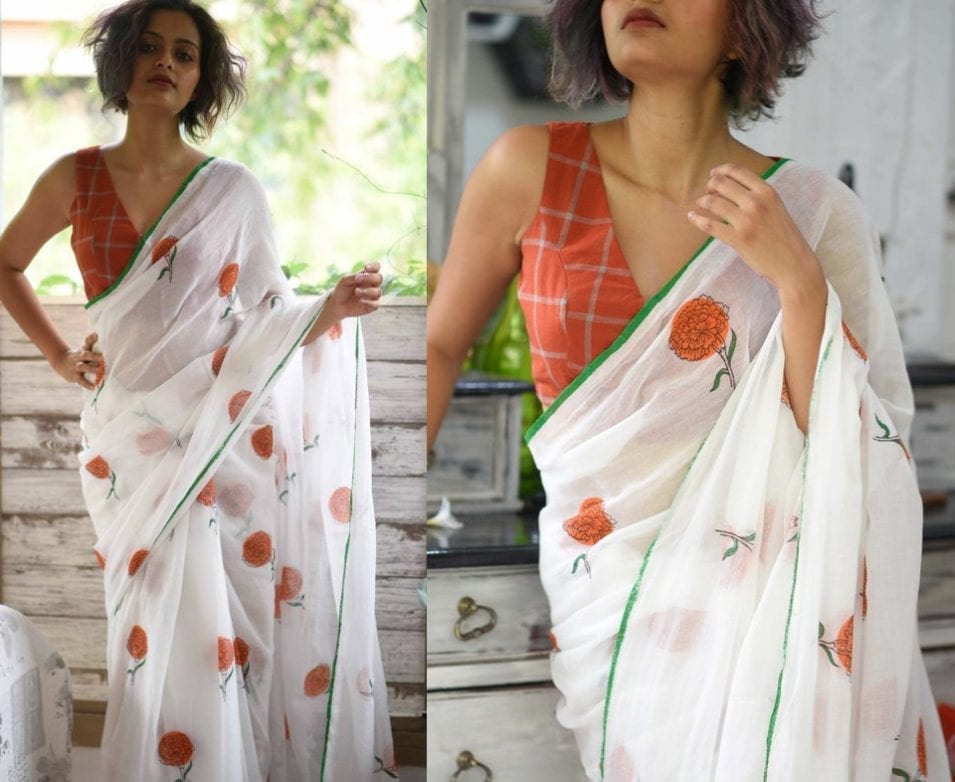 Disclosure: This post contains affiliate links, which means that if you click on one of the product links, a small commission may be credited to this site.
© All images are copyrighted by their respective authors.
Cozy cotton sarees to wear for an instantly chic flair with a touch of edginess.
Suta Sarees got me at hello. I stumbled upon the gem of a cotton saree haven recently and have since questioned why I didn't know of it any earlier! You see, I'm not really a fan of wearing heavy sarees and the only one I had been gifted on a pre-diwali saree hunt a few years back still is sadly rotting in the corner of my very messy wardrobe.
Every time I dragged it out, I can already imagine the scratchy fabric digging into my very delicate hyper-sensitive skin. I don't blame anyone for my misadventure in getting a saree I have no mood to put on. I can't explain why I didn't get a casual cotton saree too. I think I was confused at the pre-pandemic commotion during the diwali festival fair that I just had to grab on to something and wow, that I did. So, there's that.
Moving on to the topic of breathable sarees that are an utter mood, ladies: You've got to stop everything and eyeball the photos I'm about to show you down below. I am easily swayed by a particular carefree and bold-spirited aesthetic and these sarees and how they are styled brought something of an intangible it factor into the whole mod saree fashion equation. Gosh, these breathtaking creations are really something ELSE!
The models they utilized to display the magnificence of the saree wear a look that's urban modern with colored short wavy do and they exude a quality of empowered whimsy and edginess I absolutely adore! Of course, you can also feel how the sarees translate across the screen too. They're divine. If you're all about breathable sarees and want to show your support for an Indian-based label that celebrates India's iconic fabric weaving techniques and artists that poured their soul into each creation, then perhaps, there's something here for you. Enjoy!
Cotton Sarees So Chic You Can't Resist..
Please visit SutaBombay to check out the details of each saree and learn the intricate weaving process of their fabric while you're there.
Take care and be safe, folks!
Well, what are your thoughts about these sarees? Which one would you love to wear? Be sure to drop your comment down below or email us if that is the method you prefer – either way, we'd love to hear from you! :)