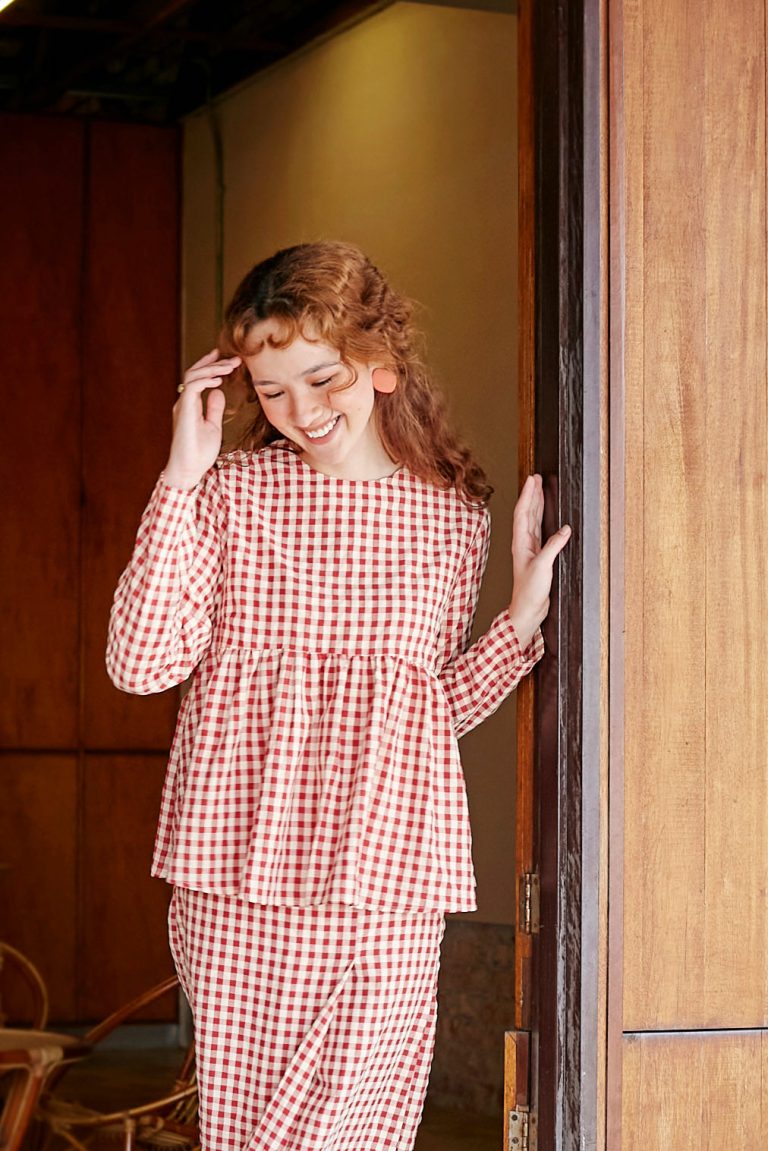 © All images are from Umbikids and copyrighted by their respective authors.
This post features a look into the baju raya styles from various designers in Malaysia in 2022. Keep the space bookmarked if you're into keeping up with contemporary Eid fashion here in Malaysia. 
Meet the baju raya you can mix and match, ladies! The ones I'm focusing on here carry very highly-wearable blouse styles and the skirts are absolutely solid for when you need to sprint to get your next round of food & drinks without compromising on style.
Why have I missed out on this label remains a mystery to me. Perhaps, they were initially a children's apparel label. Perhaps, it's just right moment that we go gaga over their women's collection at this very juncture.
When I think of a practical baju raya, I certainly think of a breathable fabric, especially when one lives in smolderingly hot and dazzlingly humid Malaysia. Unless all homes you're visiting have tip top functioning aircon, it's best to dress the practical way by opting for cooling fabric and in this case, it's cotton!
Next on the practical priority list is to ponder for the perfect baju raya is whether the design of the blouse will go gracefully well over a full and distended, happy stomach. Sleeves should not be in competition with my hands when they're picking up food and the skirt ought to work with the movement of my really speedy legs especially when the nose has detected something terribly delicious in the air.
With these factors in mind,  ladies, here are the pieces from Umbikids women's collection that I find so very fitting for a relaxed Raya vibes sprinkled with a dose of effortless chic. Let's feast our eyeballs now shall we?
Grab your favorite drinks because we are about to eyeball your mix and match baju raya!
Mix & Match Baju Raya For The Minimalist + Maximalist Fashionistas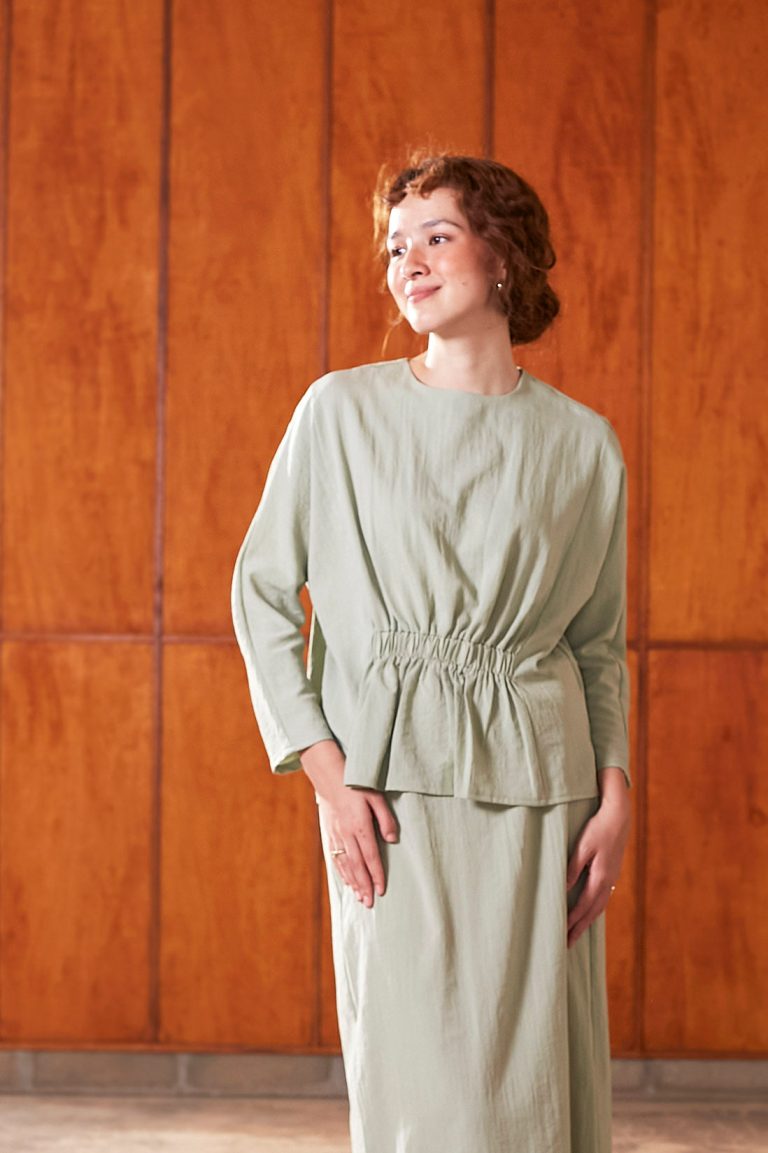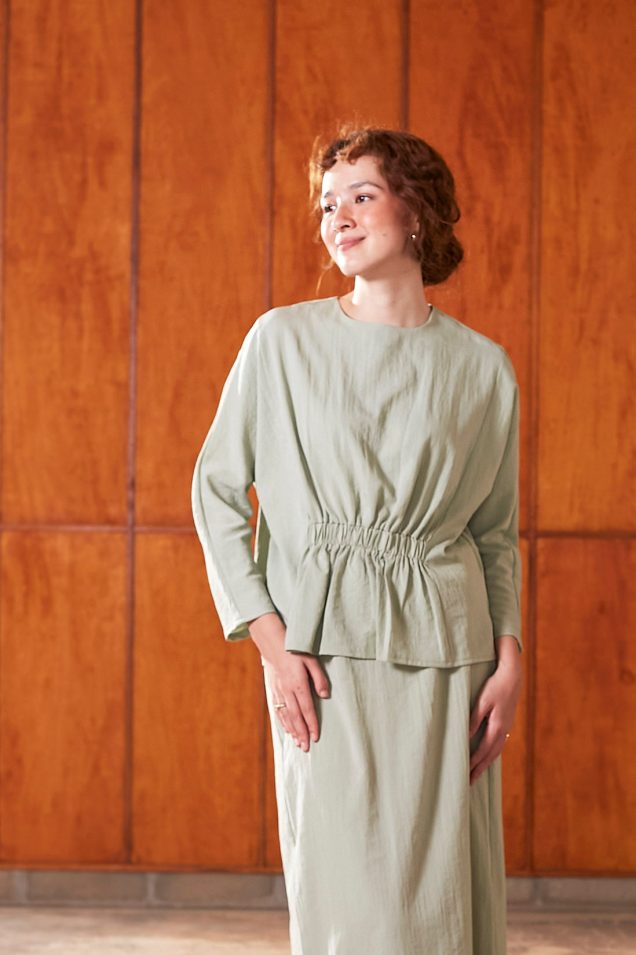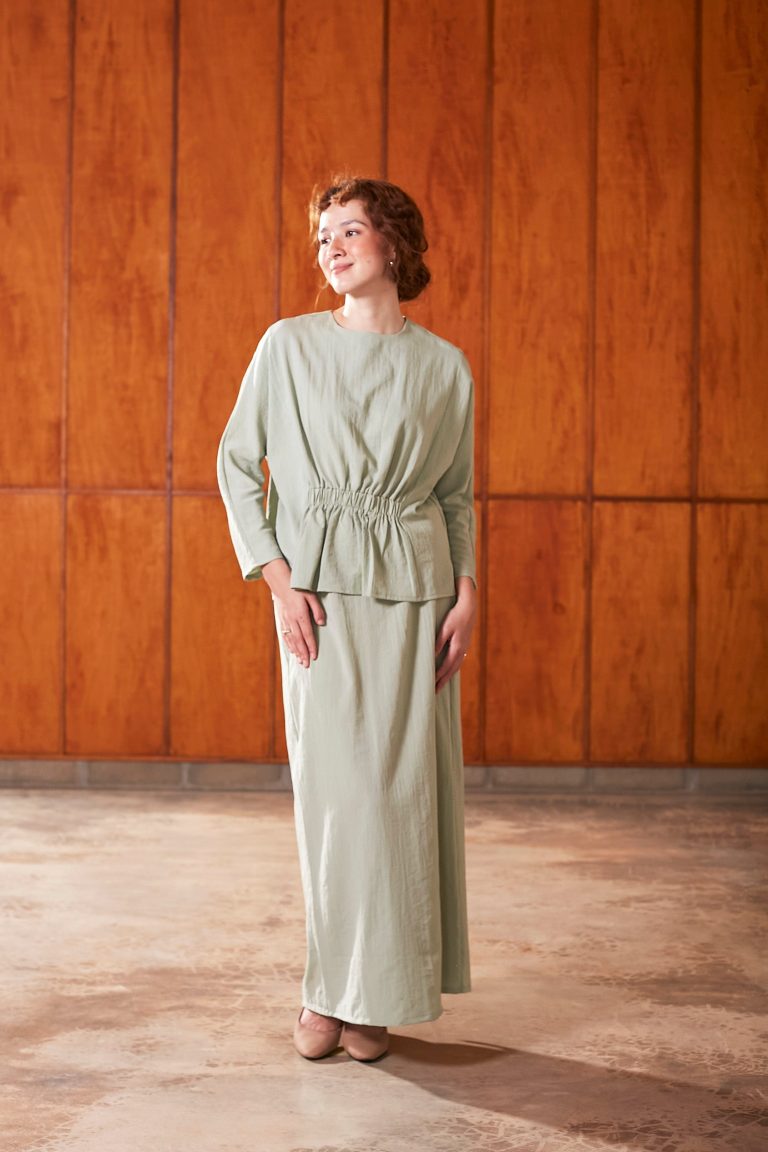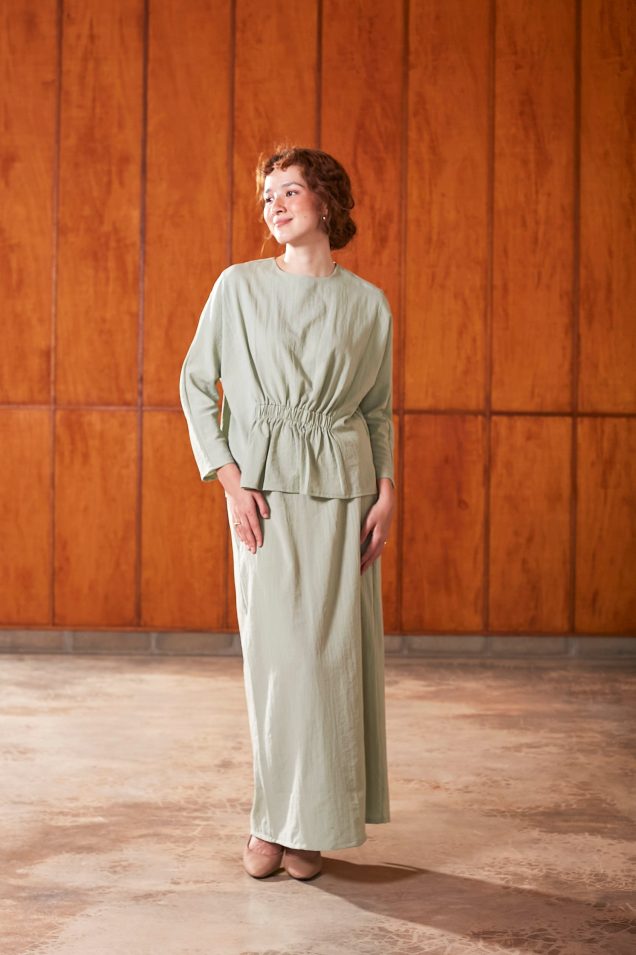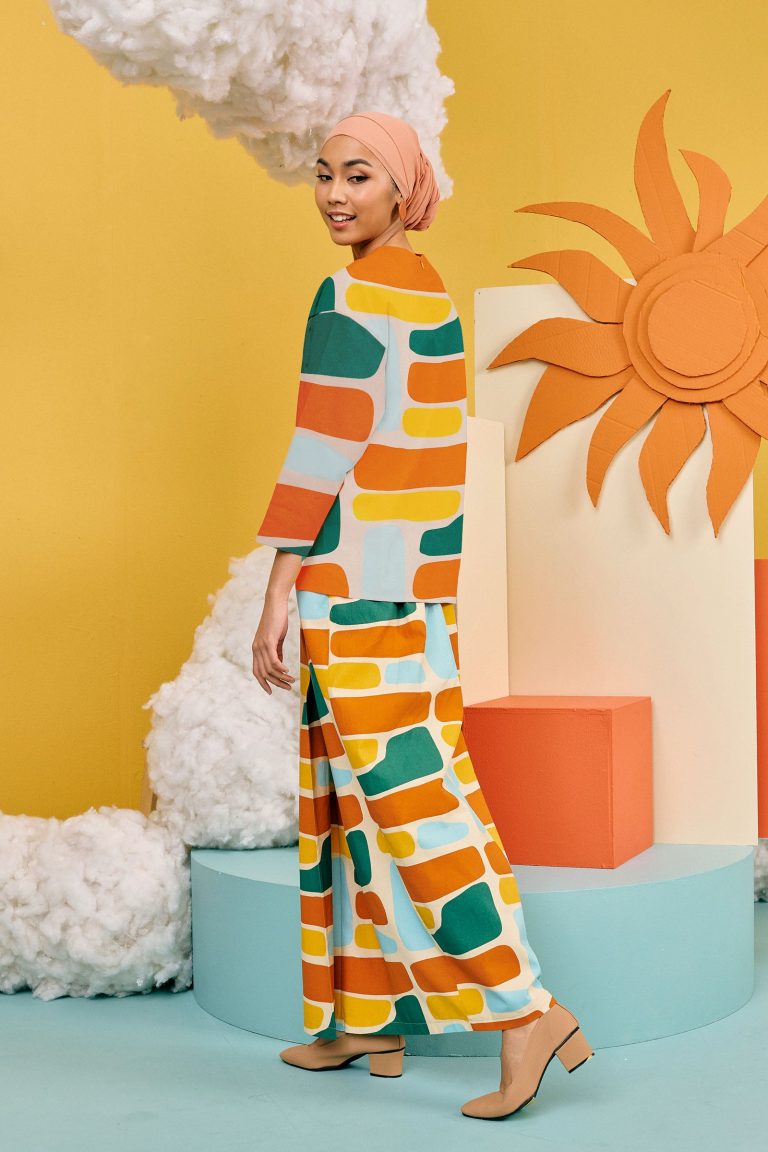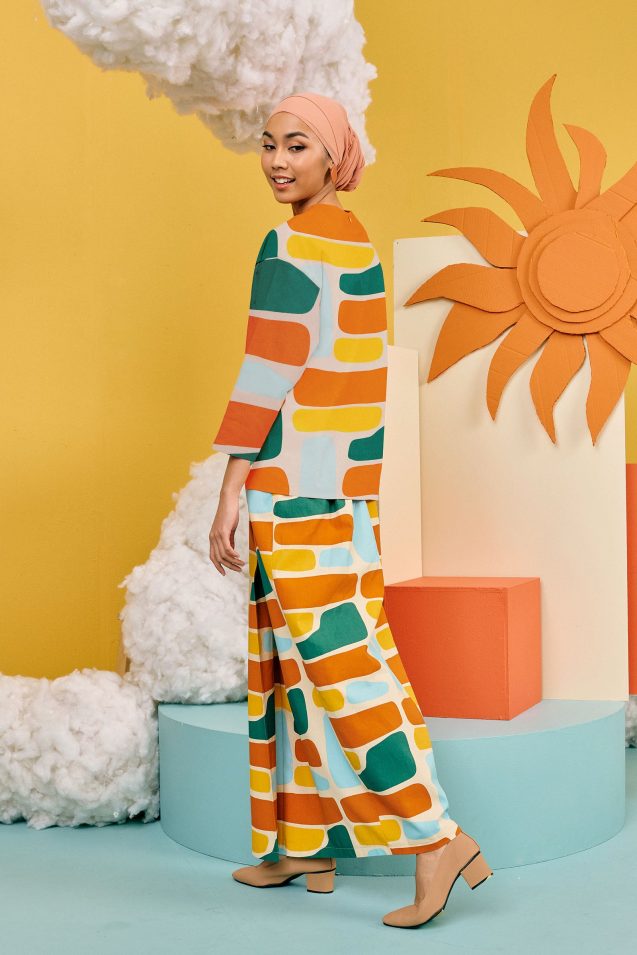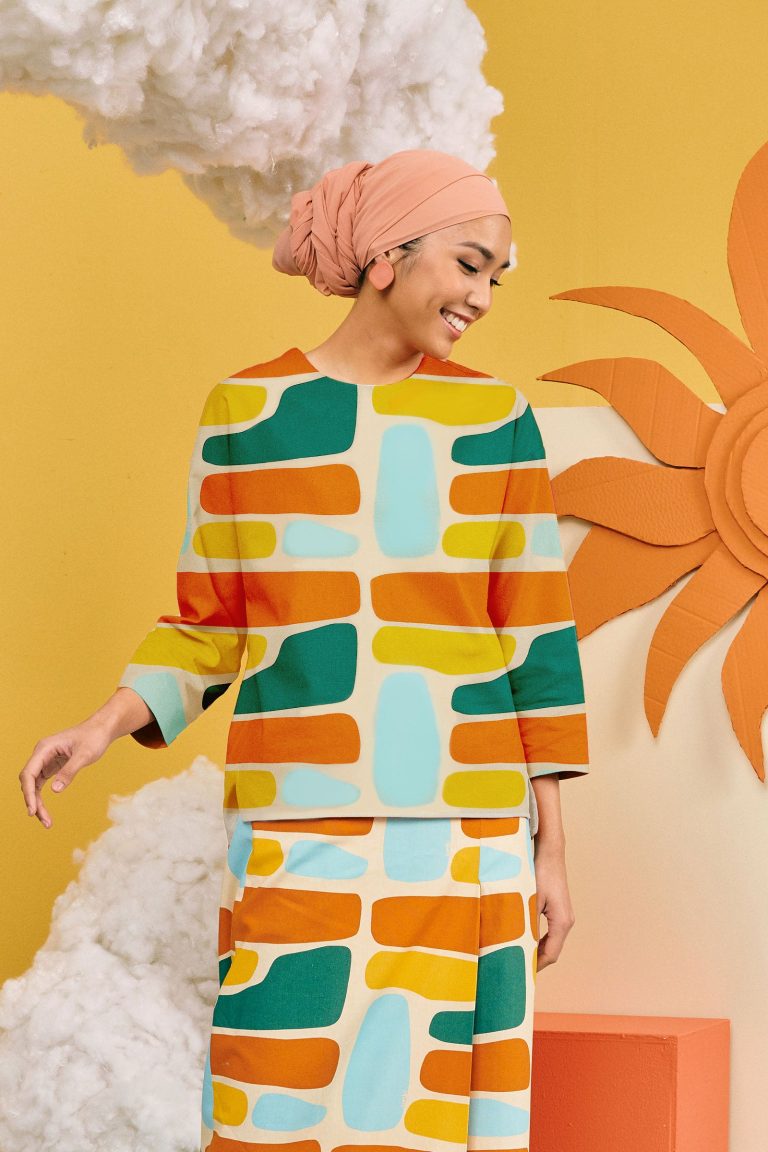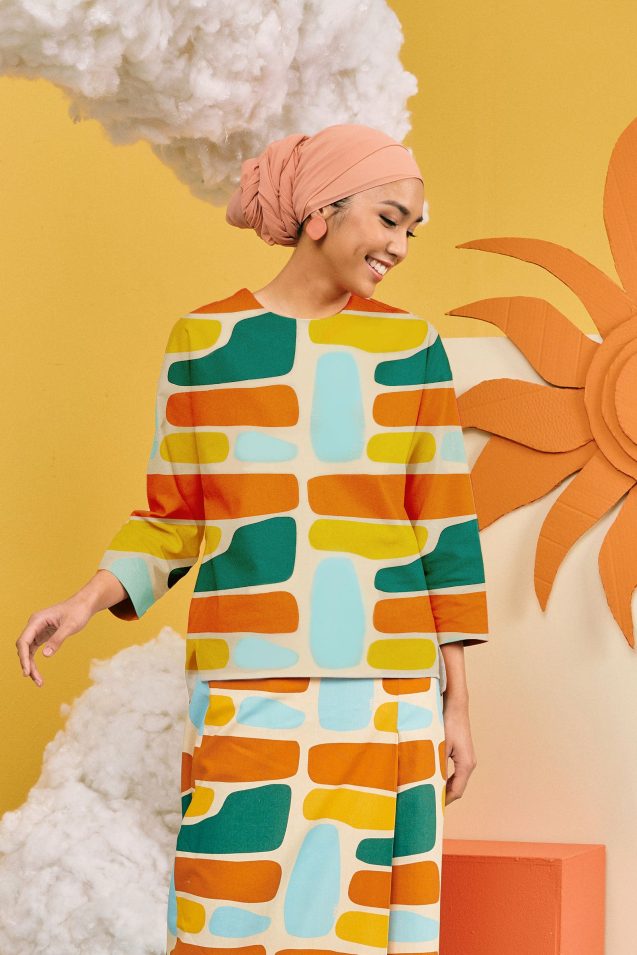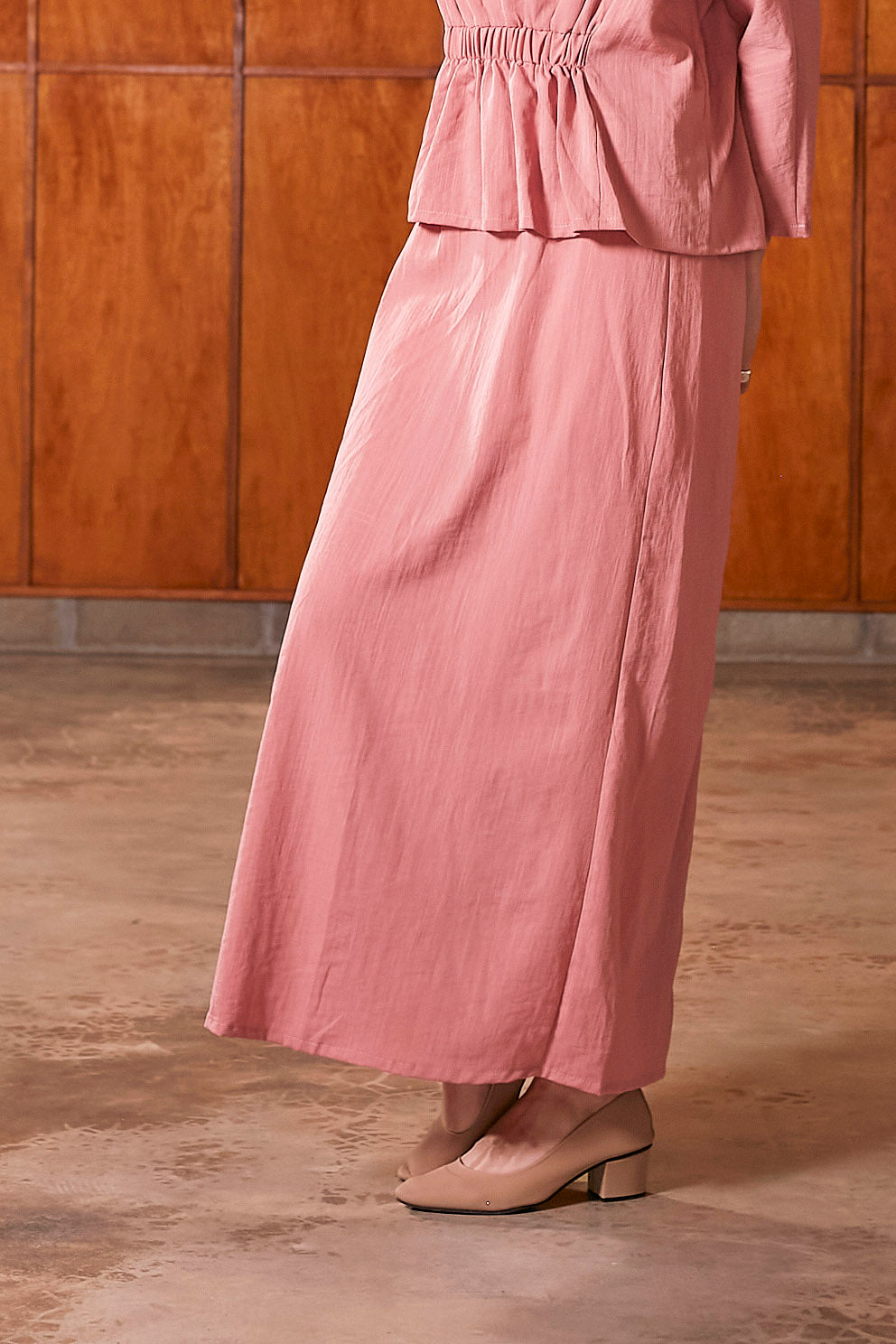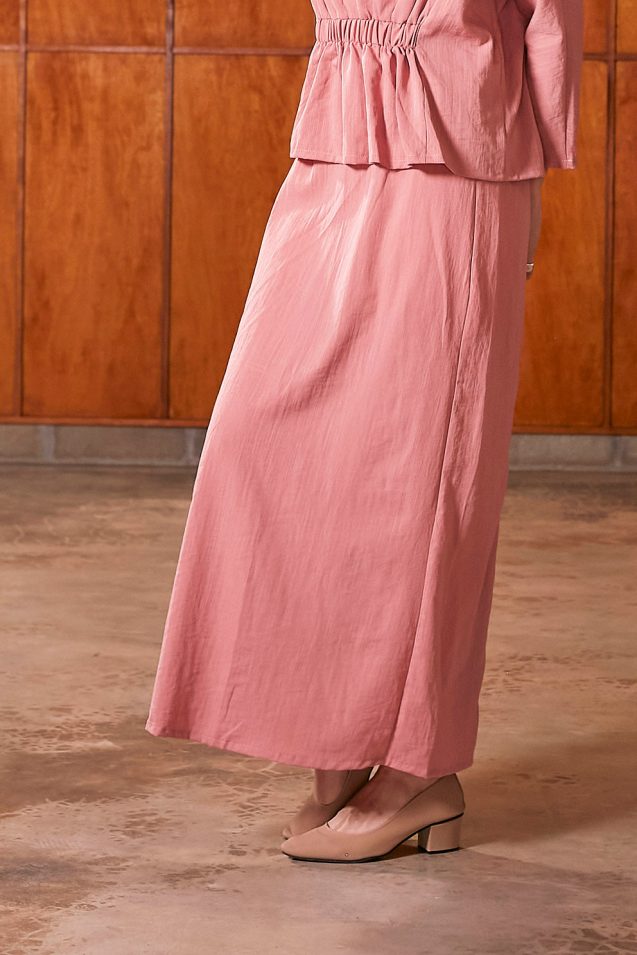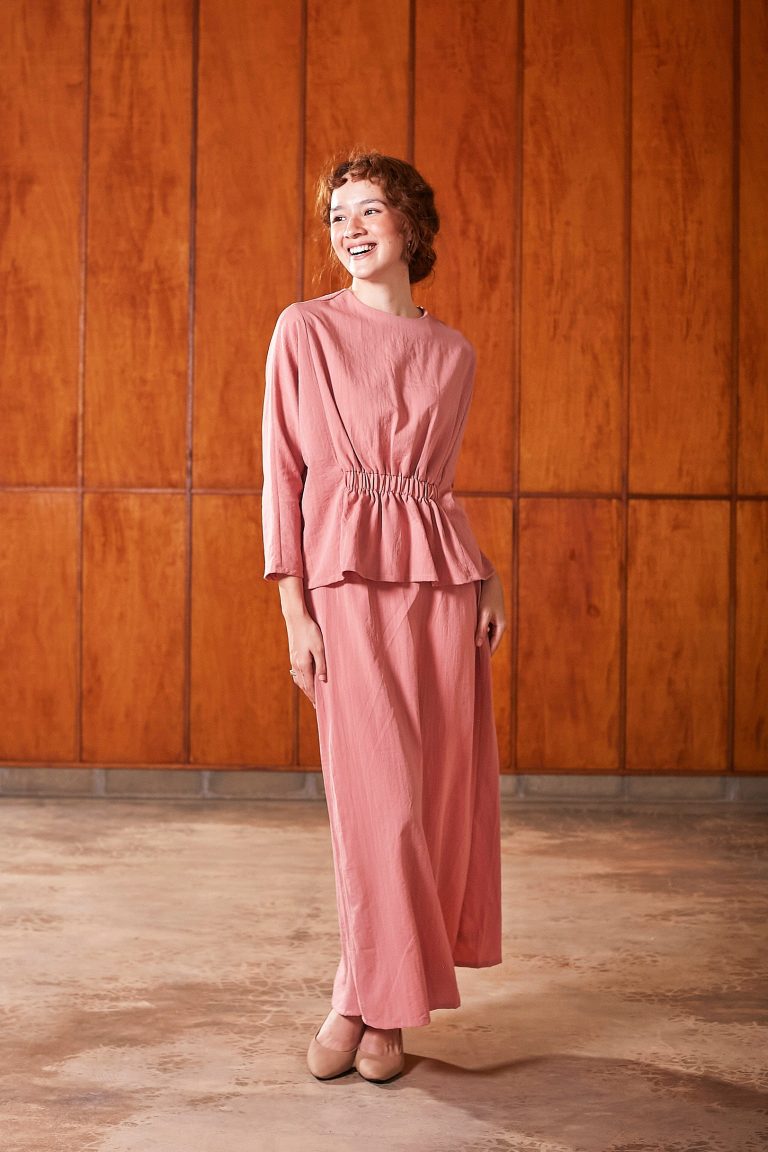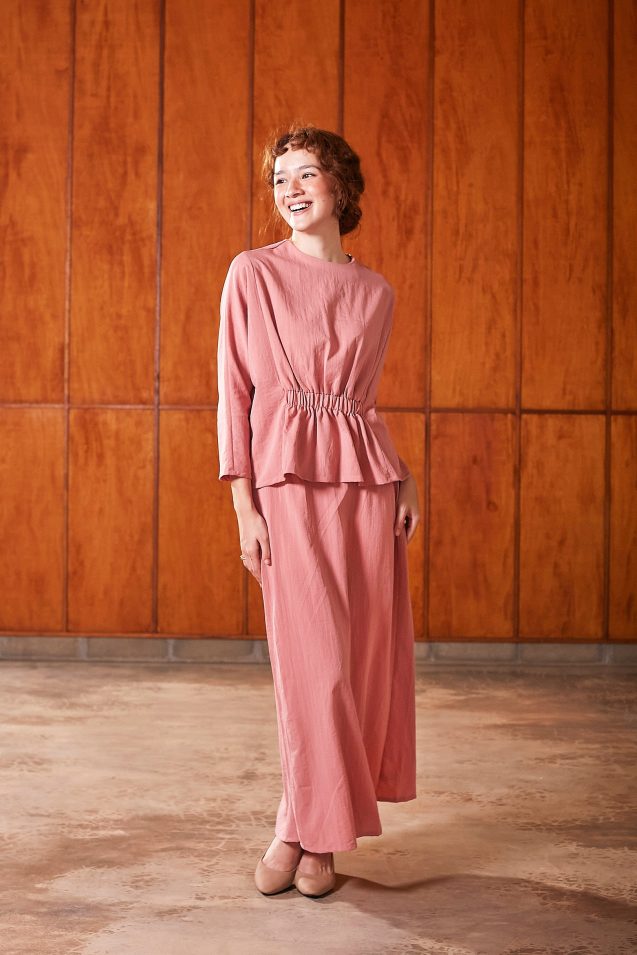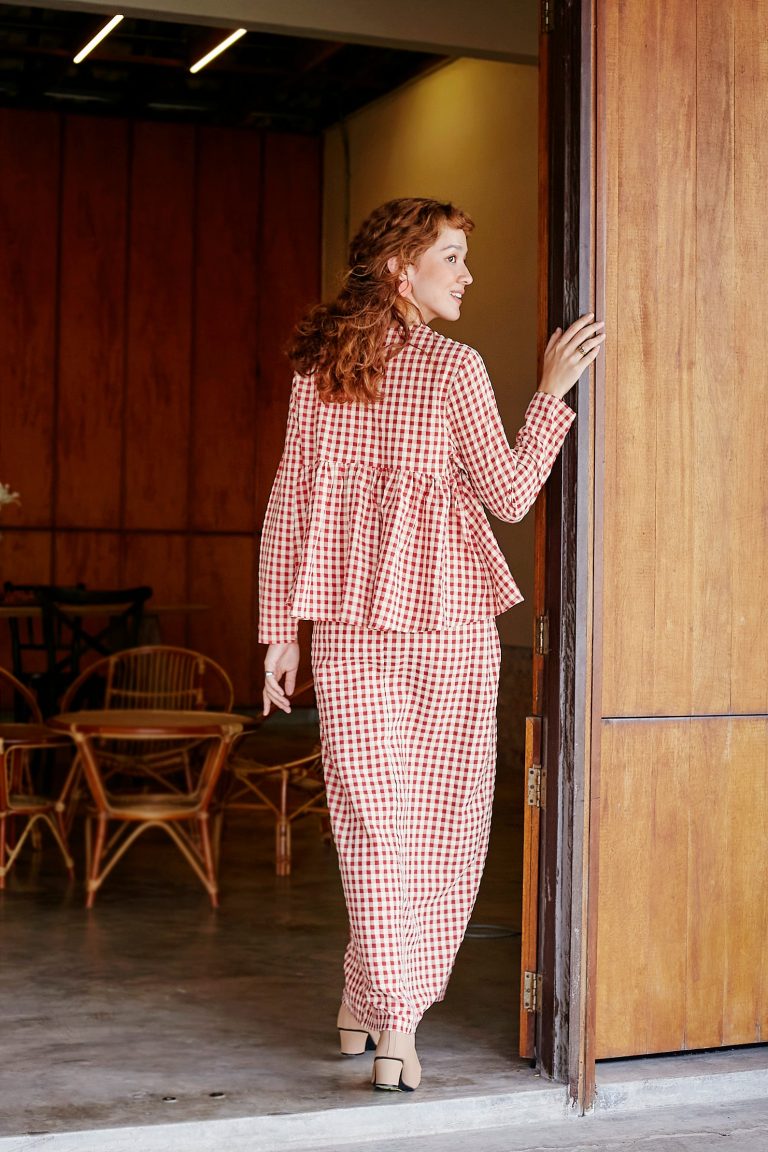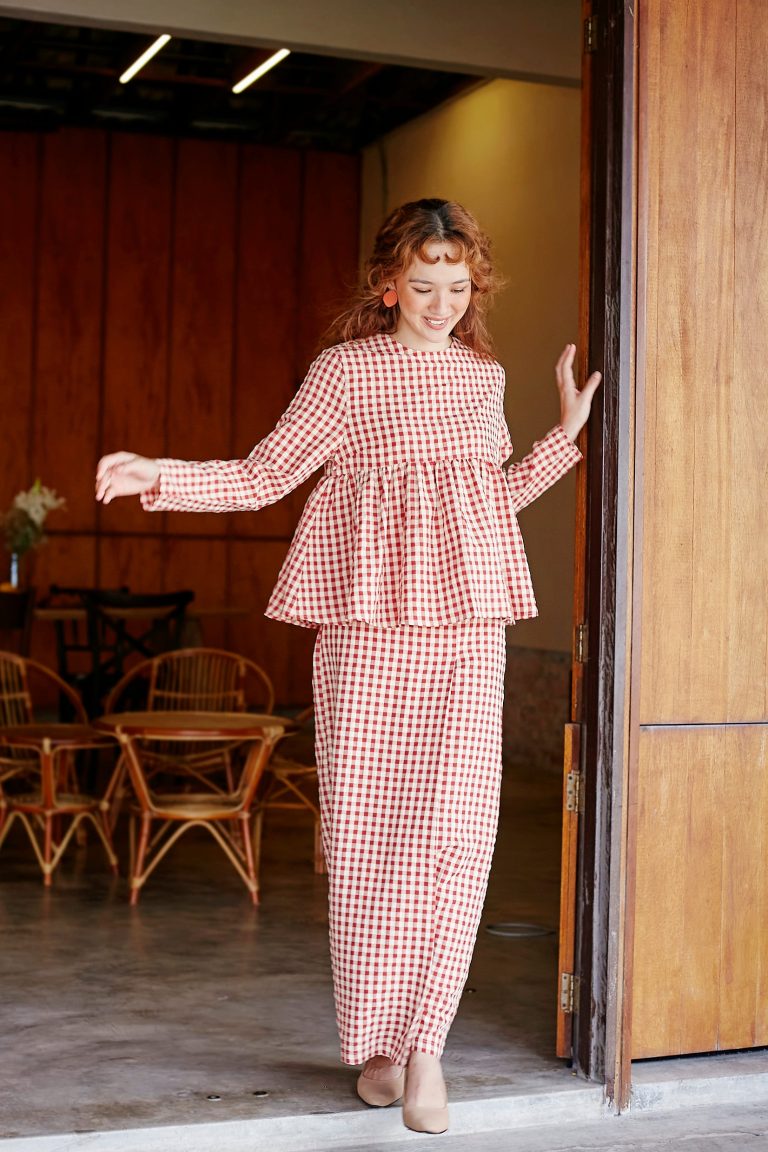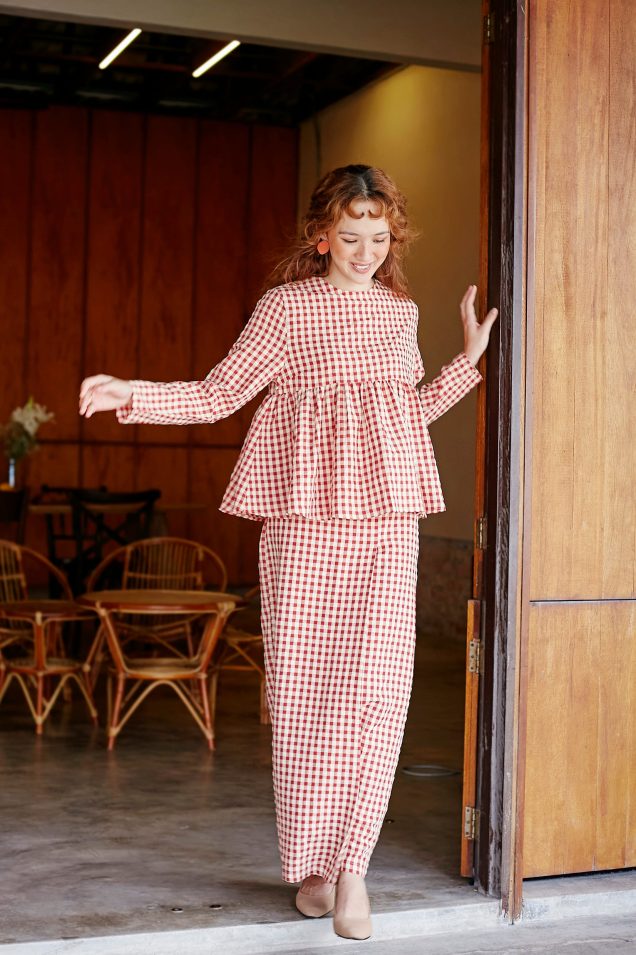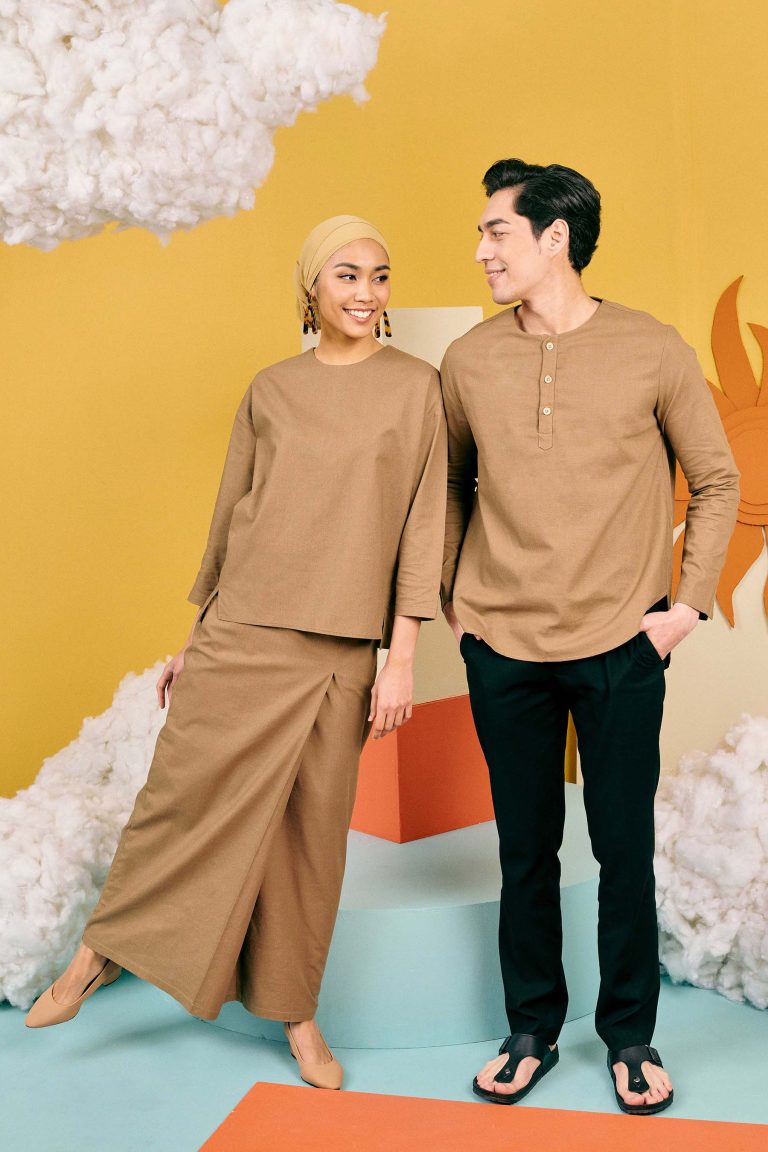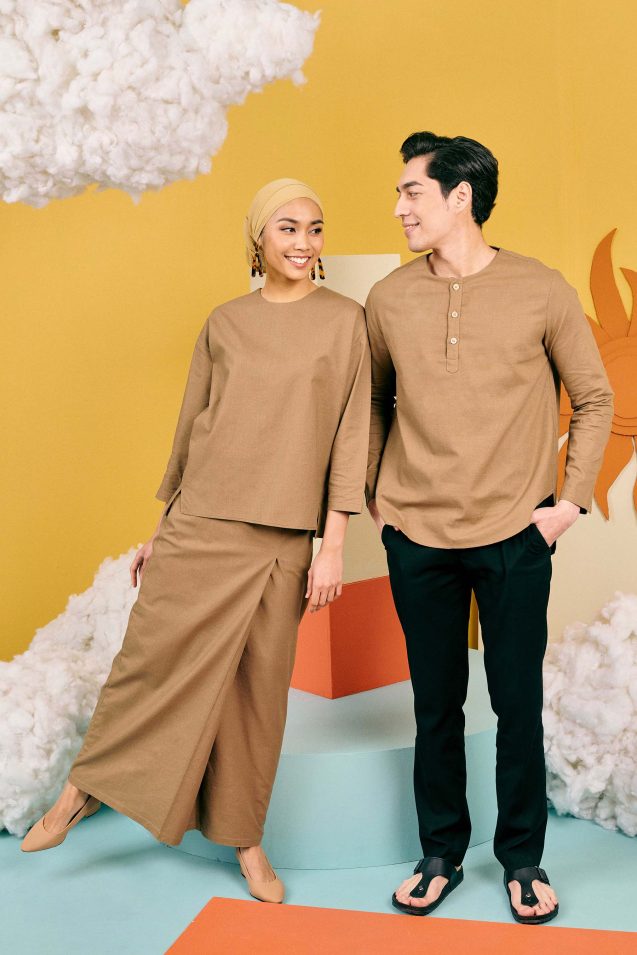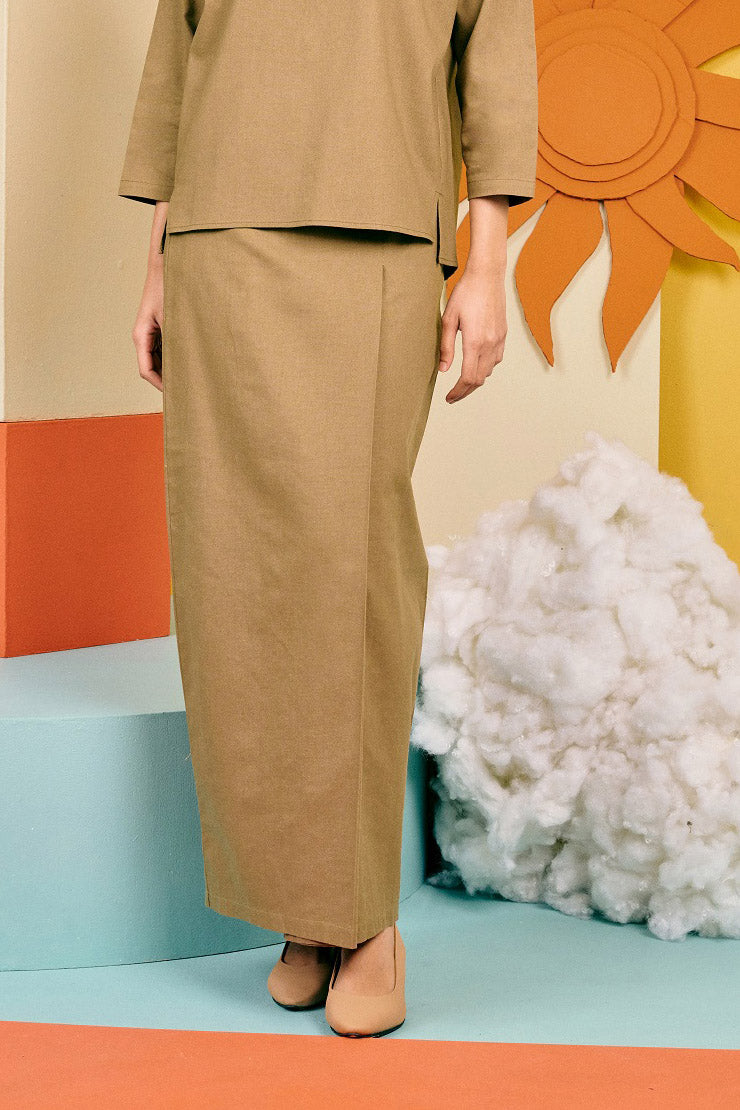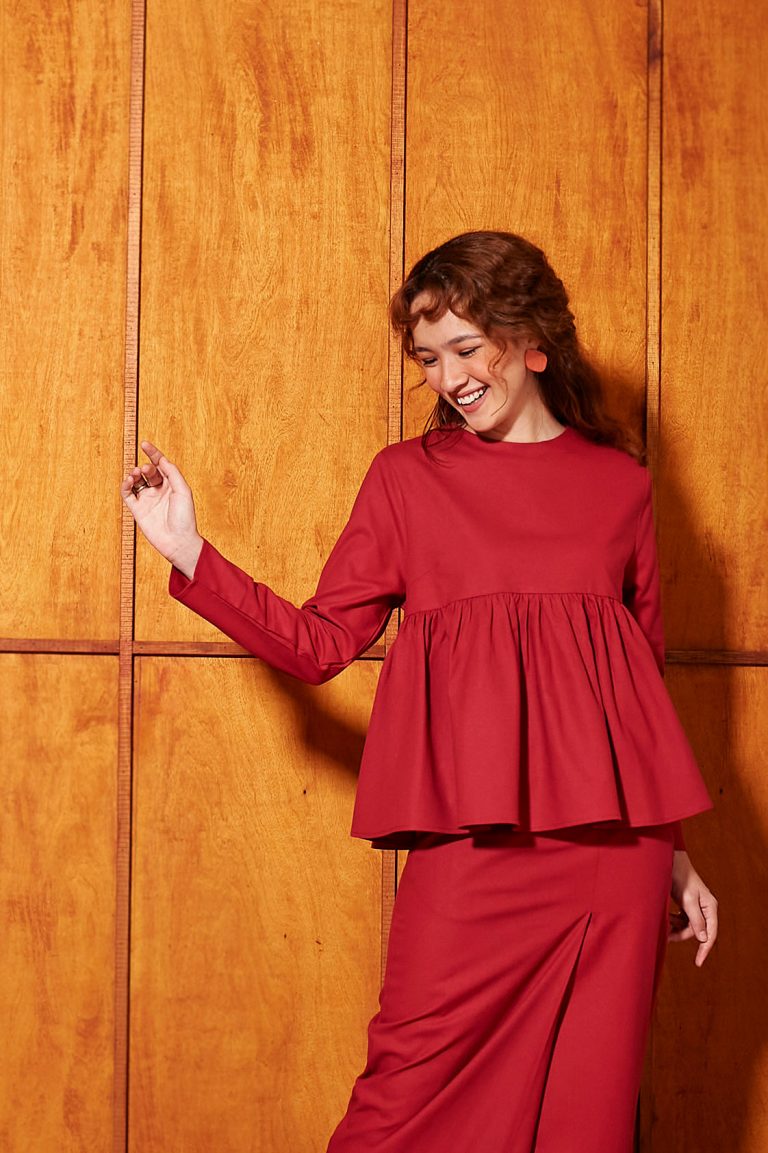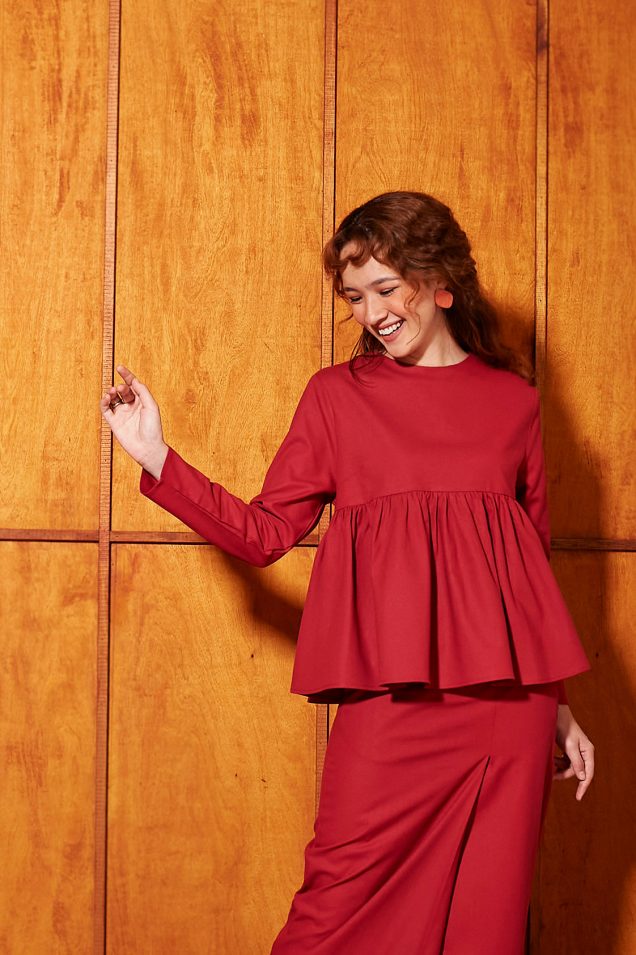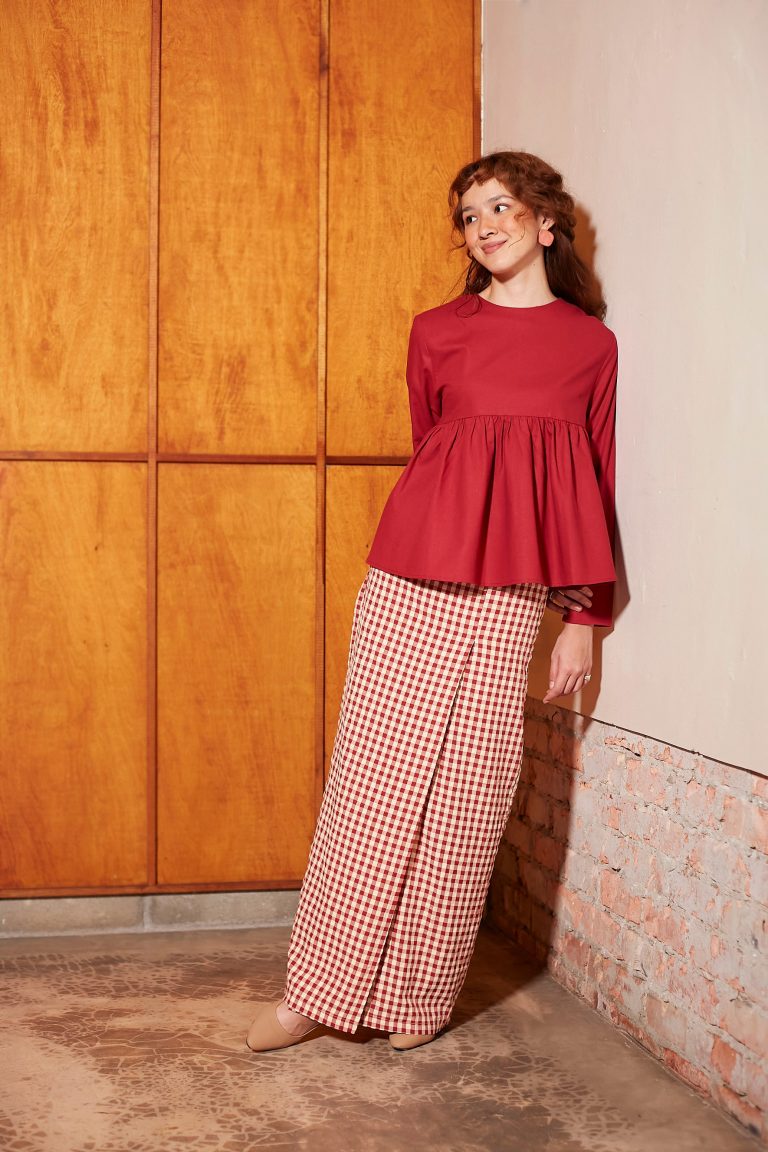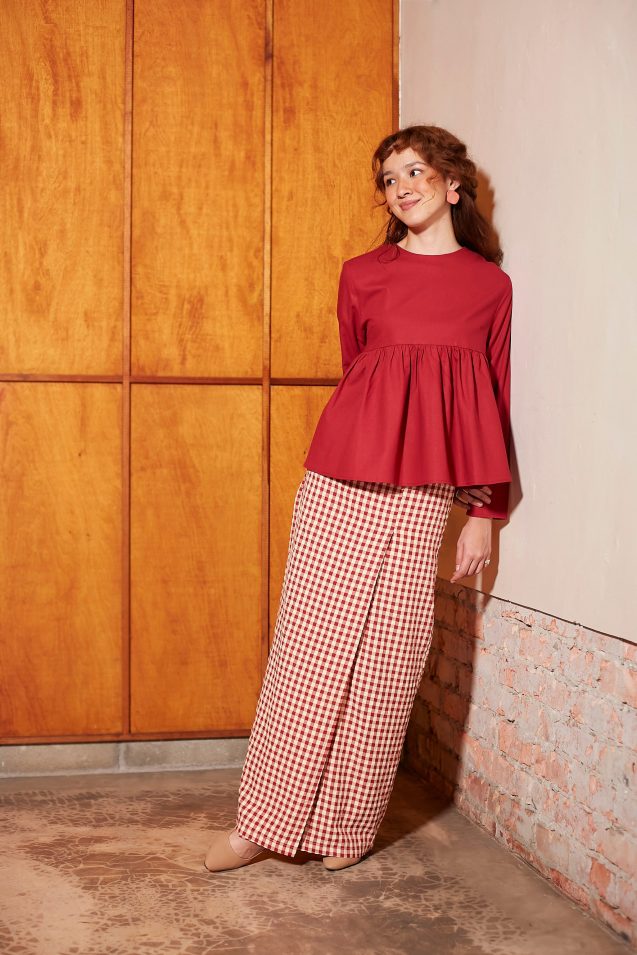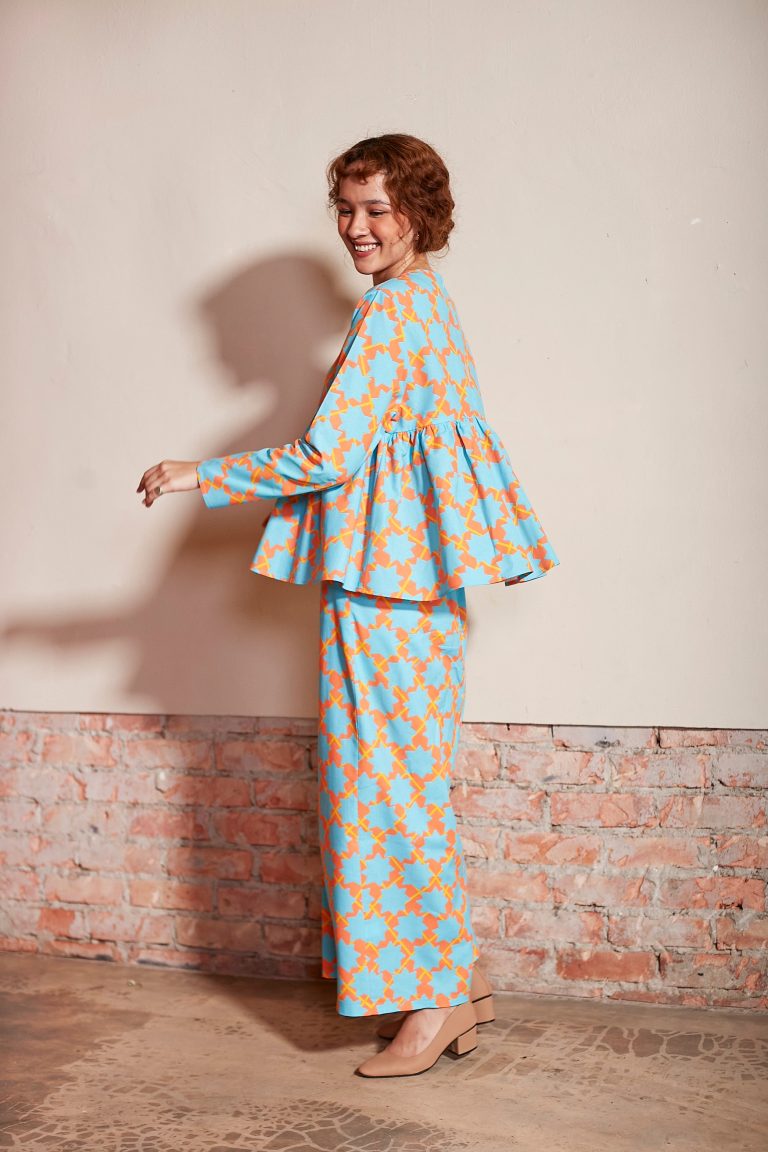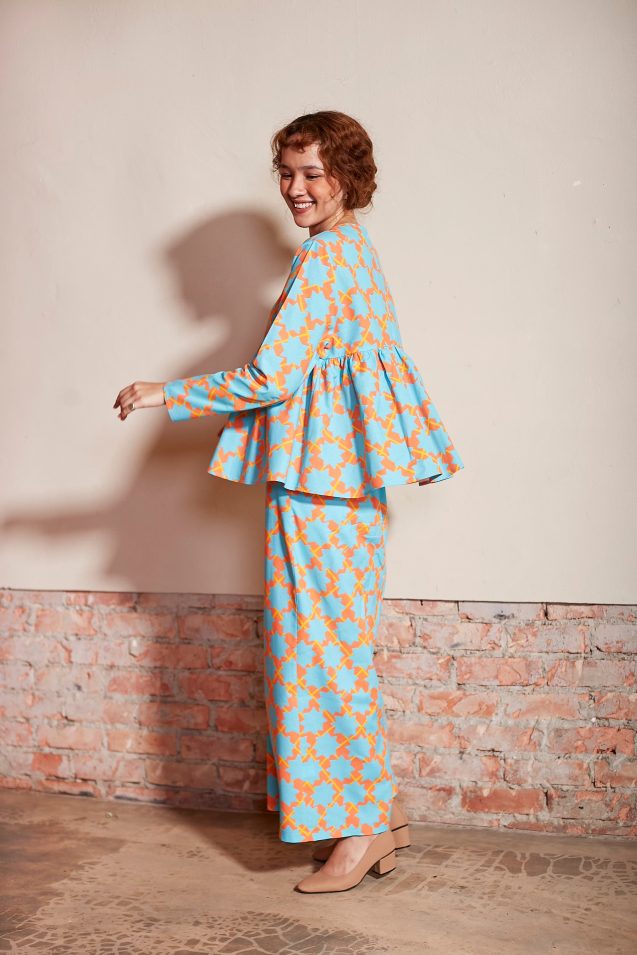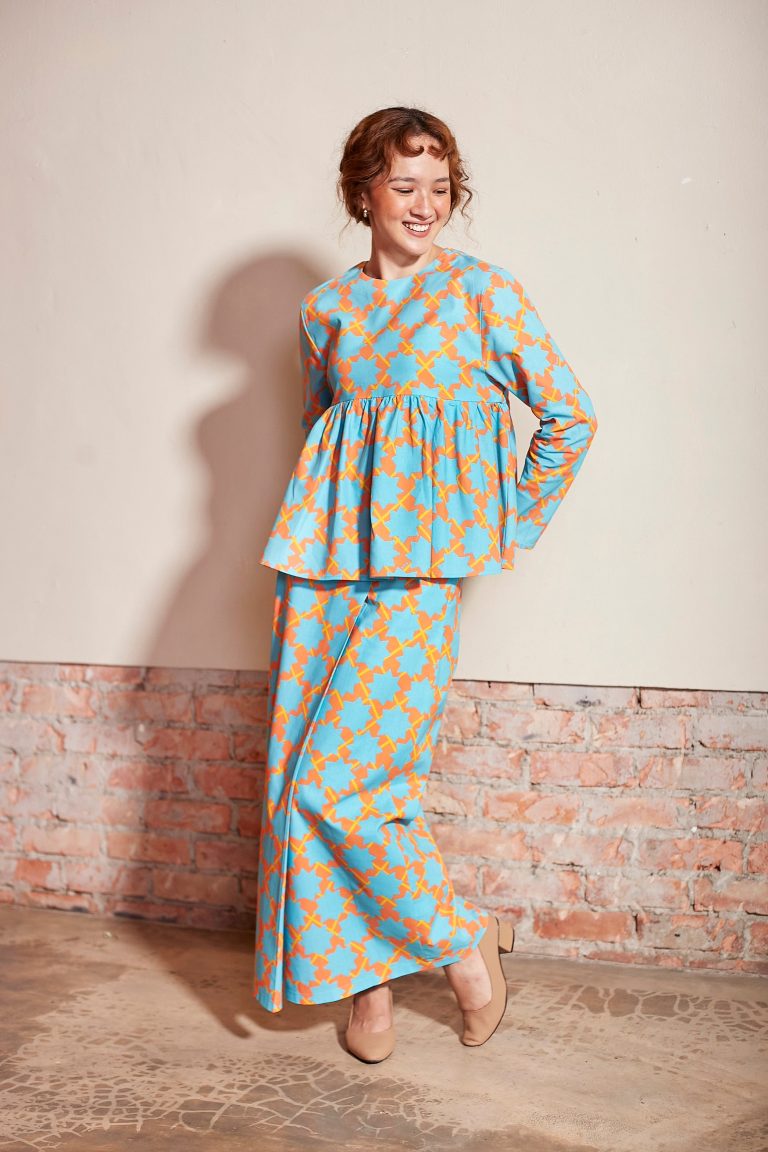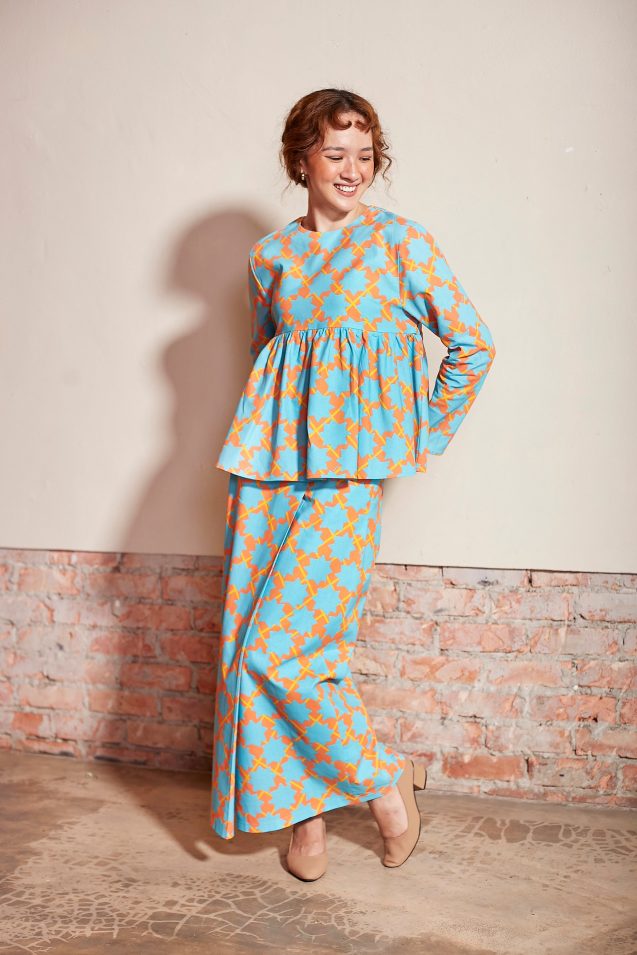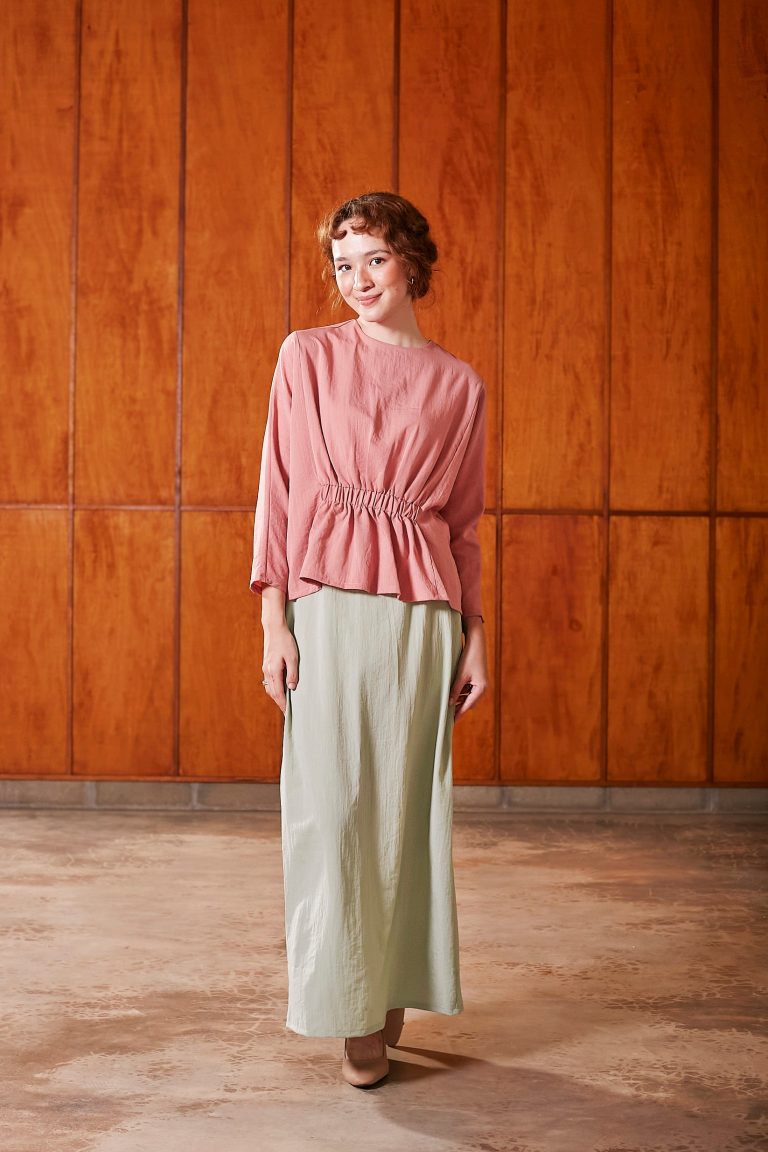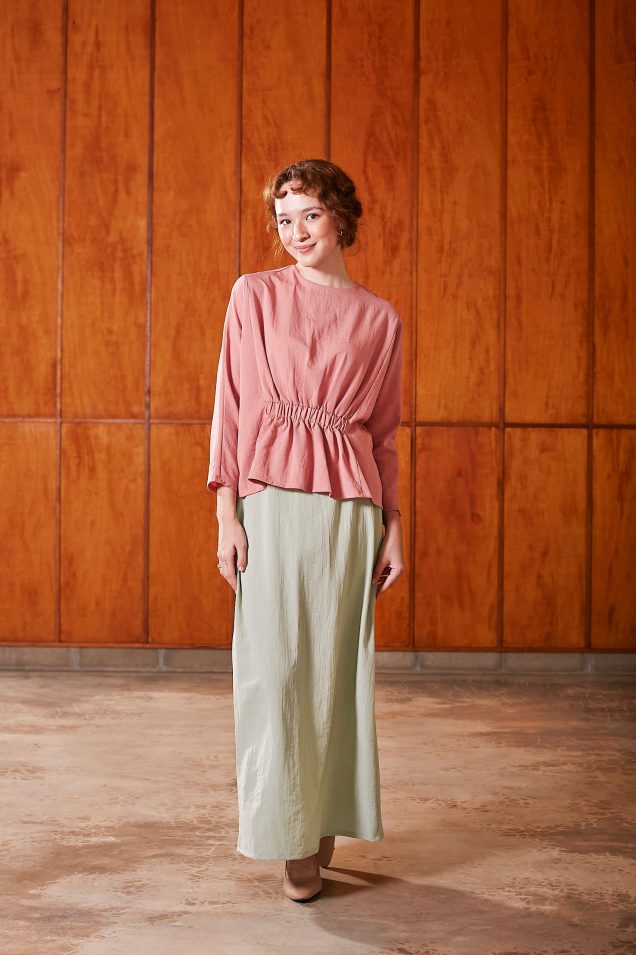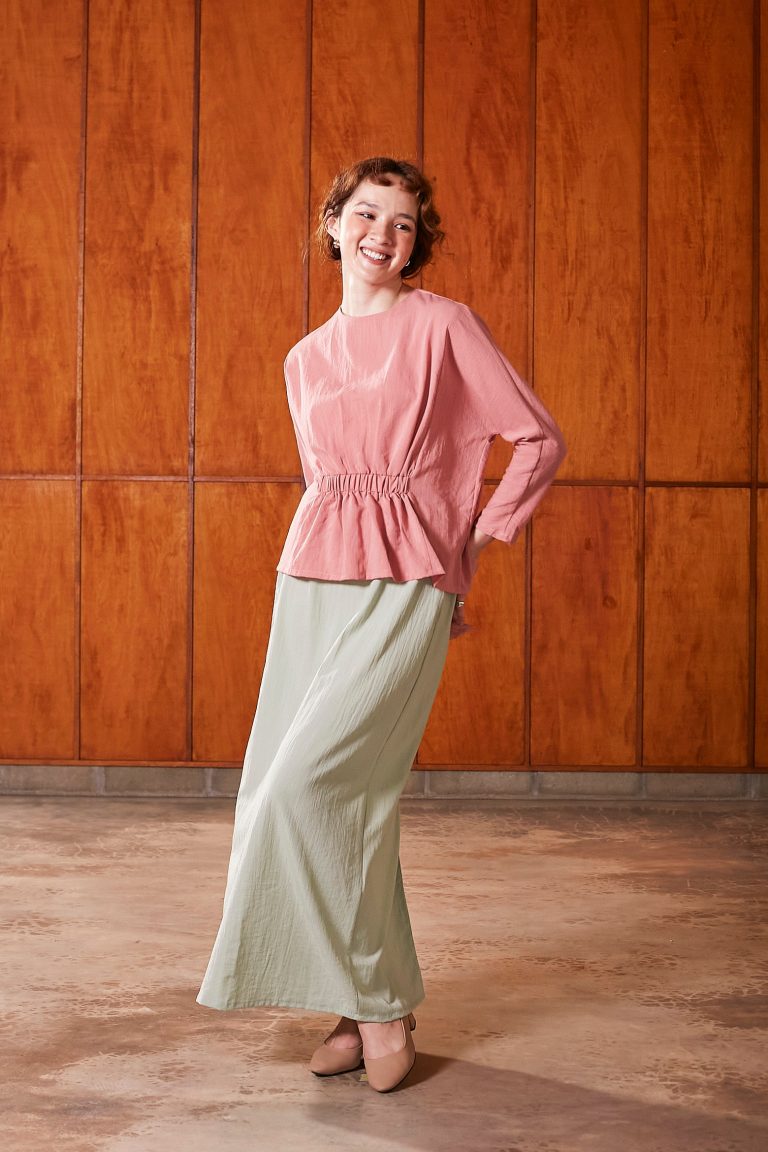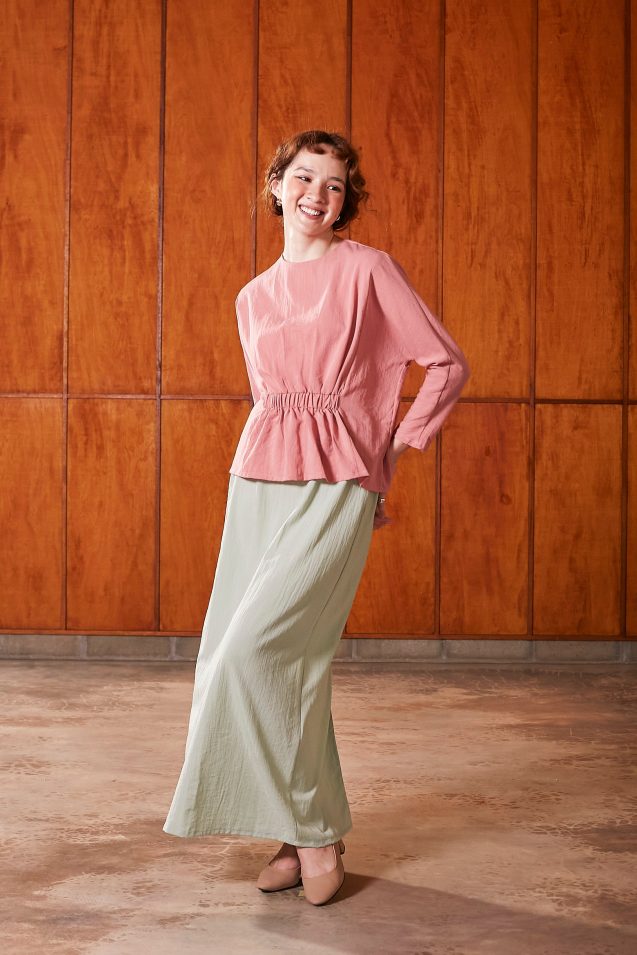 It's all in the details, gals:
Classic skirt deets:
The classic skirt comes in a variety of print option. It is made of 100% cotton linen. The waist is elasticated with a zipper at the side. It's designed with an overlap style for seamless mobility and the sillhouette is straight cut. The most important thing: this skirt has pockets! How sweet is that?
Basic skirt deets:
When you opt for this skirt, expect a stunning texture over a canvas of cotton linen fabric that's cooling. The skirt has an elasticated waist that secures with a back zipper. It's the ultimate minimalist straight cut skirt to accompany the baju raya blouse of your choice.
Ruffle waist blouse deets:
The neckline is round with a zipper at the back. The waist is where the fun's at. It's made ruffly almost like a laidback peplum with fluidity so it's very belly-friendly. Made of 100% cotton linen, of course and a fit that's cozy loose.
Boxy blouse deets:
The epitome of a minimalist take in design structure offset with a self-selected maximalist prints or kept muted with other solid chunks of color options. The neckline is round (zips at the back) with a highly-wearable drop shoulder design. Of course, it's made of 100% cotton linen. Sleeves are kept very practical for easy feasting. They will make your food-grabbing processes smooth while you sit/stand there looking mightily chic!
Ruched waist blouse deets:
Such a chic blouse that can be partnered up with anything, really. The blouse comes in a textured design atop a cooling cotton linen fabric. Neckline is round and closes with a zipper at the back. The design statement lies in the strategic ruching of the waist. It's a loose fit top that comes with the dreamiest of color options.
Visit Umbikids today to immerse yourself with their thoughtful collection of
Raya-worthy wardrobe staples

for women, men and kids!
————————————–
What do you think of these mix & match baju raya sets? What kind of combo would you go for? Share your thoughts! I love reading them.
What other fashion-y details that you drool after in a baju raya? Drop them all in the comment space below so we can talk about it.
Keep this space bookmarked for more baju raya 2022 fashion inspiration! Stay healthy, keep your wits about you and accept the present moment as it is.
Earrings to go with your baju raya 2022: