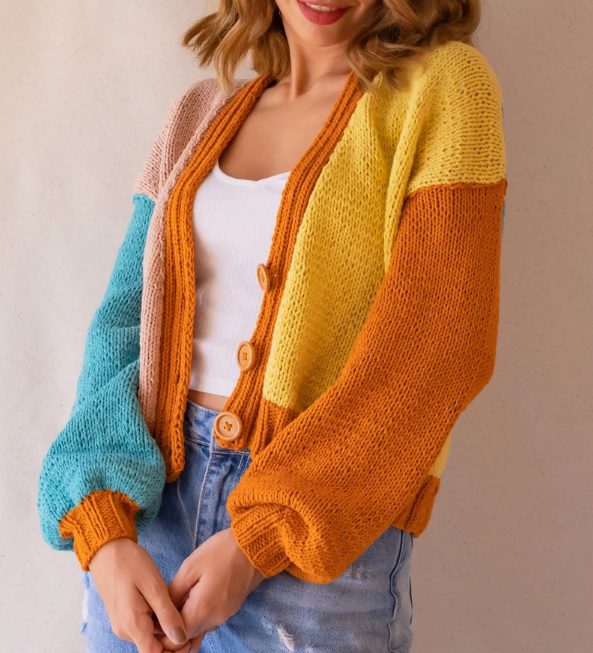 © All images are from and copyrighted by their respective authors.
This affiliate post features a look into the colorful knit cardigan fashion trend. Keep the space bookmarked if you're into keeping up with the colorful fashion trends and designs. 
For an EXTRA dose of cozy & tons of happy energy, these knit cardigans are IT, folks.
When temps drop and things go gloomy, foggy and grey, what better way than to boost your sluggish and frozen spirits with something knitted AND colored.
These chunky knit cardigans are a wonderful sight. They instantly will uplift your spirit, brighten up the mood of an onlooker that's easily swayed by colors and is absolutely cozy. Be the picture of a summer fairy as you weather the biting temps when you don one of these beautiful knit cardigans. Their oversized silhouette is everything as it layers well over practically anything and the cropped knit  versions are a blessing for when the weather is not exactly in creepily cold territory. You can proudly show off your sense of fashion by pairing the colorful cold weather topper with a pair of high waisted baggy denim jeans in your favorite blue.
With bright knit cardigans like these, you can top the most neutral of looks and slay the holiday look for cold weather in a real jiff. Check them out:
Get extra cozy + super cheery in these colorful chunky knit cardigans...
How delightful are these color block knit cardigans? 
Which colorful knit cardigan is your favorite? How would you style it? Drop a comment down below. Share with us because we get excited when you do!
Till the next one, keep on keeping on. Be a beacon of light wherever you are, no matter the situation. Take care!
For more colorful fashion inspiration to appreciate: