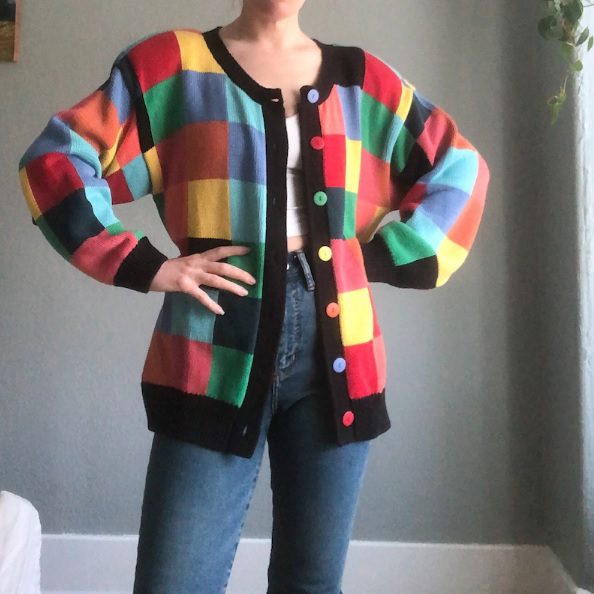 © All images are from and copyrighted by their respective authors.
This affiliate post features a look into the 80s color block fashion from across the globe. Keep the space bookmarked if you're into keeping up with the global 80s fashion trends and designs. 
Bring colors into your wardrobe with a loud bang. The mood is eye-popping 80s color block style.
Dreaming of wearing lots of colors together? Here's to drawing endless inspo from a collection of tops & sweaters with the 80s color block design and spirit.
There's something spectacularly energizing about 80s color block style. The color combos are unabashedly loud usually teaming primary colors of various opposing hues together. Even if it's of pastel colors, the combined result is distinctively playful, fun and flamboyant. The 80s projected a lot of that boldness in the style of makeup, hair and an overall mood in contrast to the more mellow 70s hippiness.
Today's post is to showcase my personal curated list of fave clothing that features the signature 80s color block in tops and sweaters. May you find something that stirs your 80s inner fashionista.
Enjoy!
Get color happy in these 80s color block tops, shirts, sweaters and more:
Aren't these 80s color block sweaters and tops just eye-catching?! I'm really feeling the look of each one of them.
What are your thoughts on the 80s color block fashion? Which style of top is your favorite? How would you style it? Drop a comment down below. Share with us because we truly get delighted when you do!
Till the next one, keep on keeping on. Be a beacon of light wherever you are, no matter the situation. Take care!
For more retro fashion inspiration to appreciate: