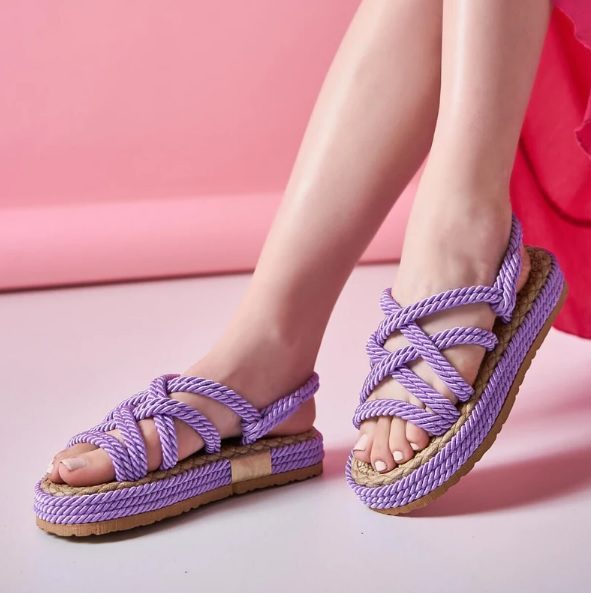 © All images are from and copyrighted by COOLDSHOES and their respective authors.
This affiliate post features a look into the fashion-forward unique handcrafted footwear from all across the globe. Keep the space bookmarked if you're into keeping up with stylish shoe trends and designs. 
Summer sandals made of embroidered and braided rope for toes out in the sun all day everyday.
Unleash your love for rope style sandals this summer with something embroidered & braided to take your summer shoe game to the next level.
Summer sandals are aplenty and it will take forever for you to scour all of the styles that are out there and I've decided to zoom in on a particular design that caught my eye: it's the rope sandal fashion trend. For those with a strong affinity for the strappy gladiator look, this is the sandal design to get excited about.
It's always going to be in season because well, summer is out happening at least during some months in a year. In a tropical locale like Malaysia, it's all year. So rope sandals are absolutely a match for the weather. Let the sun kiss those toes when you slip into a pair of rope sandals in the color or color combo of your preference; from primary color mix to a candy burst of neon, the choice is all yours to make.
To show you how charming these summer rope sandals can be, let me show you the curated list that I've made especially for the summer strap sandal lover.
Enjoy.
Slip into any of these rope sandals for a stylish & breezy summer footwear game:
Which rope sandals would you love to wear to greet the summer sun say, at a sandy beach? Which color profile speaks to your heart? Remember to share below! I love hearing from you.
We love sandals and shoes that trigger all kinds of good feelings.
Kindly email us if you would love to have your own unique handcrafted footwear collection featured in this space. We'd love to hear from you!
Till the next one, keep healthy, move your body, nourish it well and make time for meditation!
Stay fierce & free.
More fashion inspiration: