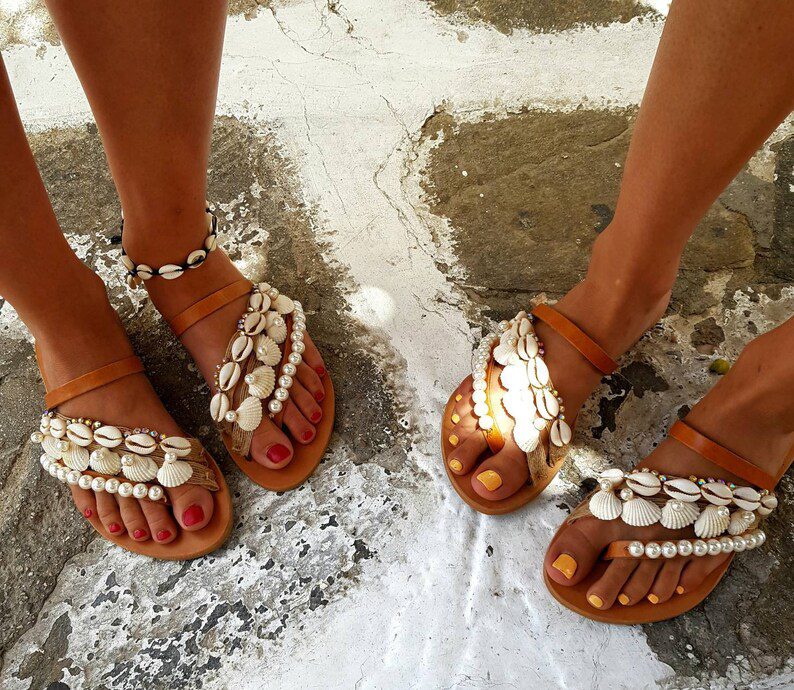 © All images are from and copyrighted by their respective authors.
This affiliate post features a look into the fashion-forward unique handcrafted footwear from all across the globe. Keep the space bookmarked if you're into keeping up with stylish shoe trends and designs. 
Made for a beach stroll: These shell sandals will perfect the look of your sand-kissed feet as you stroll by the beach on a sunny day.
It's a beachy footie mood here right by me! There I said it.
It's been raining cats and dogs in old weepy Malaysia and the skies have consistently retained the gloomy grey color palette that my thoughts have quietly rested upon sunny windy days spent by the shoreline. Of course, with the right kind of sandals on my feet in mind.
I love seashells. Who doesn't? The act of collecting unique shells embedded in the sand is forever instilled in me as very therapeutic and transformative. With the sounds of wave crashing, seabirds talking and the scent of salty ocean breeze filling up my nostrils, the ocean on a perfectly sunny day calls to something very ancient within us all. Forget what I just typed there, let's take a look at the shell sandals that have sent me off into a beach-y daydream.
Let's go!
Here are the beautiful seashell sandals to slip into when you head to the beach. I love them and I hope you will do too!
Enjoy!
Let's take a look, now, shall we?
Seashell sandals to wear to the beach as you absorb the good old vitamin D...
What do you think of these summer beach sandals? Which pair or two is/are your favorite?
Share below!
We love shoes that trigger all kinds of good feelings.
Kindly email us if you would love to have your own unique handcrafted footwear collection featured in this space. We'd love to hear from you!
Till the next one, keep healthy, move your body, nourish it well and make time for meditation!