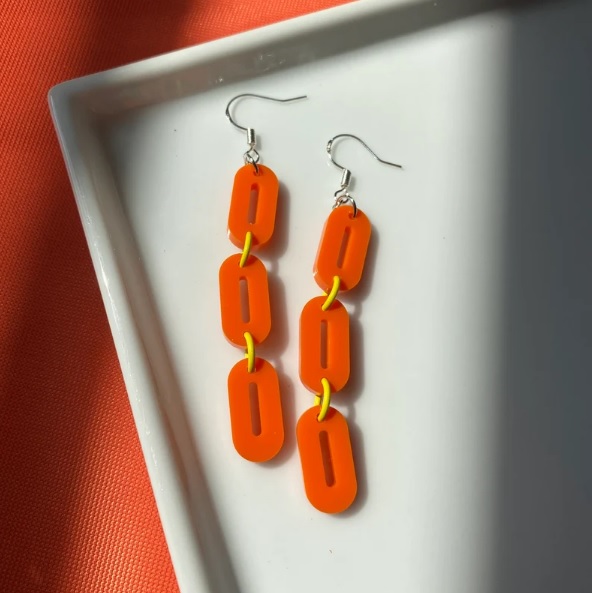 Disclosure: This post contains affiliate links, which means that if you click on one of the product links, a small commission may be credited to this site.
© All images are copyrighted by their respective authors.
There's always a reason to infuse some colors into your outfit no matter the season.
Cue chain link earrings in popping colors. Whether in a mix of colors or a single eye-popping one, these earrings shall inject a good ol' Y2K aura into your everyday & dressy attires.
I love chain link earrings and my first was handcrafted by my own sister who was experimenting with her clay designs. And how I love the fun look of the linked chain combined with primary colors green, yellow, blue and red.
So first take a look at these gorgeous pair of earrings of mine that I love:
Aside from my adoration being said and shown in the photo, these chain link earrings are actually everywhere, folks and gosh, the choices are pretty endless. 
If you are in the mood for accenting your look with colors these days, then a pair of chain link earrings that feature the kind of colors you love are definitely going to be a jewelry game changer. They come in bold rainbow color mixtures as well as solid single primary colored iterations. For those into the see-through color options, these are also around and are made of resin and acrylic.
Chain link earring styles come in a wide range of sizes, shapes and varieties. From a huge whole world of colorful chain earrings out there, here are a list of ten eye-catching chain link earrings made of lovers of colors that caught my eyeballs.
Enjoy!
Get all colored up when you don any of these chain link earrings...
How stunning are these colorful chain link earrings? Aren't they all oozing fun summer vibes?
Which vibrant pair is your favorite? What do you love most about the Y2K jewelry style aesthetics? Share below. Your thoughts are delightfully welcome.
Till the next post, take care of your precious self, do what you love, smile from your heart, laugh from the belly and most of all: let all you do spring from that gooey soft corner in your heart!
To independent jewelry makers: Get in contact with us so we can share your unique creations in this space!
Are you an independent jewelry artist with a collection of unique earrings you're excited to show to the world? Drop us a message so we can have your designs featured here!
Stay inspired, eat healthy and be emphatic to others you meet in your path! We may be outwardly different but we're all the same life stuff on a journey. Take care!