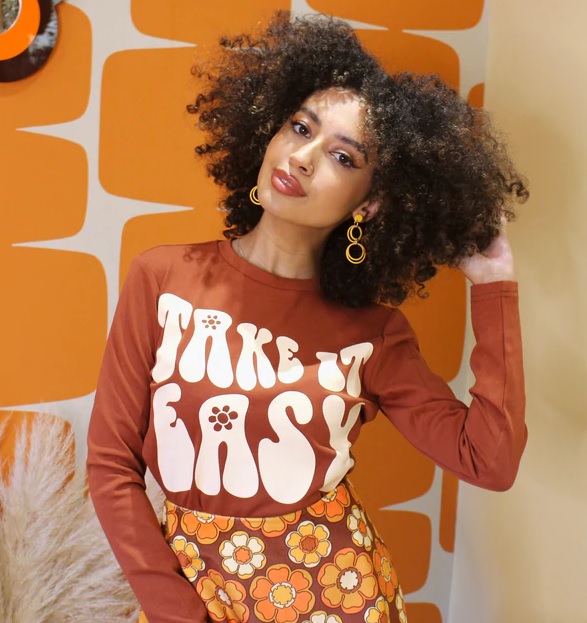 © All images are from and copyrighted by their respective authors.
This fashion post features a look into the 70s inspired fashion. Keep the space bookmarked if you're into keeping up with 70s fashion trends and designs. 
70s fashion daydream believer, this one is for you.
70s style fashion is so right up my alley at the moment and since you are here, I bet you're roaming in the same fashion zone too.
There's just something about that era that lingers. I gather that it's especially because I was an 80s child and that the fashion era was still ever so fresh as it;d crept into the unsuspecting pscyhe of my internet-free childhood in the 80s running around the bush in my late grandma's ungated compound playing teacher with the poor plants and silently watching an ant eater having ants for meals.
That said, my parents, aunts and uncles lived their youths through the 70s era and wore the fashion of the time so seamlessly as photographed in those old nostalgic physical imagery of the time.
That fitted tops with flared sleeves. The prints, oh gosh, they're truly alive! The crazy flares at the end of the mostly fitted bottoms. The coolness of that Farrah Fawcett's lion's mane. I have to thank my mom for keeping that hairstyle alive for me as it's my easy-go to even as it's known by another new name: wolf cut.
For slow fashion inspo of the 70s, please hover your attention across the imagery below. I was very pleased to have caught this far out fashion label while on Insta and thought you might adore them too, so do kindly enjoy!
Purposefully slow 70s inspired clothing for your conscious fashion consumption...
Above is the song that was playing in my head while I was piecing this piece together for the 70s fashionista that is you. Talk about being extra nostalgic. I just love the Carpenters!
What do you think of the return of 70s style fashion in 2022? Which element of the 70s dressing that you're into? Share below!
I love finding out about your current 70s fashion faves and what you think of the fashion era in general.
We love 70s fashion that triggers all kinds of good feelings.
Kindly email us if you would love to have your own unique 70s inspired fashion collection featured in this space. We'd love to hear from you!
Till the next one, keep healthy, move your body(especially those legs), nourish the body & mind well and make time for meditation!
To quote Russell Brand: Stay Free!