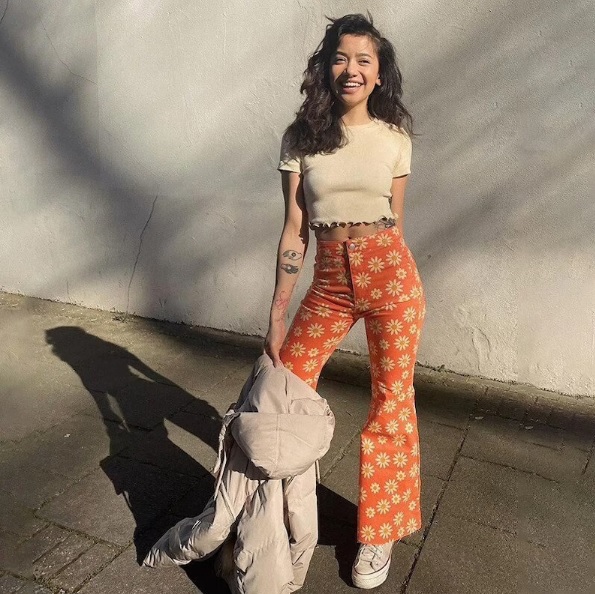 © All images are from and copyrighted by their respective authors.
This affiliate post features a look into the return of the Y2k fashion trends in 2022. Keep the space bookmarked if you're into keeping up with the best Y2K fashion look. 
For fun roomy pants that cinch at the waist flare where your calves are and have all kinds of vivid prints.
Inspired from the fashion mood of the mid 90s to early 2000s, it's a mixture of mild retro elements with a futuristic twist. Today's post narrows upon the style of pants that ooze Y2K style vibes and apparently has been in fashion for a few years now as gen Z looks adoringly back to a time considered to be the awkward years of fashion according to my old millennial perspective. No doubt those years had a particular quirk about it as I grew into my awkward young adult phase. I did not look at the fashion of the times with loving eyes, until well, looking at the youngsters of today clad in their versions of Y2K-inspired OOTDs.
And with that said, the pants caught my eyeballs by surprise. I felt like I had worn versions of it but not quite. The patterned look is vibrant and fun with a high-waisted design that keeps it amazingly cinched at the smallest bit of the waist. For me, the design of the pants have a mix of the 80s mom jeans with the randomly abstract futuristic motif of the 2000s. I don't quite know how to distinctly label this style of pants but upon googling some, it's apparent that they're called the y2k pants.
If you are a fan of patterned pants that spare your meaty calves from being squeezed and are high-waisted so that your shy belly button is carefully hidden while baring the midriff region above, then these y2k pants might be what you've been missing out on for some reason:
The printed Y2K aesthetic pants for your contemporary OOTD:
So folks: What do you think of these y2k style pants? Which pair would you be keen to wear? Share below!
To check the pants in closer detail, please click on the image or the link under to go to the product page.
Thank you for stopping by the space. Keep your wits about you, stay fit, keep moving and get inspired!
More fashion stories about pants/trousers: