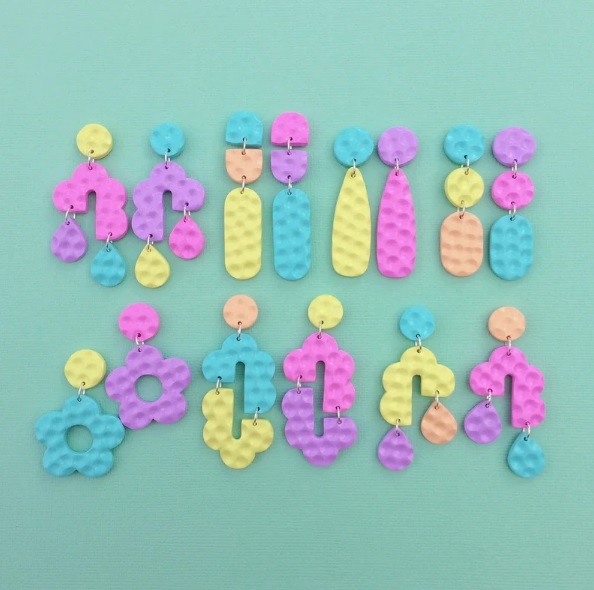 Disclosure: This post contains affiliate links, which means that if you click on one of the product links, a small commission may be credited to this site.
© All images are copyrighted by their respective authors.
Spice up your ear game with a burst of rainbow candy colors in bold statement kawaii shapes and patterns. 
There are all kinds of earrings out there in the world today but in this post, we are zooming in on some of the prettiest kawaii-est rainbow earrings you'll be stoked to wear.
Get your ear lobes extra cute and kawaii with these extra bright and fun candy colored earrings.
Hello dolls, it's that time of the week for our fav earring design of the moment. This is dedicated especially to the lovers of kawaii fashion elements and candy rainbow colorways.
In this space, we love earrings a little bit too much and we are in the mood for something adorable and high energy. These kawaii earrings are absolutely the prettiest we ever did see and they come in various shapes and colors. From geometric patterns to dangling chain with flower charms in a mixture of candy colors, expect to be instantly smitten with the wide range of variety in shape and pattern combinations. These earrings draw inspiration from clouds, desserts and wavy organic lines and textures just to name a few.
Freshness and a spring in your steps are some of the feelings triggered when one tenderly gazes at the sweet collection of kawaii earrings handmade using various materials from polymer clay to plastic. The underlying theme throughout is palpably cute, quirky and ultra sweet. For fashion gals who appreciate a burst of rainbow pastel colors in bold earring designs, these might be right up your alley totally.
I personally find the cuteness utterly appealing as the style translates easily into fun. If you are up for some fun and cute earrings designs for framing your summer face, we recommend giving these earrings a try. You might fall in love with more than a pair of them.
Raise the level of cuteness of any outfit when you don these kawaii rainbow pastel earrings:
These statement kawaii style earrings are crafted from various materials like plastic resin, polymer clay and many more. 
Kira Jade is the designer and mastermind behind this explosion of fun, pastel multicolored earrings. She is creates kawaii home décor and art.
So folks: What do you think of these statement colored acrylic earrings? Which pair would you be interested to wear? Share below!
Visit Kawaii Aesthetics Shop for a look into her colorful kawaii earring collection as well as her other artistic creations.
Till the next post, take care of your precious self, do what you love, smile from your heart, laugh from the belly and most of all: let all you do spring from that gooey soft corner in your heart!
To independent jewelry makers: Get in contact with us so we can share your unique creations in this space!
Are you an independent jewelry artist with a collection of unique earrings you're excited to show to the world? Drop us a message so we can have your designs featured here!
Stay inspired, eat healthy and be emphatic to others you meet in your path! We may be outwardly different but we're all the same life stuff on a journey. Take care!
More kawaii fashion vibes: