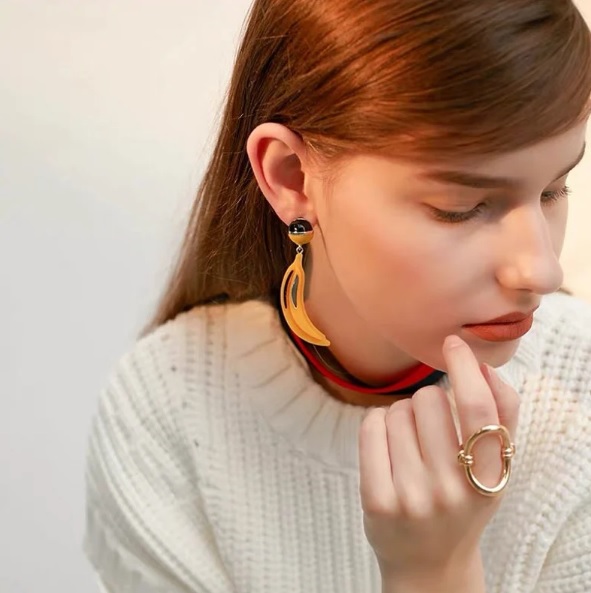 Disclosure: This post contains affiliate links, which means that if you click on one of the product links, a small commission may be credited to this site.
© All images are copyrighted by their respective authors.
There's something about bananas that are enjoyable as a tropical fruit snack. 
Find a dose of inspiration in these banana earrings that caught us off guard through their adorable appearance.
When things are going rather bananas, it's time to get tongue in cheek and wear some bananas on your earlobes.
The world's at a really strange spot these few years. If you're feeling that something's amiss somewhere and certaing things are making less sense as you look deeply into it, then you're definitely not alone. It can be bananas out there. But let's keep it clear and transparent within ourselves. A confused world is not made better through confused minds. We have to be able to introspect and at the risk of sounding amazingly cliché: be the change we want to see.
What's that gotta do with some banana earrings, you ask? Well, for me personally, it's just a fun reminder to laugh at ourselves and realize that life passes by so quickly so we might as well make it a point to go bananas every now and then. These earrings are great for those whose favorite fruit snacks are bananas. If you find the shape to be of the same category as the poor aubergine in the world of spicy emojis, then banana earrings can be a way to express your sense of humor.
For those who feel very spiritually connected to the tropical fruit, a head of bananas are great on top of the table as well as on your ears. Even a painting of a banana can imbue the atmosphere with a riveting story but that's a post for a different day.
To help you locate the cutest amongst the many styles of banana earrings available out there, here are a curated list of TEN of our latest faves.
Enjoy.
10 Banana earring styles to hang on your earlobes with confidence...
How adorable are these banana earrings? Don't you just wanna wear them all?
What do you do when you feel bananas? Would you wear banana earrings? What style is your cuppa tea? Share below. I love hearing your thoughts.
Till the next post, take care of your precious self, do what you love, smile from your heart, laugh from the belly and most of all: let all you do spring from that gooey soft corner in your heart!
To independent jewelry makers: Get in contact with us so we can share your unique creations in this space!
Are you an independent jewelry artist with a collection of unique earrings you're excited to show to the world? Drop us a message so we can have your designs featured here!
Stay inspired, eat healthy and be emphatic to others you meet in your path! We may be outwardly different but we're all the same life stuff on a journey. Take care!