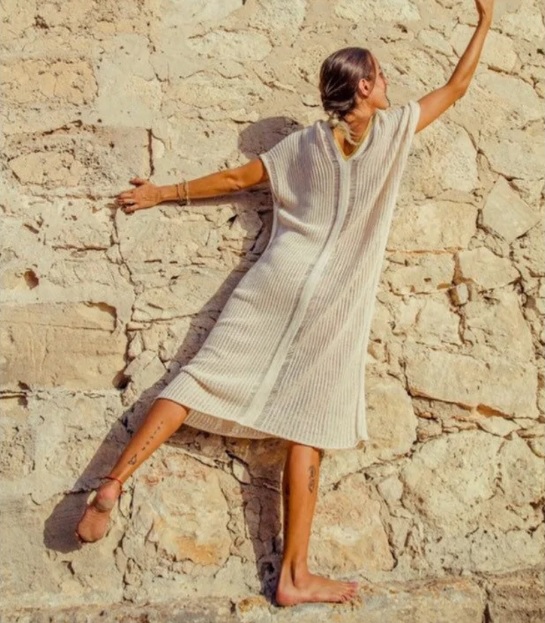 © All images are from and copyrighted by their respective authors.
This affiliate post features a look into the tribal summer dress styles that are made with great love for the environment. Keep the space bookmarked if you're into keeping up with contemporary bohemian fashion trend across the globe. 
For a breezy day summer dressing  in light beige dresses crafted in heat-reducing fabric and design.
It's hot and humid here in tropical Malaysia and just wearing clothes can be tricky especially when you are going to be spending a lot of time outdoor. For today's entry, we draw inspiration from cooling summer dresses made of silk, jute and cotton in earthy shades sprinkled with tribal fashion elements.
Dresses for the summer come with a lot of styles depending on when and where is it called for. If it's for day time, then these light earthy colored pieces are a perfect option as they're the picture of laidback and easy breezy: the kind of dress I personally gravitate to. With floaty and flowy shapes, block print motif and a lot of arms and back-baring action, these frocks make summer day dressing a really fun occasion. The neutral color palette along with foolproof summer dress design ensures that your day time dressing in the hot summer is fuss free.
Let's take a look at our favorite ten summer dress styles in light beige tones for that ultimate tribal chic bohemian look that's grounding and liberating.
Enjoy.
Summery earth-toned dresses for an easy breezy hot day dressing with tribal style persuasion..
So folks:
Which earthy summer dress is your cuppa tea? Share your favorite below. As always, your opinion means a lot. So feel free to drop it like it's hot.
Remember to breathe deeply, sit out in the green, listen to the sounds of nature. Work smart and make time for play to channel your creative energy.
More bohemian fashion to inspire you: