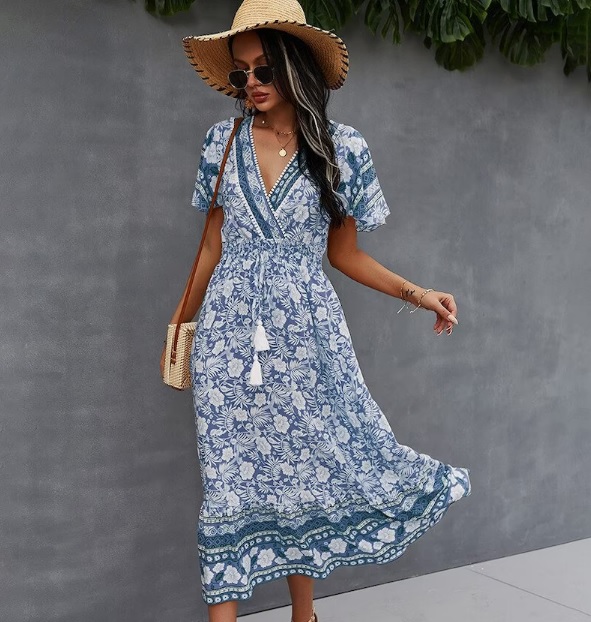 Disclosure: This post contains affiliate links, which means that if you click on one of the product links, a small commission may be credited to this site.
© All images are copyrighted by their respective authors.
Just my favorite kind of midi dress as the heat picks up here in tropical Malaysia.
Ready to absorb the breezy hot summer day in a flowy midi sundress? Yes, we are!
But first, my personal thoughts on the dress:
I spotted it while casually looking for sundress styles that will match the hot and humid weather that Malaysia has been blessed with these few days. We were in a state of ridiculous rain that saw a lot of low-lying areas flooded so this hot spell is rather anticipated. And when the heat comes, it comes! And if there's one thing about the local humidity, one needs to whip out all the breezy clothing in order to truly dress for the dazzling equatorial summer with high probability of a heat stroke if one isn't careful.
That said, this is the type of sundress, I feel, would go with all sorts of body shapes. The V-neck is charming, short flared sleeves are a big plus as arms must be free from being unnecessarily suffocated, sweetly emphasized waist that can be adjusted and a flared hem that chicly beats with the breeze.  
This sundress design comes in four colorways so it's best that you get them all if this is your kind of summer midi dress as well.
Feast your eyes, ladies:
Get pretty breezy chic in these midi sundresses...
Pair the bohemian summer dress with the Khadau-inspired summer sandals I just fell in love with!
Here's how I styled my black and white sundress that looked kinda similar to the midi sundress but it's a mini.
Till the next post, take care of your precious self, do what you love, smile from your heart, laugh from the belly and most of all: let all you do spring from that gooey soft corner in your heart!
To independent jewelry makers: Get in contact with us so we can share your unique creations in this space!
Cheers!
Are you an independent clothing maker with a collection of apparel you're looking to show to the world? Drop us a message so we can have your designs featured here!
Stay inspired, eat healthy and be emphatic to others you meet in your path! We may be outwardly different but we're all the same life stuff on a journey. Take care!
Other summer fashion inspo: