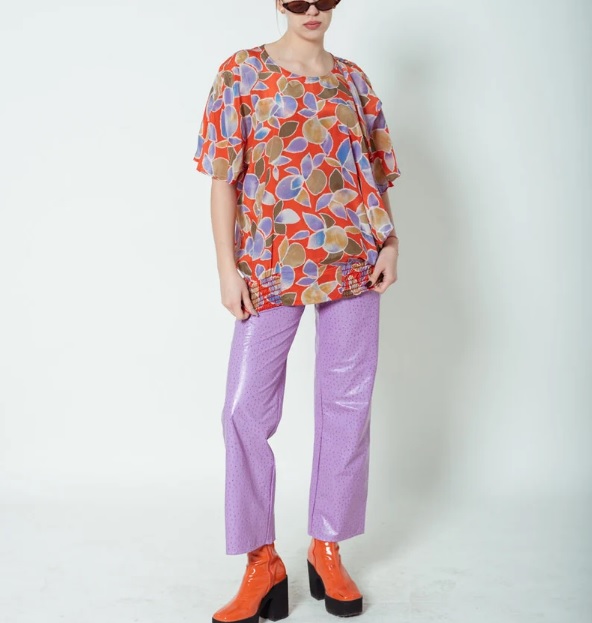 © All images are from and copyrighted by their respective authors.
This affiliate post features a look into the return of retro fashion trends in 2022. Keep the space bookmarked if you're into keeping up with the best retro dressing incorporating vintage apparel.
For building an exquisitely fun retro wardrobe by using vintage blouses and shirts derived from the time period.
In the mood to spice up your modern wardrobe with retro pieces? What better way to do that than to embrace vintage!
Make a mindful purchase of vintage blouses and shirts that have stood the test of time and are still standing.
While perusing the vintage corners of Etsy, I took the time to explore silhouettes and designs that I absolutely adore in vintage shirts and blouses. They make for such a great top in your contemporary wardrobe and will ease into basically any type of look you aim for. These vintage blouses come from the 50s to before Y2K. Whether you love stripes, floral prints, polka dots or abstract, it's time to get excited about dressing retro by practically wearing these true vintage pieces!
For those into the Y2K baggy patterned pants, please check out our previous post as it features vivid baggy pants inspired by the fashion spirit of that time. For vivid tangerine earrings that ooze 70s fashion aesthetics, please check our curated list of 10 bold orange earrings to take your jewelry game to the next level. 
Without further ado, here are 10 vintage blouses and shirts in various styles to consider as you build your thoughtful and stylish retro wardrobe in 2022.
TEN vintage blouse and shirt styles to spruce up your retro dressing in 2022:
So folks: What do you think of these selection of vintage blouses and shirts? Which style would you be keen to wear? Share below!
To check the pants in closer detail, please click on the image or the link under to go to the product page.
Thank you for stopping by the space. Keep your wits about you, stay fit, keep moving and get inspired!
More 80s fashion stories you might enjoy: