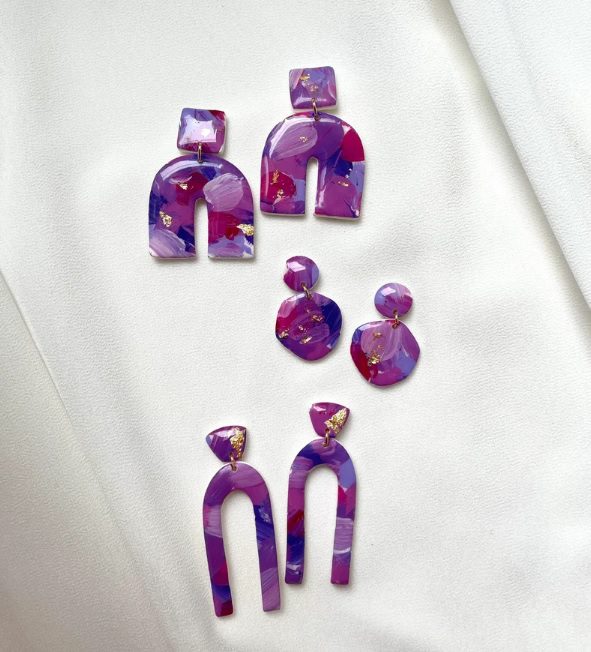 Disclosure: This post contains affiliate links, which means that if you click on one of the product links, a small commission may be credited to this site.
© All images are copyrighted by their respective authors.
For the purple color lovers out there. 
Purple is a favorite color by many, no doubt about it.
Combining the stability of blue and fierceness of red, purple is a color that epitomizes all good things that come from interweaving light and dark energies to give rise to a strong and spiritually energetic being.
Everyone's got a distinct story of how they resonate with the color. In the past, I've only known myself to say that blue of the dark blue variety was my childhood favorite color. The most purple thing I was known to use on repeat was a sturdy umbrella my sister got me. The kind with a button to push and the umbrella would sprung open almost instantly giving me a feeling like I was ready to take on the world. Walking on a rainy or overly bright sunny days along side the old purple umbrella made me feel extra lifted, emotionally.
Someone did mention in passing that the umbrella color was 'sexy' and I was taken aback. I never thought of purple as a color to be associated with that adjective. It goes to show that anything can mean something one never truly thinks about until another soul brings it up.
Like a lot of things in life, the purple umbrella broke and I now have a new manual orange umbrella. I however, have not a single pair of purple earrings! If you're one purple gal and would love to extend your love for the magical color in the earrings' department, let me help you out with this short but sweet curated list of purple earrings that you might just love a lot!
10 purple earrings to wear as a fun statement jewelry this year...
How do you like these purple colored earrings? Which pair is your favorite? 
Share below. I love hearing your thoughts.
Till the next post, take care of your precious self, do what you love, smile from your heart, laugh from the belly and most of all: let all you do spring from that gooey soft corner in your heart!
To independent jewelry makers: Get in contact with us so we can share your unique creations in this space!
Are you an independent jewelry artist with a collection of unique earrings you're excited to show to the world? Drop us a message so we can have your designs featured here!
Stay inspired, eat healthy and be emphatic to others you meet in your path! We may be outwardly different but we're all the same life stuff on a journey. Take care!
Other purple things we adore: