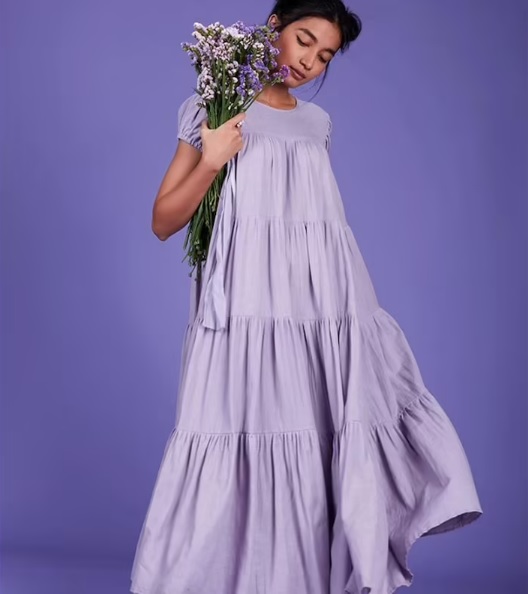 Disclosure: This post contains affiliate links, which means that if you click on one of the product links, a small commission may be credited to this site.
© All images are copyrighted by their respective authors.
Not the hot sauce, folks…but the cool color of 2022, according to the color expert, Pantone.
Ready to transform your wardrobe with the cool purple called Very Peri? Before you know it, you will!
But first, my personal thoughts:
Is very peri a glorified lavender with a touch of lilac and a tiny drop of mauve. Mauve appears to carry a bit of warmth (if you and I are seeing the same color). While eyeballing the screen at the Pantone color of 2022, I can't help but to feel rather soothed by the pale purple shade that leans on the cool spectrum color temperament. But when I think of the word Peri, I think of that hot sauce Peri-Peri.  Then, I just get hungry. Apparently the Peri is referencing to the short form of Periwinkle but I don't ever use that in my speaking language unless I want to sound like I'm putting on airs.
Very Peri isn't periwinkle at all. It's a light purple that errs on the cool range. Think more blue, less red.
Without a doubt, it's a calming shade. It reminded me of my brother's childhood room. Mine was painted a dark gaudy blue because I thought that was very soothing. It's repainted yellow now and I'm taking solace in that it's not cave dark in there anymore.
What was the topic again? Oh yes: very peri. It's safe to say I will not be using the term in my speaking language whilst among sensible laypeople. We just call it soft purple, baby purple, light purple. Anything other than very peri. Insert self-satisfied emoji.
But that doesn't mean this post is without imagery! Here are some stunning (hopefully) Very Peri dresses for you draw inspiration from:
Get subtle in purple when you don these Very Peri Dresses...
What do you think about Very Peri as the color of the year? Are you pscyhed to slip into a dress in said color or turn a wall in your living space into the cool shade or are you feeling rather dismissed because it's not the kind of color that you naturally adore? For me personally, I've not once worn anything that carries Very Peri. A very dark purple tee might have been the closest to its family but I am open to wearing the color in say a top or/and sweatpants so I can feel cool and on trend whilst shaking my limbs in the evenings.
Do you think it'll go with my brown skin with a warm understone? Share your thoughts. I love reading them :)
Till the next post, take care of your precious self, do what you love, smile from your heart, laugh from the belly and most of all: let all you do spring from that gooey soft corner in your heart!
To independent jewelry makers: Get in contact with us so we can share your unique creations in this space!
Cheers!
Are you an independent clothing maker with a collection of apparel you're looking to show to the world? Drop us a message so we can have your designs featured here!
Stay inspired, eat healthy and be emphatic to others you meet in your path! We may be outwardly different but we're all the same life stuff on a journey. Take care!
Other purple color inspo: