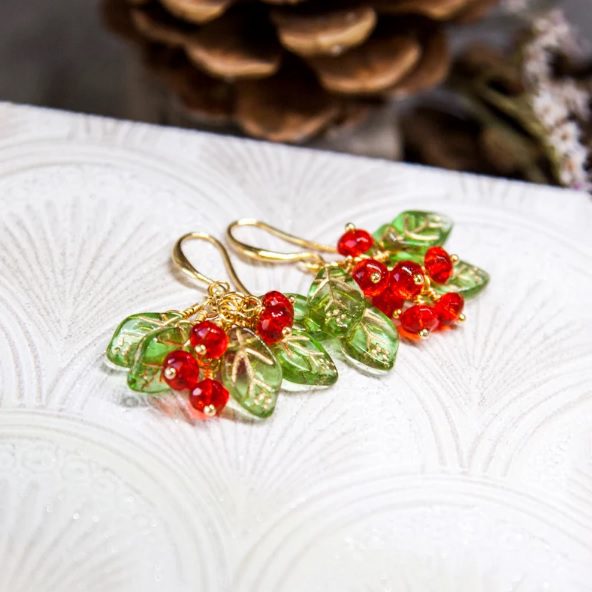 Disclosure: This post contains affiliate links, which means that if you click on one of the product links, a small commission may be credited to this site.
© All images are copyrighted by their respective authors.
Here's how to make your ear lobes sing your fave Christmas song:
Christmas is just around the corner and some of you are wondering how to get your ear lobes to pop out in a Chrismassy way. We heard you and have you totally covered!
Festive ears for Christmas is easy to do when you have a world variety of earrings with Christmas holiday design elements that are a classic and thus, will NOT go wrong. These festive earrings capitalize on the usual classic Xmas holiday colors with a generous dose of sparkle. Shapes include the ever popular and loved Christmas tree with or without decorations, flowers, Santa hats and ornaments crafted using materials like polymer clay, acrylic, beads and rhinestones and of course, your favorite metals.
Get into the joyful Christmas spirit when you don any of these splendid earrings with a Christmas theme we have curated just for you.

Enjoy!
10 Christmas Festive Earrings To Wear:
What do you think of these festive Xmas earrings? Which pair would you love to wear? Share below – I'm always thrilled to hear from you!
Till the next earring post, take care of your health, do what you love, smile a little bit bigger, laugh a little bit louder and most of all: let all you do spring from that gooey soft corner in your heart!
To independent jewelry makers: Get in contact with us so we can share your unique creations in this space!
Cheers!
Are you an independent jewelry artist with a collection of unique earrings you're excited to show to the world? Drop us a message so we can have your designs featured here!
Stay inspired, eat healthy and be emphatic to others you meet in your path! We may be outwardly different but we're all the same life stuff on a journey. Take care!
Other earrings and things to love: