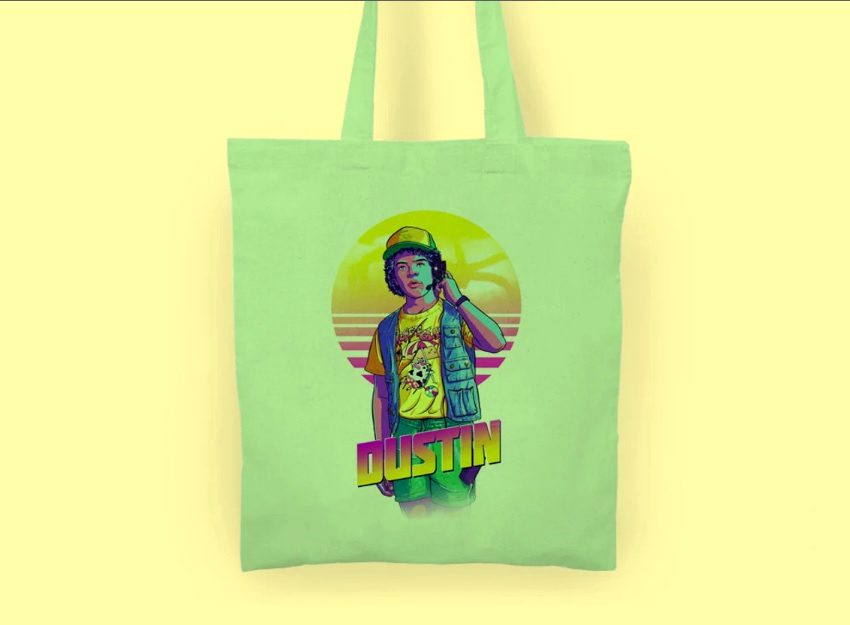 © All images are from and copyrighted by their respective authors.
This affiliate post features a look into the retro style cotton tote bags inspired by American TV series Stranger Things. Keep the space bookmarked if you're into keeping up with retro 80s fashion. 
Bags to match your love for Stranger Things: retro tote arm candies with your favorite characters.
So, you're a Stranger Things series maniac. aren't you. I am not that mad of a fan but I hover around that category.
Do you have appreciation for cotton tote bags to lug around necessary things whilst being extra conscious of keeping Mama Nature happy? Great! These tote bags are it! They even are rendered with your favorite TV show's characters on them in a very cool 80s retro fun color palette mix.
The artist behind these creative tote bags is the mastermind behind the label. He designs, draws and creates each tote from the beginning of the process till the end. If you're about cotton totes and have an affinity for Stranger Things, then these retro bags will definitely be right up your alley.
That said, let's just feast our eyes on the 80s arm candies, now, shall we?
Take your love for cotton totes and Stranger Things to the next level with these retro arm candies:
Besides the fun cotton totes with Stranger Things' characters on them, you can find a selection of wooden coasters inspired by the show as well, such as this one featuring Max & Lucas:
And there are vinyl stickers with the Stranger Things characters too! Look, it's Will on decal:
You can also find tees and sweatshirts both suitable for gals & guys:
So, what do you think of these retro tote bags and the rest of items inspired by Stranger Things? Which is your favorite?
Please kindly visit SpiceTag to appreciate the beauty of these retro 80s c0tton tote bags in greater detail and peruse other exciting bits and bobs there!
We love bags that trigger all kinds of good feelings.
Kindly email us if you would love to have your own unique handcrafted bag collection featured in this space. We'd love to hear from you!
Till the next one, keep healthy, move your body, nourish it well and make time for meditation!
Stay free.
More bag fashion inspiration: