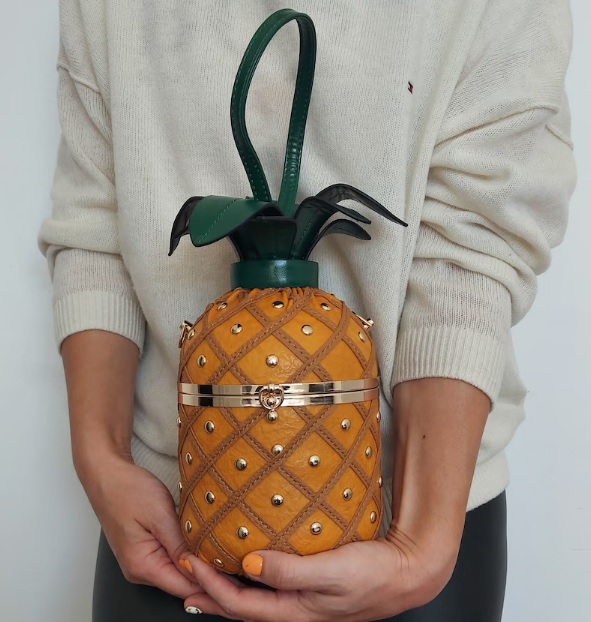 © All images are copyrighted by Justbagzz and their respective authors.
Disclosure: This Bags in Fashion feature post contains affiliate links, which means that if you click on one of the product links, a small commission may be credited to this site.
Statement bags shaped in your favorite fruit to bring character into your neutral everyday looks.
In need of a bag that's totally cute and functional as in can carry all the important things in your life?
Embrace your inner fruitiness by accessorizing your everyday looks with a statement bag shaped in your favorite fruit.
Whether that is an apple, pumpkin (isn't this a veg?), pineapple or strawberry, these fruit-shaped bags are quite a sight to behold. In case you are into mushrooms, there's that too. But since it's not under the fruit category, I'm just going to show the other fruits.
Now that I'm suddenly feeling bad for excluding the mushroom bag ( I love shrooms! The vege kind, of course. The kind cooked in a pan, sauteed. ), I will display it first here for your viewing pleasure:
Tell me it isn't just me that think it's too unbearably cute. Granted it's got flowers and greens adorning the stem (making it a tad visually-busy) I think it's a great statement piece for occasions where you want to boldly express your quirky side.
Back to the fruity bag category, now folks – These are purposely designed to be carrying things so you can relax about whether their size is practical. They ain't tiny, at all. They're designed to be in a size where eyeballs that can see will definitely detect them. Clearly, this is the kind of statement arm fruit candy that is all about making a statement.
Check the fruit bags out, peeps! Tell me if they're right up your alley.
Fruity Chic: Fruit-Shaped Bags To Spice Up Any Everyday Getup:
Tell us your thoughts about super cute fruity bags. Which is your favorite? Is it the mushroom one?
Please visit JustBagzz to appreciate these fruit-shaped vegan leather bags in greated detail.
We love hearing from you, so shoot us an email or DM us where you most prefer.
Remember to keep yourself healthy and wise by feeding yourself the right kind of nourishment fit for both your body and mind.
Till the next one, take good care!
Could these be something to inspire you: