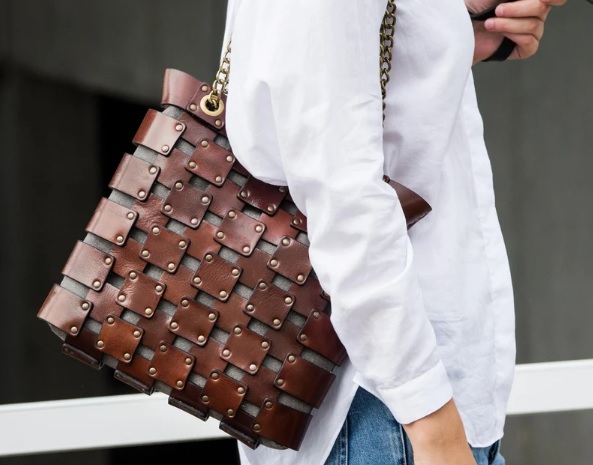 © All images are copyrighted by Time Resistance and their respective authors.
Disclosure: This Bags in Fashion feature post contains affiliate links, which means that if you click on one of the product links, a small commission may be credited to this site.
Sophisticated leather bags that will remain in your repertoire for life.
Tired of bags that look good but fall apart before its time courtesy of the fast fashion movement?
You're not alone. It's time we think about the time when things are made to last not for a few months but for generations.
When bags are designed to last and are tagged at a price that is within reason, we all benefit and Mother Nature rejoices!
After becoming a victim of fashionable bags that decay, I have long moved on to fabric tote bags that are affordable, soft (I hate hard-bags) and are lasting. When it comes to pretty bags, I find myself gravitating to something in leather with interesting design feature.
When these leather bags with the patchwork style and metal hardware details came under the radar, I was completely in a trance to say the least.
Reading the reviews also revealed a story of the maker of the bags and they are made with such high quality craftsmanship that these bags aren't just a sight, they're for keeps! They're the epitome of beauty with substance. It's a nod to a time when men and women dressed impeccably and bags aged like wine.
I don't have to remind you to keep your eyeballs glued to the details of these full grain leather arm candies because I know you will be more than impressed!
The design in particular is edgy and versatile. I just love the textural look of the patchwork style and as mentioned, the leather will remain with you throughout the many seasons of your life. It will retain impressions that are unique to your life's story and thus, it's a great investment piece if you're looking for a mighty edgy leather bag that's built to make memories with.
Whether it's a tote that you seek or a clutch that can play as wrist bag as well as a shoulder bag, you will find that the patchwork style leather design carries itself well in each bag interpretations.
Bonus for the expert wine drinker: there is a leather bottle carrier with this distinct design as well.
Enjoy looking at the bags:
The Leather Bags With A Sophisticated Patchwork Design To Stand The Test Of Time...
Tell us your thoughts about these edgy patchwork style leather bags. Which is your favorite?
Please visit Time Resistance to appreciate these full-grain leather masterpieces in greater detail and browse through their vast collection of meticulously-designed bags.
We love hearing from you, so shoot us an email or DM us where you most prefer.
Remember to keep yourself healthy and wise by feeding yourself the right kind of nourishment fit for both your body and mind. Till the next one, take good care!
Could these bags be potentially yours?