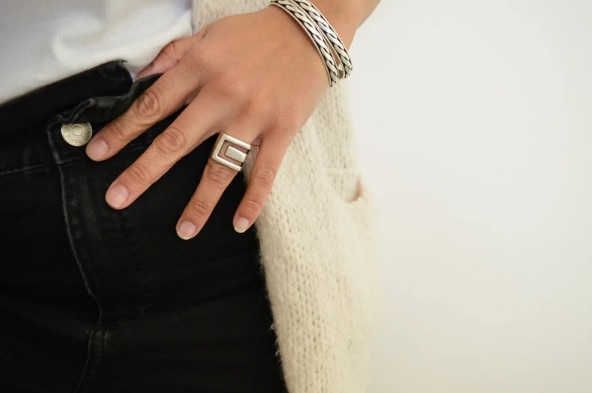 Disclosure: This post contains affiliate links, which means that if you click on one of the product links, a small commission may be credited to this site.
© All images are copyrighted by their respective authors.
Kick yourself out of your ring style rut by sporting rings that command attention because they are purposefully made different.
Rings come in a whole world of variety and when you see one, you've pretty much seen quite a lot of them as they usually are pretty default in terms of designs.
With a rise of jewelry designers who are keen on stretching design boundaries to cater to the ever adventurous and experimental jewelry-loving audience, there is a world of rings out there that will make you do a double take. I like odd things in general or at least the kinds that appear out of the box and unexpected so I'd spent last weekend to browse for rings with different than the usual (to my eye. It's subjective, ikr; very well-aware of that but still).
For fun rings that you can wear solo, stacked or on the majority of your fingers (like David Rose from Schitt's Creek), I'm certain you'll find something that will get your fingers properly adorned this season or the next:
10 fashion-forward rings to get you out of that funky jewelry style rut
Folks, I hope you will find something to love in these unique rings so you can take your love for unusual ring styles to the next level.
Till the next post, take care of your precious self, do what you love, smile from your heart, laugh from the belly and most of all: let all you do spring from that gooey soft corner in your heart!
To independent jewelry makers: Get in contact with us so we can share your unique creations in this space!
Are you an independent jewelry artist with a collection of unique earrings you're excited to show to the world? Drop us a message so we can have your designs featured here!
Stay inspired, eat healthy and be emphatic to others you meet in your path! We may be outwardly different but we're all the same life stuff on a journey. Take care!