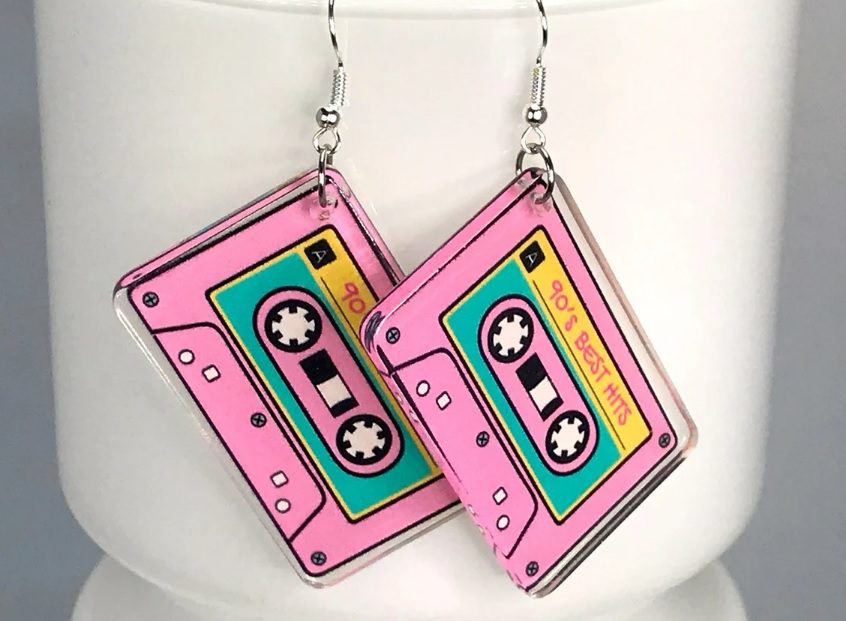 Disclosure: This post contains affiliate links, which means that if you click on one of the product links, a small commission may be credited to this site.
© All images are copyrighted by their respective authors.
There's nostalgia in cassettes. Bring the symbol of humble audio beginnings in your jewelry game in 2022.
Confession: I have memories buying cassette tapes of boy bands I listened to in the 90s, just like teens that grew up at that era of cassette tapes.
When you can't catch your fav boy band pop song on the radio or the HUGE TV, there were cassettes, then. How strange they're part of a fossil of the time.
I still am unable to believe that cassettes are no longer the thing to go mad about. I remember vividly in the 90s buying specific boy band cassettes for awesome pop 90s music. There were the coveted cassettes from 911, Boyzone, Backstreet Boys and tons more from my parents' stash.
Rushing to the music store to get fresh cassettes with new posters that came along with the release of the boy band's album was what the late 90s were all about for me. Those cassettes were precious because I could finally listen to the songs on repeat or else, to the radio or the music channel on TV! The fat TV, not the thin screens we call TV these days, hahah. Such nostalgia.
These days you can bring cassette tapes back into your contemporary dressing game by opting for jewelry that feature the retro tapes. From earrings to necklaces, ride the retrowave in the jewelry scene by getting yourself a cute bling with cassettes as charms and pendants. These quirky jewelry will make your outfit POP as the unusual accent is a visual delight. Of course, if you didn't live through the cassette-buying days, it can be a token of appreciation to the humble beginning of how artists make their work available to the masses.
Here are the cassette-inspired earrings and necklaces for you to accessorize with as you bring the 80s and 90s back in fashion:
Cassette tape earrings for your ears and cassette tape necklaces for your well, necks...
How nostalgic are these cassette tape earrings and necklaces? Will you be wearing any of them this year?
What kind of outfit would you pair up with statement cassette earrings and necklaces? Share below. I love hearing your thoughts.
Till the next post, take care of your precious self, do what you love, smile from your heart, laugh from the belly and most of all: let all you do spring from that gooey soft corner in your heart!
To independent jewelry makers: Get in contact with us so we can share your unique creations in this space!
Are you an independent jewelry artist with a collection of unique earrings you're excited to show to the world? Drop us a message so we can have your designs featured here!
Stay inspired, eat healthy and be emphatic to others you meet in your path! We may be outwardly different but we're all the same life stuff on a journey. Take care!