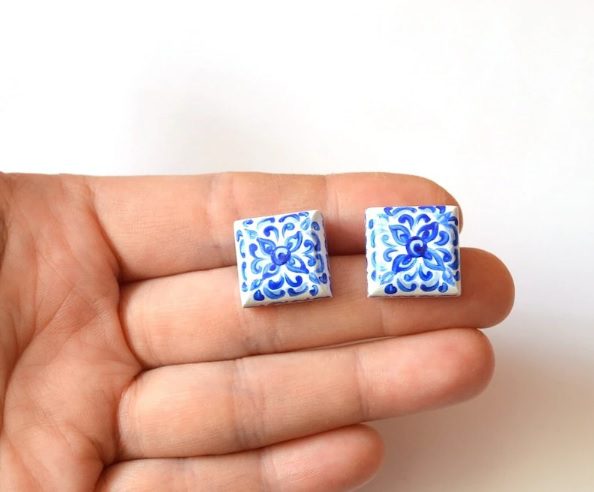 Disclosure: This post contains affiliate links, which means that if you click on one of the product links, a small commission may be credited to this site.
© All images are copyrighted by their respective authors.
Go the Portuguese tilework style route when you decide for the earrings to wear for the chicest new look this new year.
Portuguese tilework has this signature motif that makes you feel calm and collected. Especially in this vivid blue, in earrings, the pattern is simply stunning.
Love the look of antique portugese tiles? Owned that very look in patterns decorating your clothing? Then why not take it a step further with these porcelain inspired earrings that are out of the box and elegant as you boost your jewelry game this fresh new year.
I spotted them today while I was looking around for a new earring trend to start the year with and here they are. I adore this shade of blue and with white in a minimal dual palette handpainted in those dreamy historical foliage motif, these earrings are quite a sight. Some of these are on the smaller studded design scale. Some in clipable formats for virgin earlobes. And some are purposely made large to go with a sleek updo on your special day/occasion. The artist takes personalized requests so you can definitely DM them to discuss.
Let's look at them now, shall we? Enjoy!
Here's to dressing the ear lobes with a splash of Portuguese tile inspo reimagined by these contemporary earring designs:
Portuguese tile style inspired earrings for uniquely chic ears..
What do you think of these statement Portuguese style tile earrings? Which pair would you love to wear? Share below – I'm always thrilled to hear from you!
What materials are these earrings made of?
These handmade pieces are crafted of wood, tempera paints, protective lacquer and medical steel fittings. They can be personalized!
Till the next earring post, take care of your health, do what you love, smile a little bit bigger, laugh a little bit louder and most of all: let all you do spring from that gooey soft corner in your heart!
To independent jewelry makers: Get in contact with us so we can share your unique creations in this space!
Cheers!
Are you an independent jewelry artist with a collection of unique earrings you're excited to show to the world? Drop us a message so we can have your designs featured here!
Stay inspired, eat healthy and be emphatic to others you meet in your path! We may be outwardly different but we're all the same life stuff on a journey. Take care!