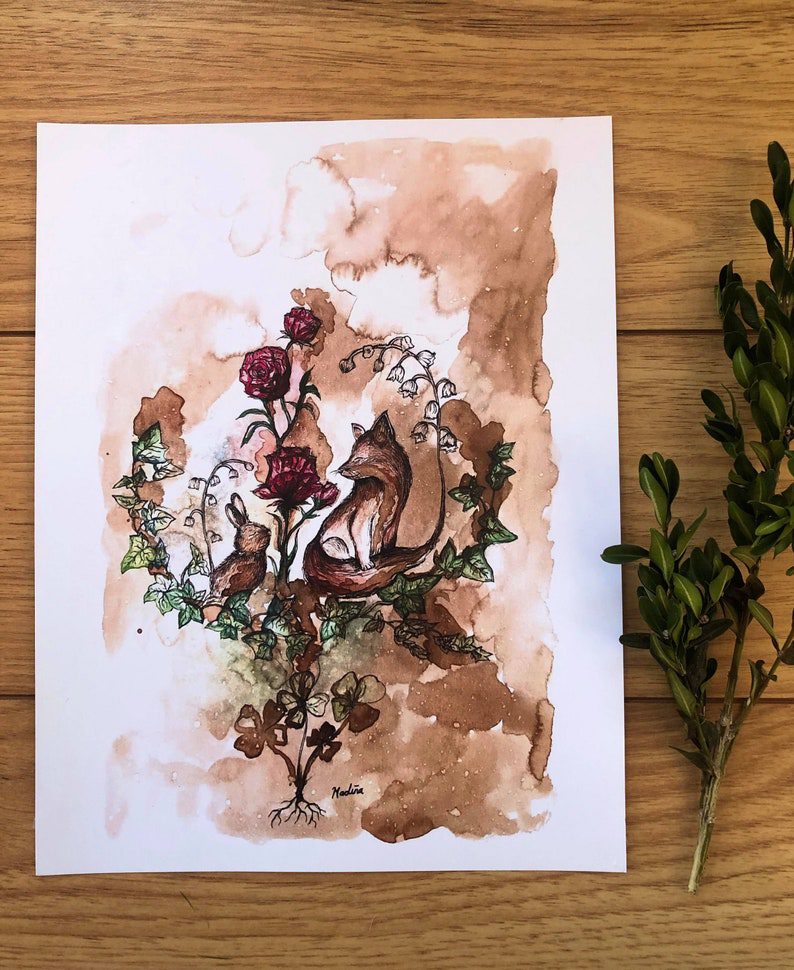 © All images are from and copyrighted by their respective authors.
This affiliate post features a look into the coffee paintings. Keep the space bookmarked if you're an art lover with a penchant for filling up your space with meaning. 
Paintings made from coffee, inspired by nature and the feminine lens.
It is no secret that I have a love for coffee. However, thinking about coffee in terms of expressions in art escaped me until I stumbled across the vivid paintings inspired by nature and feminine symbolism made of coffee recently and it made me super motivated to whip out some of the not-so-delish instant coffee grounds to see what may result from my brush strokes.
But alas, that's a different topic altogether.
Today, we will draw inspiration from Madina Meghani's coffee art and find meaning in her coffee paintings.
The brown shades in different intensity set quite the mood. I just love the earthy vibe of these paintings. Hope you will enjoy them too:
Coffee paintings to decorate your spaces with:
So dreamy…and magical, with a giant sprinkle of love for mama nature..
Aren't they a sight or what? Which coffee art is your favorite? Share below – I'd love to know.
Till the next one, keep your wits about you, have a good read and make time for meditation session to reconnect with the intelligence of Life.
Madina Meghani is an artist from Whitby, Canada. Her subject of interest are coffee paintings and earthly creations. A constant force in her work is the connection of nature with a feminist perspective. She creates art that captures natural scenes combined with themes surrounding mental health and women empowerment. She is also passionate about neuroscience and enjoy creating illustrations of the brain. Please find her on Etsy & Instagram for her unique coffee art paintings.