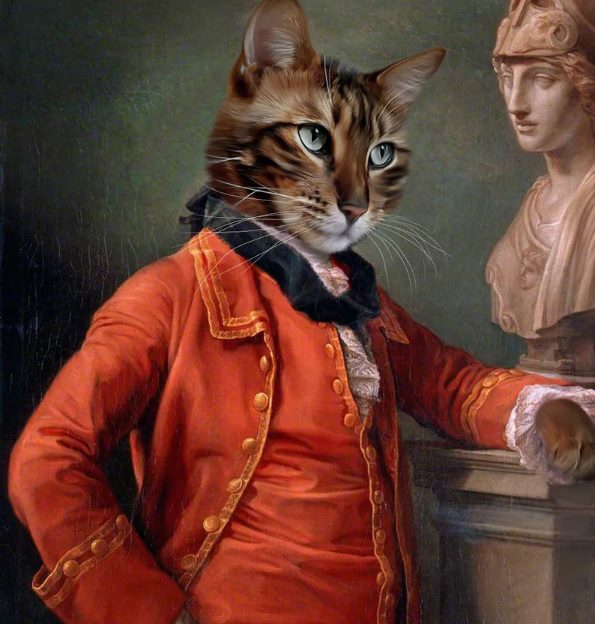 © All images are from and copyrighted by their respective authors.
This affiliate post features a look into the artistic forms as expressed in historical portraits. Keep the space bookmarked if you're into keeping up with the printable & digital art forms to decorate your space with meaning. 
For holiday gifting that's full of meaning.
Get yourself and your loved ones a personalized historical portrait or two to cherish for all times.
Friends, today's the day. These historical portraits spoke to me when I saw them for the first time and boy, do they make me smile. Especially the cat portraits in royal wear. I love cats, by the way. I'm a cat lady.
I don't know if you're looking to spruce up your space with something totally out-of-the-box but I do think that regal portraits of this particular style can bring something of an OOMPH to your wall. The customizable portraits make for the perfect gift for the holidays too. 
Bring joy out to the world with these artistic portraits that can be customized in all kinds of ways by getting in touch with the portrait maker. You will totally love it. They are available in various materials of your choice: canvas print, digital art, canvas wrap on MDF frame, paper poster and canvas poster.
Let's feast our eyes  on the heart-warming custom portraits now, shall we?
Regal Historical Portraits Of Yourself, Favorite Humans & Animals...
Please be warned, these will make your smile…I'm still smiling.
So, what do you think? Are you as excited as I am when you look at these portraits? Get your custom royal portraits now by visiting PopArtYou today.
Till the next one, keep your wits about you, have a hot soup and make time for some sweating session to keep your form on point.