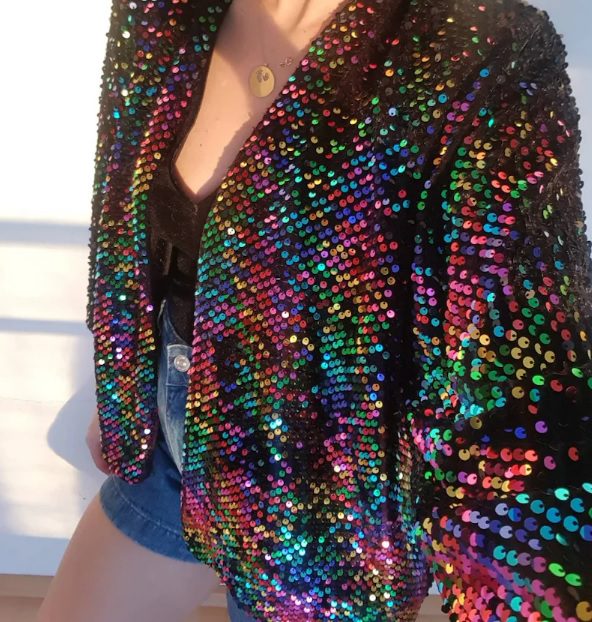 Disclosure: This post contains affiliate links, which means that if you click on one of the product links, a small commission may be credited to this site.
© All images are copyrighted by their respective authors.
10

shiny sequin jackets

to top off just about any look.
The presence of sequins on a jacket/blazer are an easy sign to note for there might be something celebratory in the agenda. A whole lot of sequins on an outerwear tells everyone: hey, you're ready to turn the night upside down. Whether you are choosing to layer a casual outfit underneath because you're pressed for time or going out boldly in a total sequin suit look, there is something about looking like a disco ball on a special occasion that can't ever be expressed in a non-shiny get-up.
If you're wondering what sequin jacket styles are out there, chillax as I've got the whole thing covered. Spent last weekend curating a list of 10 light-reflecting jackets so you can get inspired by the shiny toppers that guarantee a popping holiday look.
Let's go, folks! You know the drill, by now. Scroll on and away.
Shine bright in any of these sequined jackets:
What do you think of these sequin jackets? Would you wear them? Whichis your favorite? Share below! I love hearing from you!
Take care, keep your wits about you and take a break when you need to.
Stay jolly!
Are you an independent clothing label with a collection you're excited to show to the world? Drop us a message so we can have your designs featured here!
Stay inspired, eat healthy and be emphatic to others you meet in your path! We may be outwardly different but we're all the same life stuff on a journey. Take care!