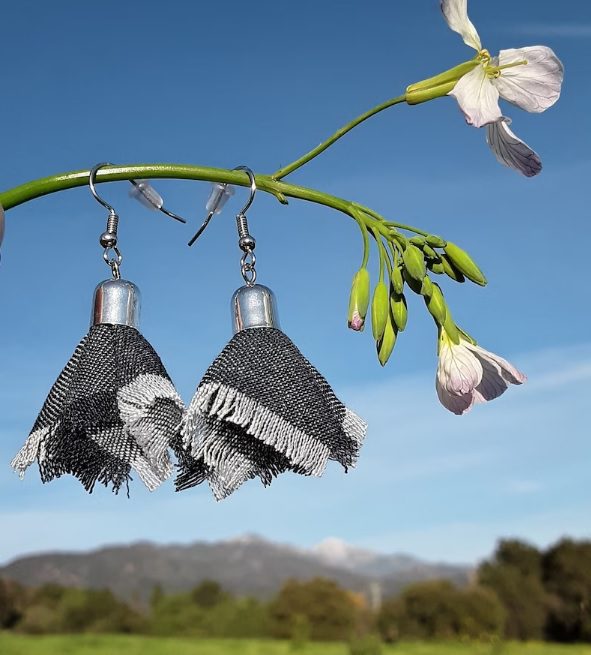 Disclosure: This post contains affiliate links, which means that if you click on one of the product links, a small commission may be credited to this site.
© All images are copyrighted by their respective authors.
Love denim? Wear it in a new way.
We've seen denim in practically everything. From your favorite pair of jogger style jeans to dresses crafted from the world's most popular fabric. There are shoes crafted in denim as are accessories like bags and belts. Today's denim post takes a look at earrings made of denim. If you're one to go berserk for unique novelty earrings that are also pretty wearable, then you must give these denim earrings a chance.
Some are made purposefully minimal teamed with your usual metals using denim that are upcycled to keep it sustainable, others are a work of art as jewelry designers play with the fabric's characteristics to transform them into say, a pair of feathered denim recycled earrings.
Whether you are into classic styles that go with every modern outfit or something that visually stands out, there's always something to catch your eyes as you dive into the world of denim earrings.
Check our faves out and tell us which pair is right up your alley. Enjoy!
10 DENIM earrings to take your love for JEANS to the next level...
What do you think of these denim earrings? Which pair would you love to wear to celebrate your love for jeans? Share below – I'm always thrilled to hear from you!
Till the next earring post, take care of your health, do what you love, smile a little bit bigger, laugh a little bit louder and most of all: let all you do spring from that gooey soft corner in your heart!
To independent jewelry makers: Get in contact with us so we can share your unique creations in this space!
Cheers!
Are you an independent jewelry artist with a collection of unique earrings you're excited to show to the world? Drop us a message so we can have your designs featured here!
Stay inspired, eat healthy and be emphatic to others you meet in your path! We may be outwardly different but we're all the same life stuff on a journey. Take care!
Other denim fashion we adore: