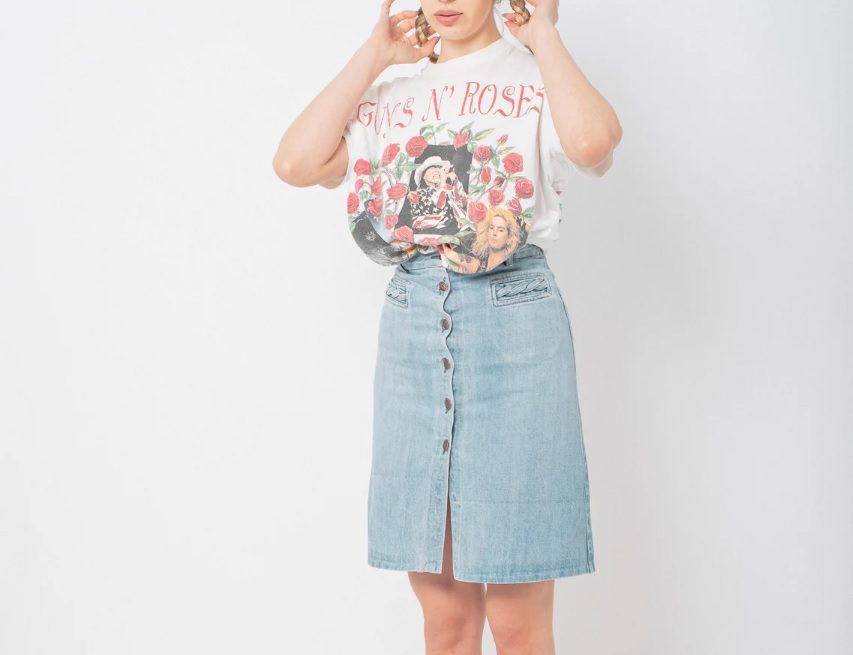 Disclosure: This post contains affiliate links, which means that if you click on one of the product links, a small commission may be credited to this site.
© All images are copyrighted by their respective authors.
Peeps, it's a vintage denim skirt mood post today.
I went to the thrift shop the other day and could very well spent the whole day there but I restrained myself plus the AC was making me all dried up like a prune.
Being an outdoor-loving gal, I rarely spend time in the mall but this time I did because I was on a hunt for potatoes, a specific kind of potatoes but this is not the space to talk about potatoes.
The closest mall had a thrifted corner and I couldn't resist stepping into the dusty by treasure-filled space with VERY reasonable price tags that border on being criminal.
This post is inspired by my very first denim skirt! It fitted me like a glove and I never owned a denim skirt like this! Yup after almost 4 decades living, true story bro. Don't ask me why but I always thought denim skirts would be too much for the tropical Malaysian weather. You know with the humidity and all. But wow, was I completely wrong!
The denim skirt has a weight to it that's awesome as it's not going to be blown up by a sneaky breeze and since it holds itself down, I simply do not have to bother with wearing say an inner skirt/short underneath it! I know I'm late to the denim skirt game but 2022 is my denim skirt year and I'm embracing it!
The thrifted denim skirt find inspired me to gather a compilation of vintage denim skirts that are so cool you are absolutely going to adore each one of them.
If for the summer you're aiming for a look in denim that's fun and fresh, please consider denim skirts! I promise you will not regret it.
Check out the various vintage skirt styles below to get a quick dose of summer denim fashion inspo:
Vintage denim skirt styles for your versatile summer wardrobe:
Well folks, what do you think of these vintage denim skirt styles? Which one would you most likely wear?
Till the next one, keep your brain cells stimulated in the right way, stay active, eat healthy and sleep soundly!
For more vintage fashion please, keep this space bookmarked.