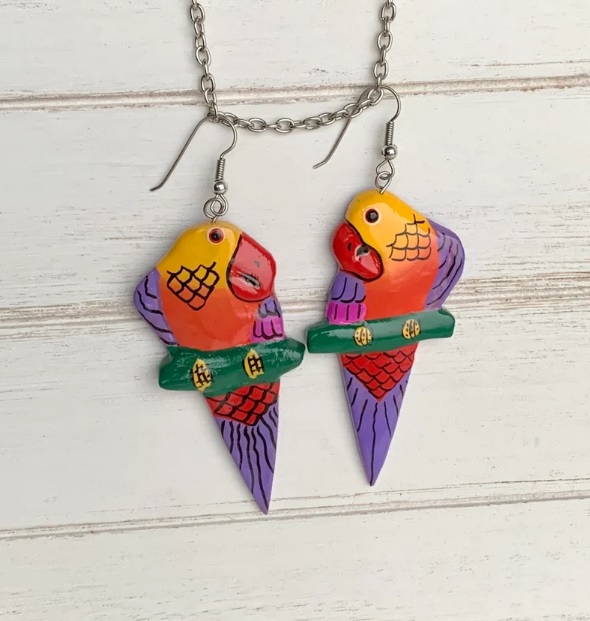 Disclosure: This post contains affiliate links, which means that if you click on one of the product links, a small commission may be credited to this site.
© All images are copyrighted by their respective authors.
For the bird lovers in your life: let them make a bold statement of their love for the feathered creatures by having a pair of vintage parrot earrings dangle from their precious earlobes.
Birds are amazing. I love them. I'm sure you do too, since you're here.
In fact, I sense that the birds love me too when I leave some kitty pellets or have kitty pellets lying around because the cats didn't finish them.
Parrots, on the other hand, do not just come flying from the sky casually to visit me. But when I do get a chance to catch a sight of one at the birds' corner in my small town, it sure is a sight to behold. For those who have parrots as pets or love parrots in general and do love wearing earrings, the combo of parrot earrings would sound heavenly.
These vintage earrings feature a very vividly-painted shiny parrots made of wood. They are from prior 2000s and that means just over two decades ago! I feel quite ancient as I typed the previous sentence.
Well now, earring lovers with a love for birds, this one's for you.
Now's the time to eyeball these vibrant parrot earrings and dream of wearing them.
Enjoy!
Get these happy parrots to dangle on your earlobes:
These wonderful vintage earrings are wooden. They are handmade and thus carry unique imperfections. The earrings come with an earring card holder making them perfect for gift-giving.
So folks: What do you think of these statement parrot earrings? Which pair would you be interested to wear? Share below!
Till the next post, take care of your precious self, do what you love, smile from your heart, laugh from the belly and most of all: let all you do spring from that gooey soft corner in your heart!
To independent jewelry makers: Get in contact with us so we can share your unique creations in this space!
Are you an independent jewelry artist with a collection of unique earrings you're excited to show to the world? Drop us a message so we can have your designs featured here!
Stay inspired, eat healthy and be emphatic to others you meet in your path! We may be outwardly different but we're all the same life stuff on a journey. Take care!