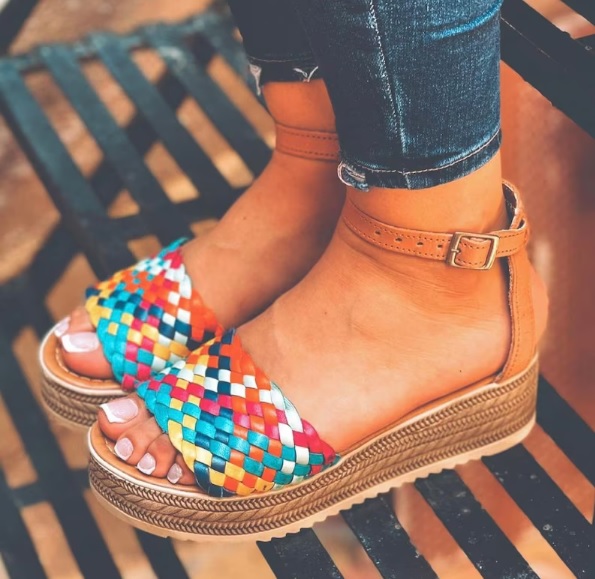 Disclosure: This post contains affiliate links, which means that if you click on one of the product links, a small commission may be credited to this site.
© All images are copyrighted by their respective authors.
Spice up your summer shoe game with something vibrant and full of soul, handcrafted from Mexico. 
Bright and charming, these colorful huaraches will take your summer shoe game to the next level.
Summer sandals in cheery colors and amazing braided details are where it's at. Ladies, if you have happy feet and the weather is turning up, why not slip into multicolored summer shoes with Mexican style vibes.
These shoes ooze summer without even trying as the mixture of colors along with the braided leather design do the talking.
You can pair the footwear with your most neutral minimalist ensemble so that they pop out visually or team the vibrant pair with a loud outfit for the minimalist take on dressing.
Either way, these shoes will definitely set the tone to your getup and be so eye-catching, they will spark conversations wherever you go.
Let's eyeball our selected favorites, now, shall we?
These sandals are a beautifully handmade artisanal treasure and they will be such a feast to  your eyeballs and an exquisite treat to your feet.
Enjoy!
Color your feet happy with these dazzling summer huarache sandals
Which pair of colourful summer sandals is your cuppa tea? Share below as I'd love to know.
Visit ArtesaniasCamila to gaze at these pretty summer shoes in closer detail and read their amazing reviews!
Shoe Designs We Find Inspiration From: