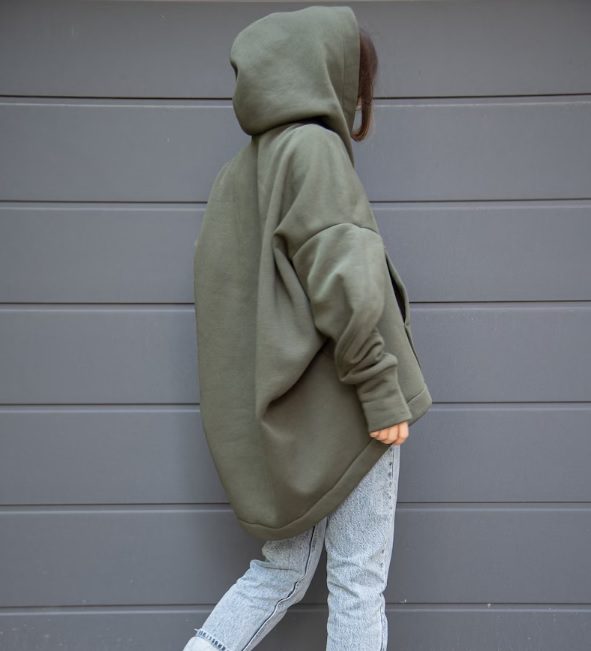 © All images are from and copyrighted by their respective authors.
This affiliate post features a look into the slouchy hooded sweatshirt aesthetic that are guaranteed to go with your everyday attire. Keep the space bookmarked if you're into keeping up with comfy urban cold weather fashion. 
The cold is biting and it's time to get rescued by a layer of a splendidly roomy hoodie.
Inspired by the slouchy hoodie look? SAME! I love the cozy slouch look that hooded sweatshirts have. They're awesome to layer over all kinds of outfits so you don't have to struggle to make the hoodie go on smoothly at the last minute.
Another inspo for my recently new love for roomy hoodies is the lovely and fun, Mai Pham! She has her own collection of hoodies for her fans and stans. The hoodie look I love is purposely oversized with the shoulder designed to distinctively drop as opposed to sitting where it's usually at. The front pockets are awesome for putting ice cold hands inside.
With the low temps upon us in certain locations on Earth and even tropical Malaysia (right now!), the slouchy hoodie is a style that anyone can include in their casual cold weather repertoire. There are aplenty slogan hooded sweatshirt variety so you can get them in your favorite quirky, edgy and life-affirming statements as well.
Here are 10 loose hooded sweatshirt styles I found on Etsy so you can draw a quick inspo from them. Enjoy!
TEN slouchy hoodies to go over your everyday ensemble in a jiff...
So, what do you think of these slouchy hoodies?
Which hooded sweatshirt style is giving you life at this moment? Don't forget to tell us why! 
What do you think about the signature slouchy shape in the hoodie design? Do you like it as much as I do?
We love fashion that trigger all kinds of good feelings.
Kindly email us if you would love to have your own unique fashion collection featured in this space. We'd love to hear from you!
Till the next one, keep healthy, move your body, nourish it well and make time for meditation!
Stay free.