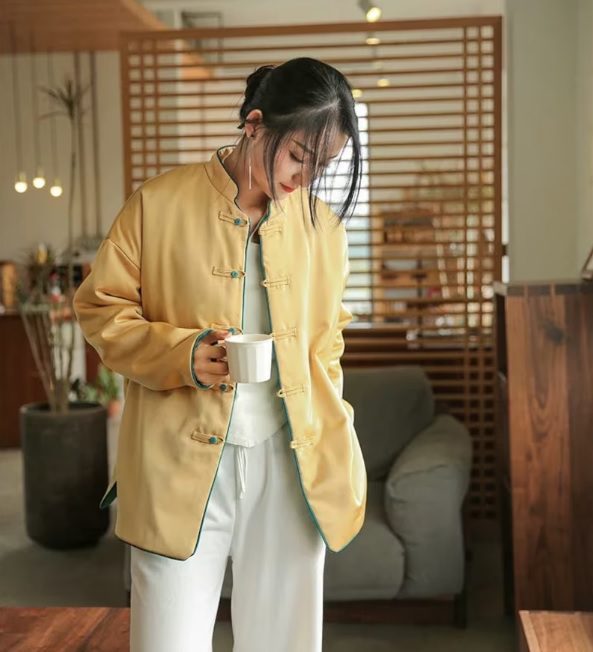 © All images are from and copyrighted by their respective authors.
This affiliate post features a look into the lunar new year fashion looks that are guaranteed to go with your special occasions' ensemble and everyday attire. Keep the space bookmarked if you're into keeping up with CNY 2023 fashion inspiration.
The year of the rabbit is upon us. Inspired by your love for cold weather layering, here's a Cheongsam jacket that will float your boat.
Ring in the year of the rabbit with something practical for the cold weather or when you feel internally cold for some reason.
It's cold where you are and you're looking to spice up your lunar new year celebratory outfit with something that will keep you warm and toasty while looking right for the occasion. Guess what? You're going to want these oriental style jackets! There are two options.
These Chinese style jackets carry the signature oriental stand collar along with the very popular embroidered frog button. The ones in corduroy comes in three colorways: black, red and brown. These are neutral options perfect for those into keeping with the autumn/winter color palettes. The other shiny cheongsam jacket option comes in two colorways: blue-green and yellow. These can be worn for keeping chic and warm during the upcoming lunar new year and beyond. It's versatile enough for work and going to class. Or even brunch with your loved ones.
Check the oriental jackets out:
Oriental jackets for CNY 2023 + layering for everyday with an Oriental touch:
So, what do you think of these cheongsam jackets?
What other lunar new year fashion trends are you looking forward to seeing this year? Share with us!
We love fashion that trigger all kinds of good feelings.
Kindly email us if you would love to have your own unique fashion collection featured in this space. We'd love to hear from you!
Till the next one, keep healthy, move your body, nourish it well and make time for meditation!
Stay free.