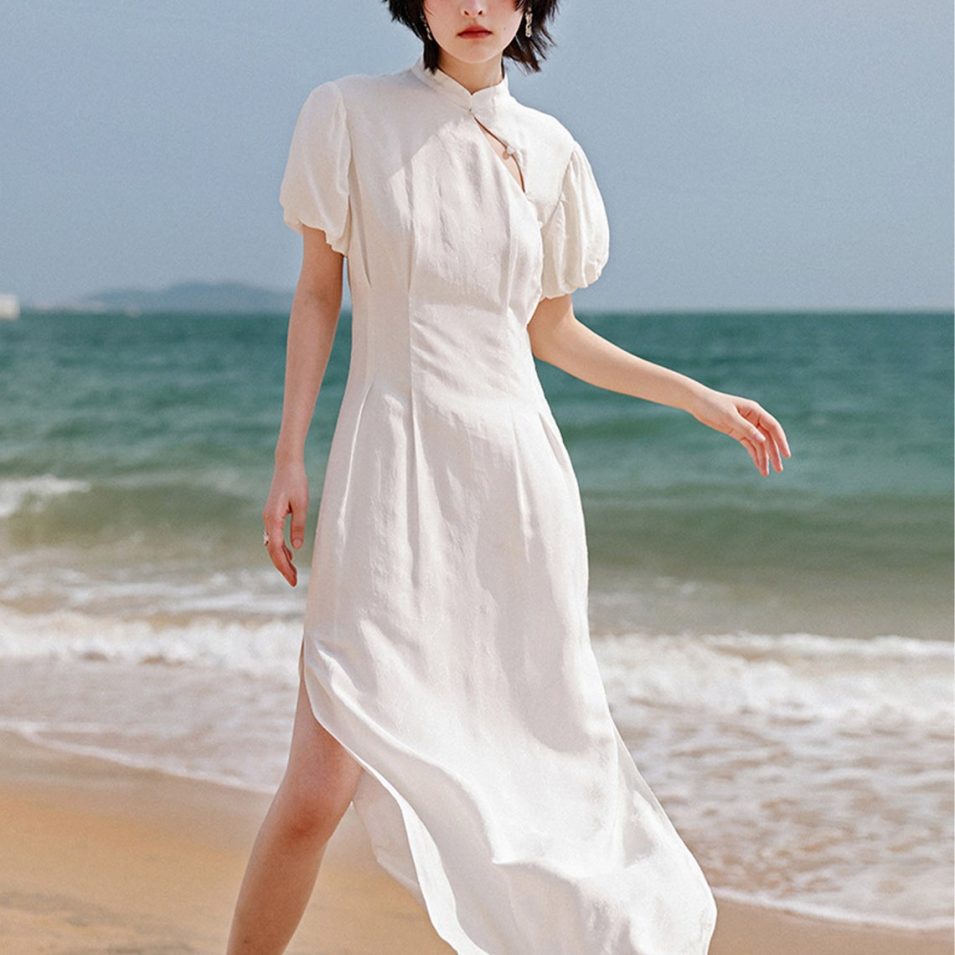 Disclosure: This post contains affiliate links, which means that if you click on one of the product links, a small commission may be credited to this site.
© All images are copyrighted by their respective authors.
Get ready to dive into the world of modified modern qipao dresses and be enthralled…
There is no denying the unique ladylike appeal of the traditional qipao. While there's time for keeping it in the classic style context, there is absolutely the time for stretching the qipao design to introduce modern fashion elements suited for the experimental zeitgeist of today's adventurous dressers.
Whether you're a fan of the traditional qipao or not, these modern modified qipao dresses will trigger a a particular feeling of awe and admiration. Silhouettes are kept flowy tailored in fabrics that are breathable and high in movement. Toggle knot buttons, signature stand collar necklines and high slits remain in place in contrast to new introduction of puffy sleeves, raglan style, cami style straps, pleated hem over a canvas of a mostly minimalist black and white palette.
Let's take a look at each of the mod oriental dress now, shall we?
Mod qipao dress styles for minimalist urban hip dressing...
Secured by a back zip closure, this charming velvet qipao has a drawstring waist, stand collar and toggle buttons. It comes in two options: black and floral.
Rendered in two length options, this stunning cotton qipao dress comes with a front toggle button, slopping lapel, puffy sleeves and a pleated skirt. The dress has a loose fit silhouette perfect for an effortless summer dressing with an edgy oriental twist.
Available in black and white, the modern day qipao dress is lightweight and flowy. Fitted at the waist, puffy sleeved with long side slits, the dress is made of soft viscous rayon fabric.
Made of velvet and vegan leather, here's a contemporary qipao with a cami style strap. It has a fitted silhouette and maxi in length with side slits starting at mid-thigh. Also available as a crop top should you prefer it that way.
Here's a little black dress with a modified oriental style persuasion. Fitted up top combined with a loose fit skirt that's pleated at the waist, the modern qipao dress has pearl buttons and stand collar.
Here's a mod oriental dress that's iron-free as it's made of acetate fabric that drapes beautifully and most importantly wrinkle-free. The modified qipao has side slit buttons that can be left unattached for a layered look with your favorite jeans or loose trousers. It's the perfect mod qipao for those who enjoy mixing and matching separates to arrive to a look that's unique and your own.
Featuring a monochrome magpie jacquard, this unique qipao dress is soft and silky as it's made of natural cellulose. It is to be worn like a long shirt with very high slits (with shorts, skirts or pants) and raglan sleeves keep your armhole extra comfy in a relaxed fit.
Well folks, what do you think of these modified qipao dresses? Which one do you see yourself wearing? Share below!
Till the next one, stay tranquil, eat a balanced diet, dance when you feel like to and look after yourself.
More oriental fashion inspo: