Disclosure: This post contains affiliate links, which means that if you click on one of the product links, a small commission may be credited to this site.
© All images are copyrighted by their respective authors.
Girls, slay your Lunar New Year lockdown look wearing tees with graphics celebrating the Orient in a captivatingly modern easy-to-wear styles.
What a fun and fashionable way to dress down a dressy skirt, shorts, skorts and pants when you can throw on a casual tee on top and totally score on the street style pointers while keeping it socially responsible during the festivities. These tees are cut in a default tee length, short crop style and a handkerchief hem variety. You'll be sporting either a graphic oriental dragon pattern or the popular Chinese takeout box with chopstick graphic.
Who says dressing chic can't be casual as well, especially during the pandemic, right?
For a look at how you can work a casual yet dressy look during the Lunar New Year decked up in graphic tops that feature the flavor of the great Orient, scroll on and enjoy!
CNY 2021 Graphic Tops To Dress Down Your Festive Look & Get Comfy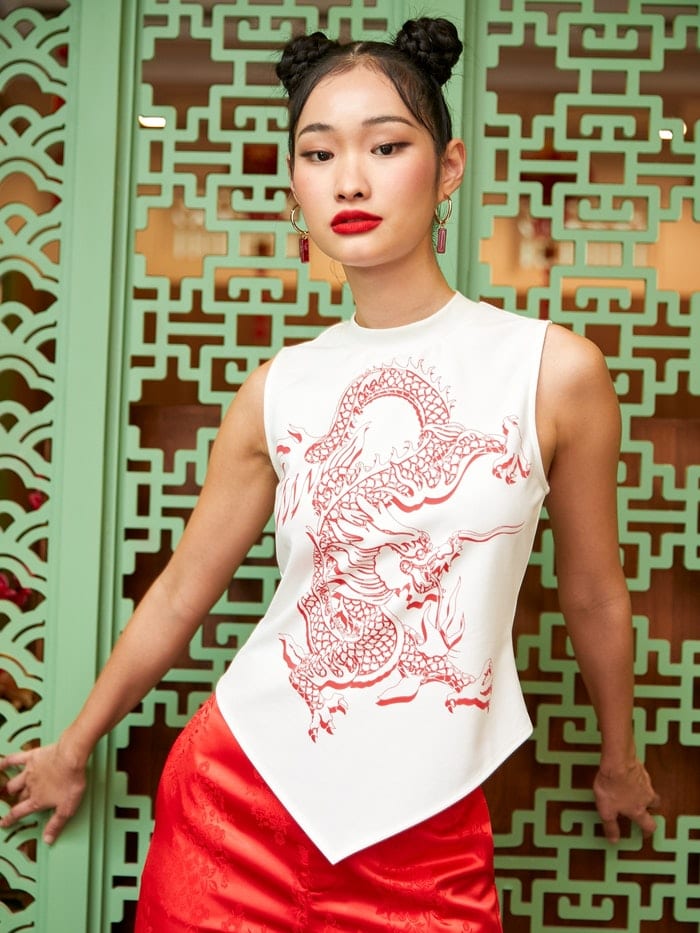 High mock neckline on this dragon top will lend a seamless look to your lockdown style CNY attire. Style it with your fanciest red pants: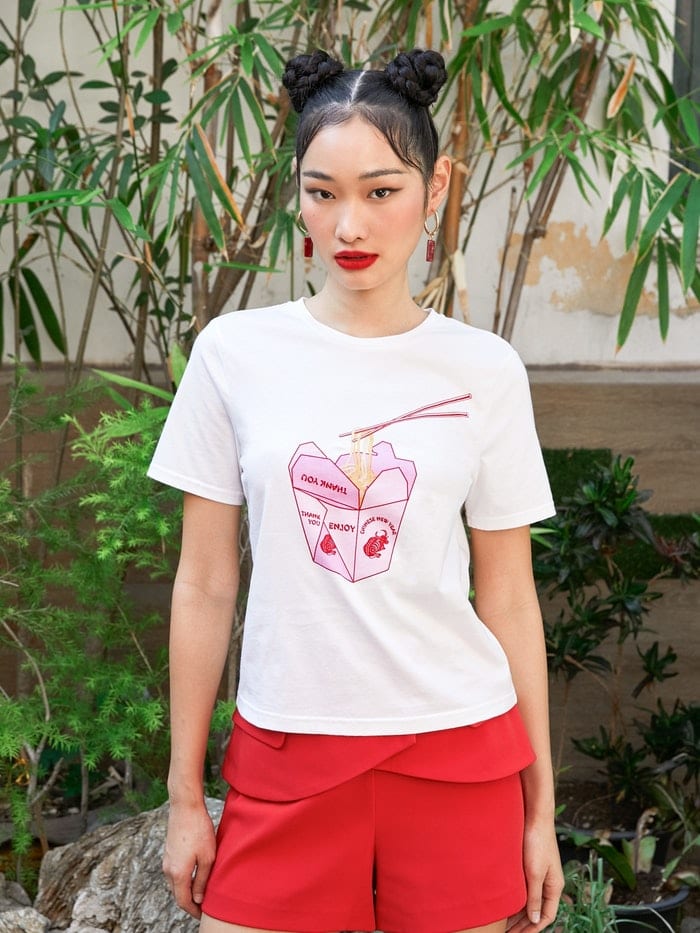 The takeout box print is so tongue-in-cheek, it's absolutely perfect for a pandemic-aware celebration. Style it with your prettiest shorts or skorts: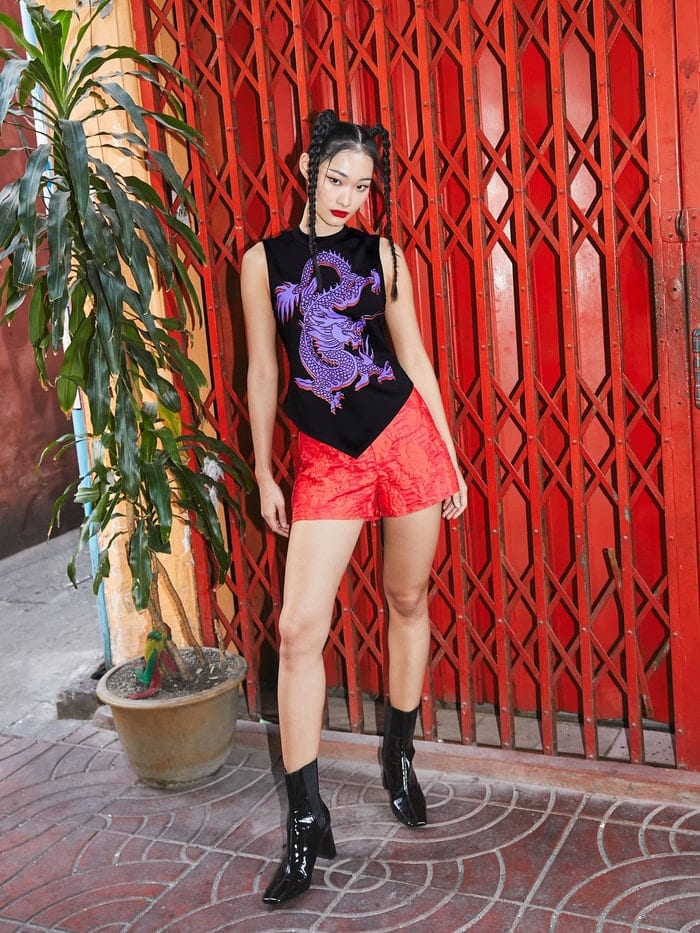 For a dose of edginess, nothing beats a purple dragon over a black canvas. Plus, that pointy handkerchief hem is such a vibe, don't you think?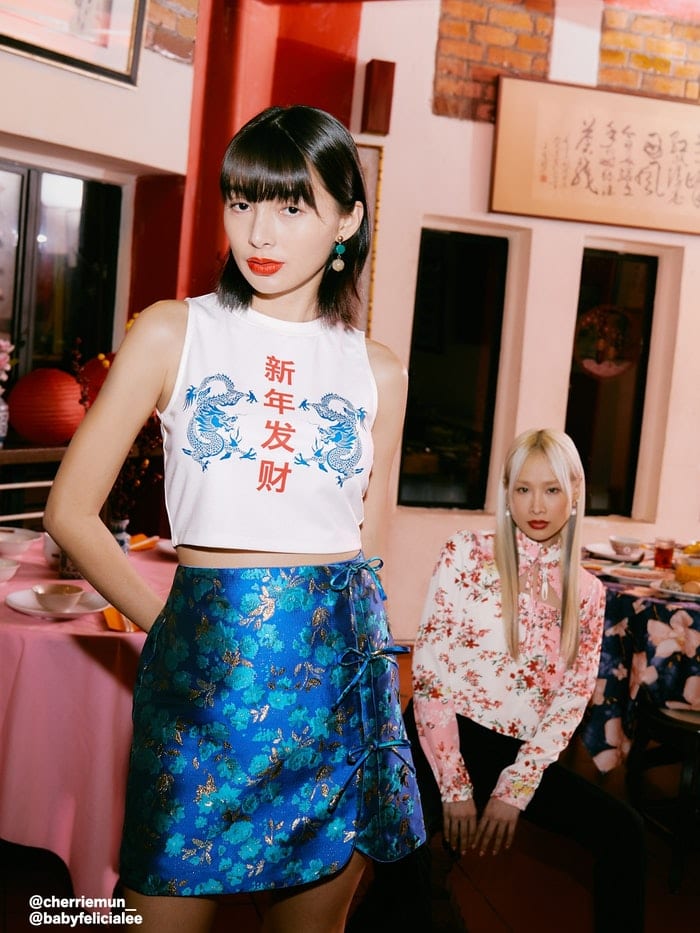 Last but certainly not the least, here's another dragon top with a crop take utterly perfect for an easy breeze lunar new year look in the tropics.
So, what do you think? Will these tees complement the dressed down CNY look that you have in mind as you stay at home quarantining? Tell us your thoughts!
For more fun and fashion-forward CNY 2021 dresses, separates and accessories, please give Pomelo a visit. You'll not regret it!
Lunar New Year Inspired Accessory Inspiration: