Lovers of hoodies, stop everything because there is a hoodie dress style so captivating you will wonder where have you been all this while!
As I rest my sight on this hoodie dress, instantly, I knew I had to share it here as it is such a gorgeous bohemian dress style that is so unexpected at first when I was hunting down for a hooded frock design.
The dresses caught my attention as they're different from the usual hoodie dress that has sporty or minimalistic in flavor. The hoodie dresses which are called the day tripper dresses designed by the BlondeVagabond are vibrant with colors and patterns making the combination of the boho elements and hoodies simply striking and unforgettable.
Whether you opt to wear the dress during a trip, festival or concert, you have got to admit that the dress is just stunning and you'd probably be tempted to wear it anywhere.
Kindly relax and let us just admire their beauty, shall we?
Brown Patterned Tribal Hoodie Dress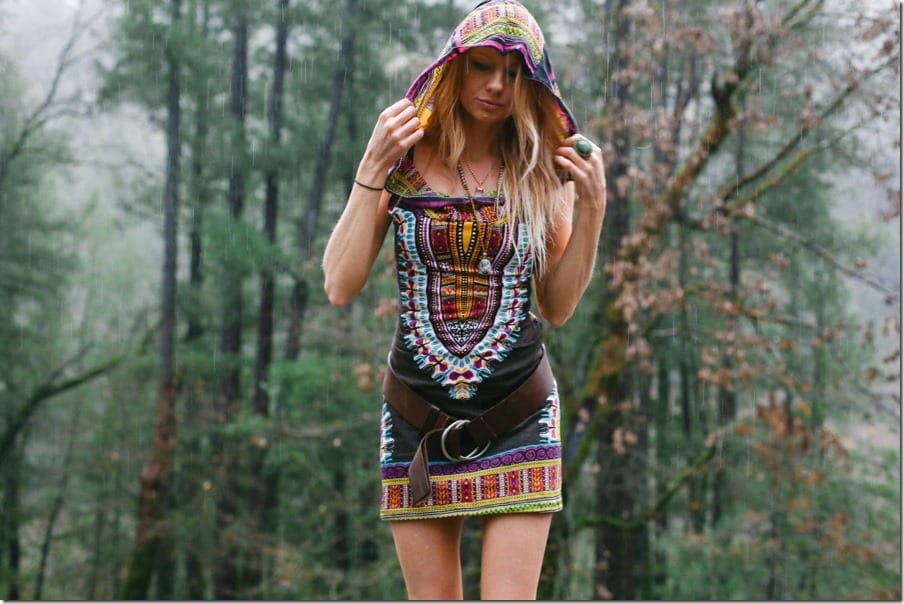 Burnt Orange Tribal Hoodie Dress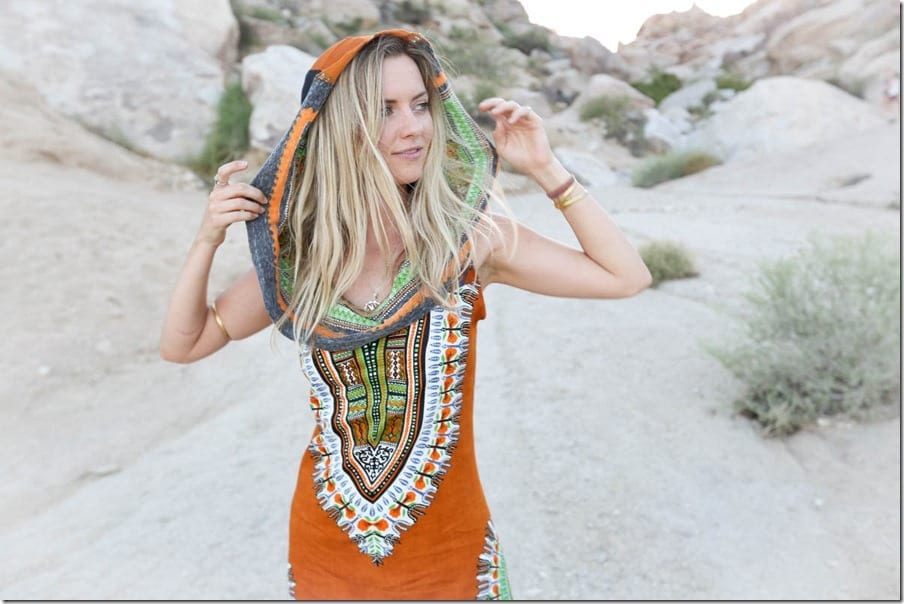 Day Tripper Tribal Hoodie Dress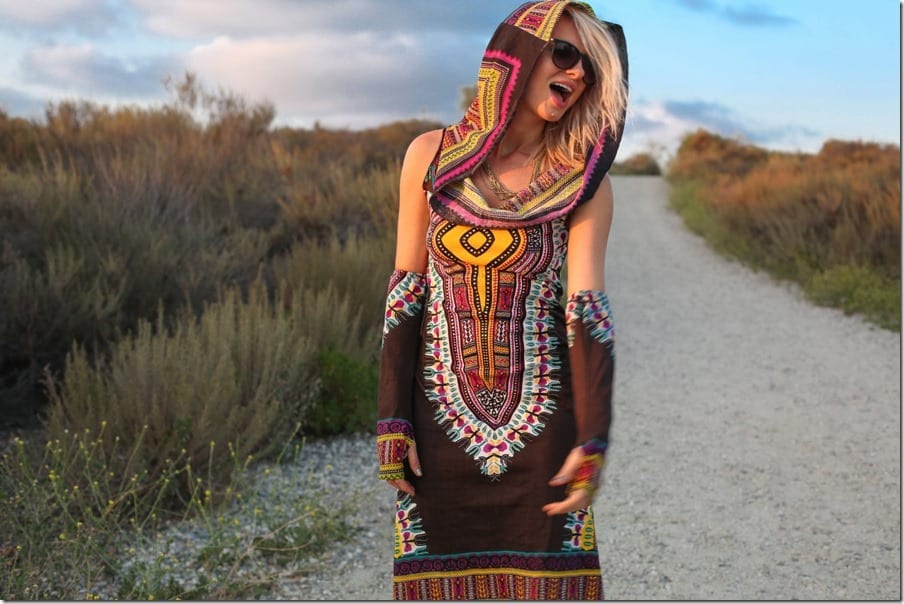 Tribal Print Hoodie Festival Dress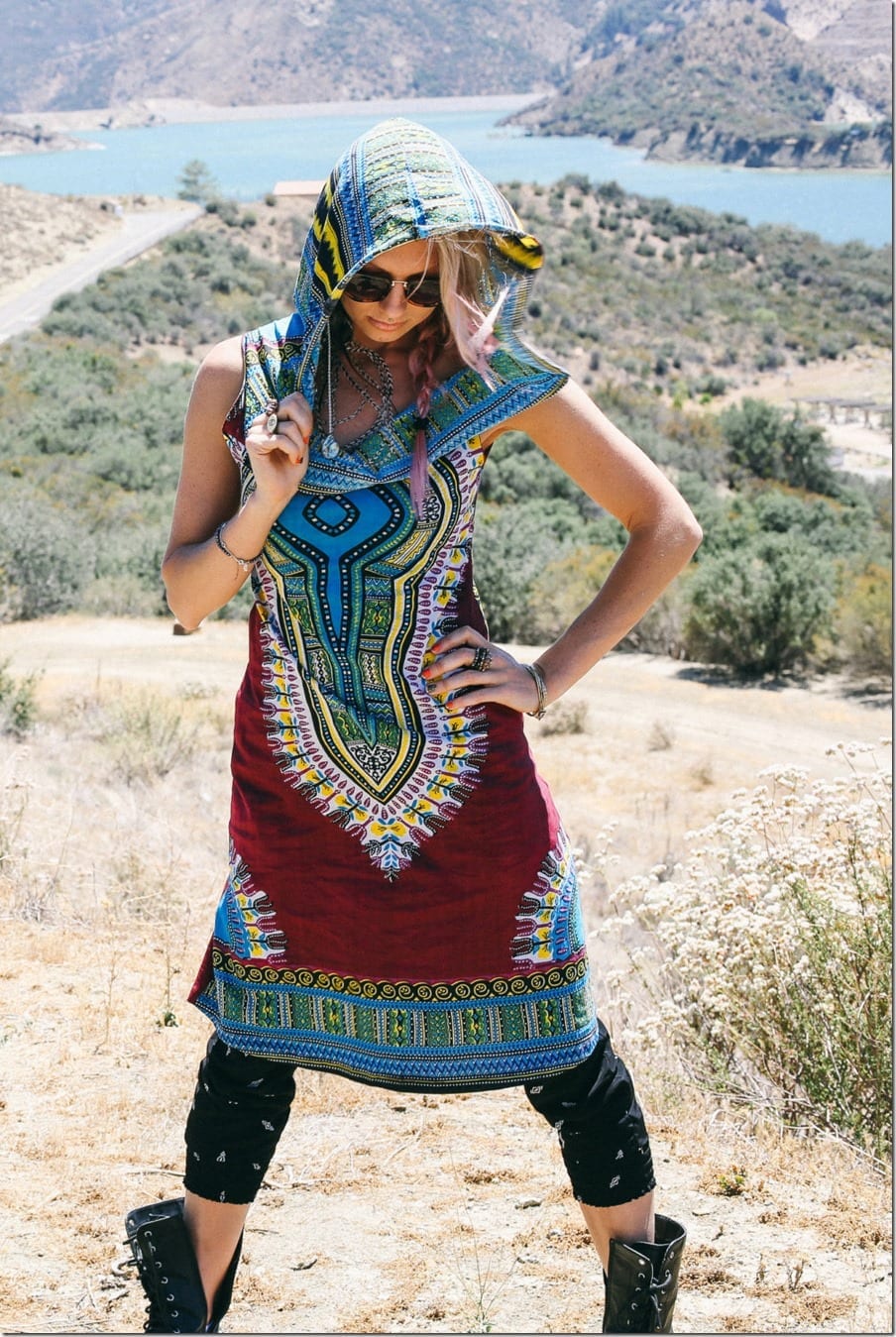 Let me share with you why I personally find the hooded dress so very eye-catching. It is made of slightly stretchy cotton. The hooded part of the dress is flowy and fluid making it perfect for tame weather types. The dress silhouette in particular is light and form-fitting with the hem being close to or above the knee ( well, depending on your height, that is ). What's even more awesome is the creator, Alisha (and her sister Leanna) behind this mesmerizing collection works with Survival International or Navdanya.
What are those, you wonder? Well, Survival International is dedicated to protecting the rights of tribal people worldwide.
Alisha is passionate about protecting these tribes and their chosen way of life. Not only for their sake but also for all of us. She hopes that we can remember there is a life outside of Facebook & Instagram – A life of harmony & balance with nature. And the tribal people help us to remember our roots.
Navdanya, on the other hand, is the organization created by an amazing Indian woman – Dr. Vandana Shiva (she makes passionate speeches about the rights of Indian farmers & seed copyrighting). Donating to Navdanya is a way to give back to the nation that has given Alisha so much.
Obsessed over these dresses already? Don't forget to show the BlondeVagabond some real love! Don't forget to use code AWAKENLOVE to get 10% OFF on your purchase – this code has no expiration date ( thank you Alisha! ).
"The wider the time gap between perception and thought, the more depth there is to you as a human being, which is to say the more conscious you are." — Eckhart Tolle
Disclosure: This post contains affiliate links, which means that if you click on one of the product links, a small commission may be credited to this site.
Love this post? Share it with your friends! Follow us for more fashion inspiration:
? Twitter ? Facebook ? Google+ ? Bloglovin ? Pinterest ? Polyvore ?
© All images are copyrighted by their respective authors.
Here on Fashionista NOW, our one and very own Miss Reverie showcases the latest in fashion trends and its various social implications in our everyday lives. You may read more of her at REVERIE SANCTUARY.