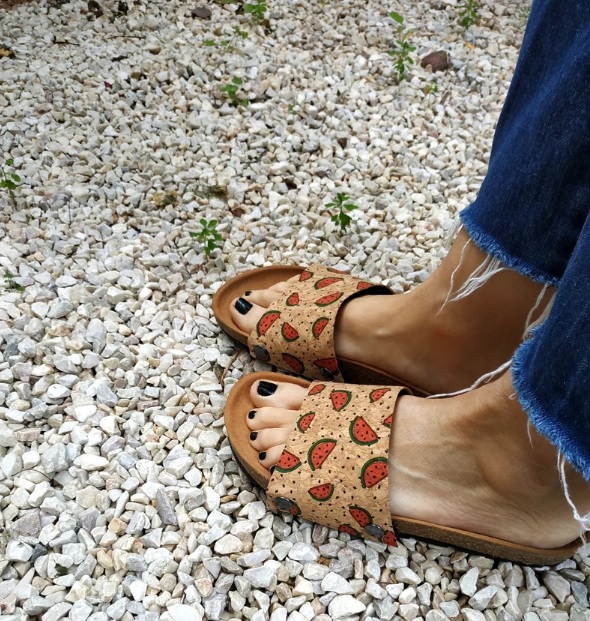 © All images are from and copyrighted by EatingTheGoober and their respective authors.
This affiliate post features a look into the fashion-forward unique handcrafted ethical footwear from all across the globe. Keep the space bookmarked if you're into keeping up with stylish shoe trends and designs. 
For mama-nature-loving summer sliders made of pineapple textiles and cork materials. Ethical's the underlying mood.
Folks: It's time you meet your sustainable summer sliders with various detachable covers to choose from…
Hi slider fam gang! I'm not talking about those yummy burgers. These are the kind of summer sandals with a single wide strap and they're not just any sliders! Your feet deserve a great showcase this summer in something Mama Nature will thank you for!
These Ethical Magic Sliders are winners in the Earth-Friendly category of Etsy Design Awards in 2019. They are crafted using Piñatex, the innovative pineapple textile.
Piñatex is a non-woven textile made from waste pineapple leaf fibre which is used as an alternative to leather. These leaves are the byproduct of existing agriculture so the raw material requires no additional environmental resources to produce.
Moreover, the whole process creates an additional income stream for local farming communities. The result is a natural, sustainably-sourced, cruelty free waterproof material with a leather-like feel that is soft and flexible, yet very durable which acquires with time the same characteristics and wrinkles as animal leathers do.
About Ethical Magic Sliders:
With Ethical Magic Sliders, you buy one pair of vegan upcycled sandals and then choose as many covers as you want.
These covers button on the top part of the sandals allowing you to change up the look whenever you want. With the sliders as a base, there are more than 60 designs that suit your style best. Of course, the magic sliders can also be worn by itself.
These sliders are ethical because:
+ with respect to humans: our sliders are locally made by craftsmen that work in safe and fair conditions, are treated with dignity & respect and are paid fairly for their work.
+ with respect to animals: no animal was harmed in producing these sandals.
+ with respect to the environment: our sliders are fabricated out of recycled materials combined with eco-friendly new materials.
Why are the sliders
magical?
+ Save money: with one pair of slide sandals, you end up with countless possibilities! Isn't this magic?
+ Save space: this summer, travel light and pack as many designs and colors you want on holiday.
Isn't it easy to showcase your creativity by switching your style to match your mood!
Have a look at the ethical magic sliders and the covers we love:
The ethical magic sliders + detachable cover styles...
What do you think of these ethical magic sliders and their fun covers? Would you wear them this summer?
Share below!
Please kindly visit EatingTheGoober to see more of these ethical magic sliders and the wide array of covers.
We love sandals and shoes that trigger all kinds of good feelings.
Kindly email us if you would love to have your own unique handcrafted footwear collection featured in this space. We'd love to hear from you!
Till the next one, keep healthy, move your body, nourish it well and make time for meditation!
Stay free.
More fashion inspiration: