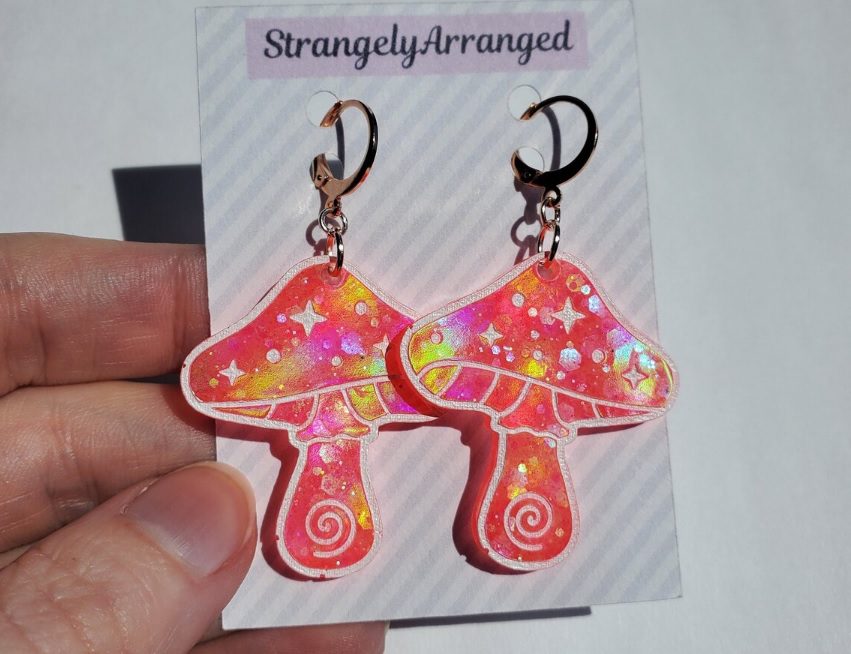 Disclosure: This post contains affiliate links, which means that if you click on one of the product links, a small commission may be credited to this site.
© All images are copyrighted by their respective authors.
Inspired by your love for mushrooms? Bring them out of the kitchen and onto your ears this holiday!
It's time to let your favorite mushrooms adorn your ears.
Mushrooms are everywhere after the rain, yes.
In this cold and rainy weather, I'd definitely be open to gobble up a cheesy mushroom galette even if it's just in a dream. Apparently, the BEST way to keep your shrooms fresh (and firm) after plucking them from your shroom patch or right from the shelf at the grocery is to store them in a paper bag as it keeps them dry. I shall keep this in mind and so should you!
In Taiwan, women are trained in mushroom production to help support sustainable livelihoods. I think that's awesome. In the beverage world, mushroom-based drinks that promise health benefits are trending. And yes, if you want to grow mushrooms and you have a backyard, that can SO be done!
In the world of earrings, mushrooms are a common presence especially for a lover of shrooms. If you're not harvesting, eating or drinking it, why not wear the cutest fungi on the lobes of your ears, eh?
So, this one's for the lovers of mushrooms. Wear a pair of mushroom-themed earrings come the holidays. A pair below might be right up your alley. Enjoy!
10 Mushroom Earrings SO Adorable Oh WOW...
What do you think of these mushroom earrings? Which pair would you love to wear? Share below – I'm always thrilled to hear from you!
Till the next earring post, take care of your health, do what you love, smile a little bit bigger, laugh a little bit louder and most of all: let all you do spring from that gooey soft corner in your heart!
To independent jewelry makers: Get in contact with us so we can share your unique creations in this space!
Cheers!
Are you an independent jewelry artist with a collection of unique earrings you're excited to show to the world? Drop us a message so we can have your designs featured here!
Stay inspired, eat healthy and be emphatic to others you meet in your path! We may be outwardly different but we're all the same life stuff on a journey. Take care!