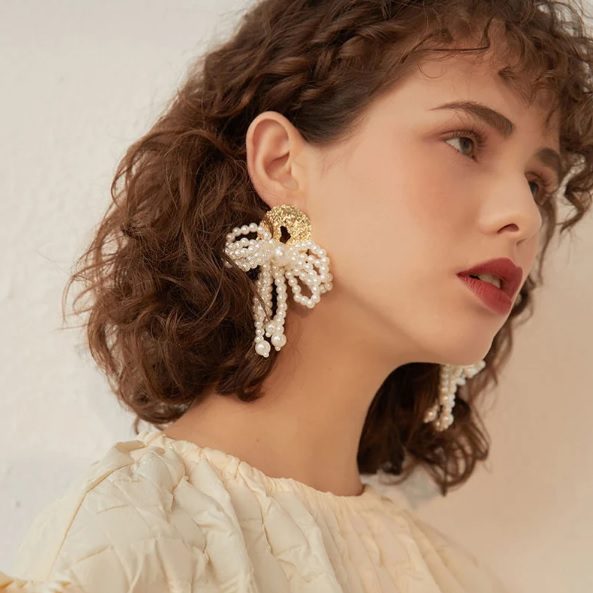 Disclosure: This post contains affiliate links, which means that if you click on one of the product links, a small commission may be credited to this site.
© All images are copyrighted by their respective authors.
There's something about bows in general that gets a ton of love from the femme crowd. 
We totes agree that the shoelace earrings by Balenciaga are utterly ridic and would like to present to you other bow style earrings that are actually super cool to wear
I don't know about you but I was actually excited about the shoelace earrings until I saw the price tag and nearly hurled. You could DIY a pair yourself with shoelaces you have around in your shoelace drawer. It's definitely doable! And you'll still have $250 in your bank account. Amazing, right?
If like most warm-blooded ladies and gals, you carry with you a penchant for anything bow-like, the look of the latest  Balenciaga earrings might get your heart to flutter(in a good way): it's edgy and ribbon-y. How adorable in an out of the box way, you say. But the truth is, there are plenty of fun bow earrings out there in the market and they're reasonably priced too.
So someone please call the earring police because the Balenciaga's shoelace earrings are absolutely criminal.
Perfect for affluent earlobes, yes. But if your lobes are more within the reasonable and affordable category, there are tons of earrings made in that signature ribbon bow design that you can choose from.
These are some of pretty bows you can hang on your ears.
Enjoy!
10 Banana earring styles to hang on your earlobes with confidence...
How adorable are these bow earrings? Don't you just wanna wear them all?
What do you think of these bow style earrings? Would you wear any of them? What style is your cuppa tea? Share below. I love hearing your thoughts.
Till the next post, take care of your precious self, do what you love, smile from your heart, laugh from the belly and most of all: let all you do spring from that gooey soft corner in your heart!
To independent jewelry makers: Get in contact with us so we can share your unique creations in this space!
Are you an independent jewelry artist with a collection of unique earrings you're excited to show to the world? Drop us a message so we can have your designs featured here!
Stay inspired, eat healthy and be emphatic to others you meet in your path! We may be outwardly different but we're all the same life stuff on a journey. Take care!
Other earrings we vibe with: