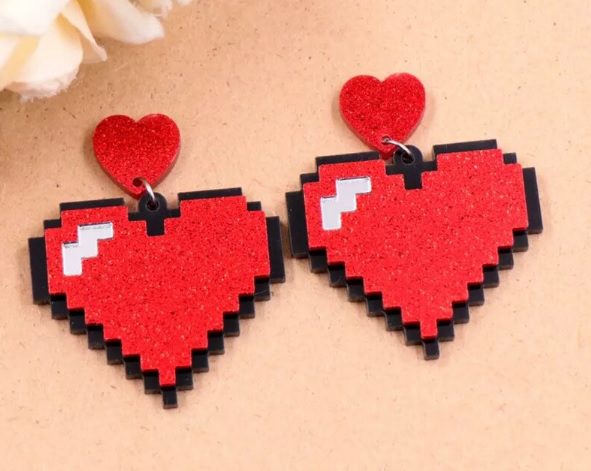 Disclosure: This post contains affiliate links, which means that if you click on one of the product links, a small commission may be credited to this site.
© All images are copyrighted by their respective authors.
Classic romantic color palettes and everything heart-related for your romantic ears.
If you're already wondering about what romantic earrings that are out there just in time for V-day, we've rounded up 10 Valentine's Day earring styles centered upon 'hearts' for your quick bling inspo.
Even though the heart-shaped jewelry isn't literally fashioned by the intricate shape of your biological heart, we've long associated the simplistic heart drawn by children and adults alike a sort of basic glue that's foundational to the imagination of something innocent, romantic and lovey dovey. Even if you're single, know that love is already in you and if you're all partnered up, nothing's stopping you from decorating your ear lobes kind of romantically with something heart-shaped, sparkly, dangly and perhaps in the usual pinks and reds so you can best celebrate February with style.
That said, here are 10 heart-shaped romantic earrings that we currently adore and hope you may do too. Enjoy!
Heart-shaped earrings for your loved up ear lobes:
What do you think of these heart-shaped earrings for Valentine's? Which pair would you love to wear? Share below – I'm always thrilled to hear from you!
Till the next earring post, take care of your health, do what you love, smile a little bit bigger, laugh a little bit louder and most of all: let all you do spring from that gooey soft corner in your heart!
To independent jewelry makers: Get in contact with us so we can share your unique creations in this space!
Cheers!
Are you an independent jewelry artist with a collection of unique earrings you're excited to show to the world? Drop us a message so we can have your designs featured here!
Stay inspired, eat healthy and be emphatic to others you meet in your path! We may be outwardly different but we're all the same life stuff on a journey. Take care!
Other earrings and things to love: