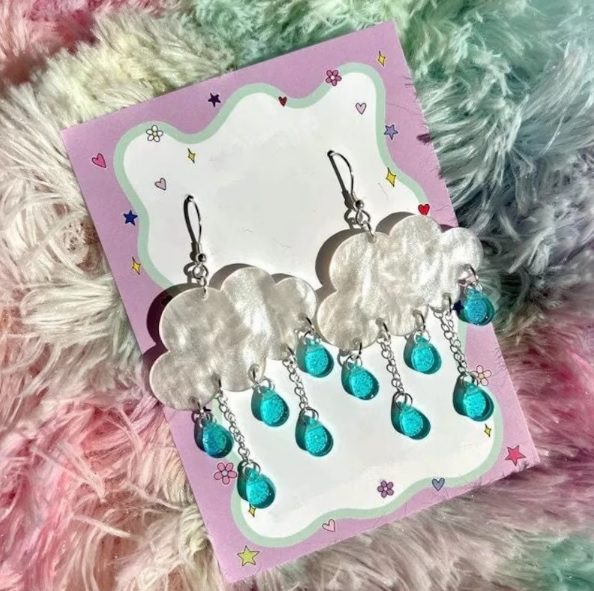 Disclosure: This post contains affiliate links, which means that if you click on one of the product links, a small commission may be credited to this site.
© All images are copyrighted by their respective authors.
Make your ears rain by decorating them with cloud and rain earrings this monsoon season.
It's still evidently stormy and rainy here in old tropical Malaysia that the weather has truly seen us all pretty layered up especially moi as this tropical body is not used to a prolonged wet and cold weather.
Enough about me but is it rainy where you are too in your location? Perhaps, it is. Or is it hot and humid that you are yearning for drops of rain to kiss the scorched earth where you are to cool things down for a bit? Everyone has a bit of a love and loath when it comes to rain. Everyone has an opinion about the weather. Instead of venting about it, let's look at weather-inspired earrings instead.
For those looking to wear the stormy weather on your ears, cloud and rain droplet earrings are where it's at, folks. It's amazing how stunning clouds and rain drops are when they are simply dangling on your happy ear lobes.
For those looking to spruce up your ear game this new year, a little bit of cloud and rain earring trend can just be the thing.
Check out the 10 fun monsoon earrings down below and enjoy!
10 cloud and rain earrings for your ears...
What do you think of these monsoon-inspired earrings? Which pair of rain cloud earrings would you love to wear? Share below – I'm always thrilled to hear from you!
Till the next earring post, take care of your health, do what you love, smile a little bit bigger, laugh a little bit louder and most of all: let all you do spring from that gooey soft corner in your heart!
To independent jewelry makers: Get in contact with us so we can share your unique creations in this space!
Cheers!
Are you an independent jewelry artist with a collection of unique earrings you're excited to show to the world? Drop us a message so we can have your designs featured here!
Stay inspired, eat healthy and be emphatic to others you meet in your path! We may be outwardly different but we're all the same life stuff on a journey. Take care!
Other cute earrings to brighten your day: