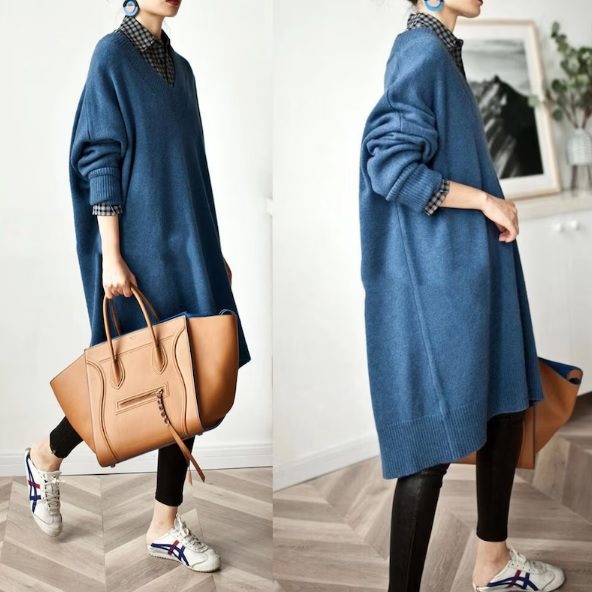 © All images are from and copyrighted by their respective authors.
This affiliate post features a look into the cold weather knitted dresses that are guaranteed to keep you warm and in style. Keep the space bookmarked if you're into keeping up with roomy knit dress fashion inspiration.
Cold weather calls for knit dresses. We cast our attention to spacious midi knitted dresses you can wear anytime, anywhere.
It's knit weather when it's nippy weather. Check this spacious midi knit dresses out to nail the urban slouchy chic vibes.
So many knits, so little time to trawl them all and that's why I'm here to reveal the curated  dresses in your favorite cozy knits that feature the cool slouchy construction for a touch of comfort with urban style.
You can opt for neutrals when it comes to knit dresses or go big in statement colors. There's no wrong way to do roomy knit dresses because when the weather is bone-chilling, you just gravitate to a soft frock that's heat-insulating. With the spacious design, you will get a bit of a breeze too but it's completely controlled by the heat-trapping fabric. For cold weather looks that are the epitome of cool but relaxed girl aesthetic, we believe these knit dresses are some of the best for you to consider.
Check them out and enjoy:
Cozy in knit dresses that are slouchy and relaxed:
So, what do you think of these slouchy long knit dresses?
What other cold weather looks are you wearing to battle the chill in style? Share with us!
We love fashion that trigger all kinds of good feelings.
Kindly email us if you would love to have your own unique fashion collection featured in this space. We'd love to hear from you!
Till the next one, keep healthy, move your body, nourish it well and make time for meditation!
Stay free.