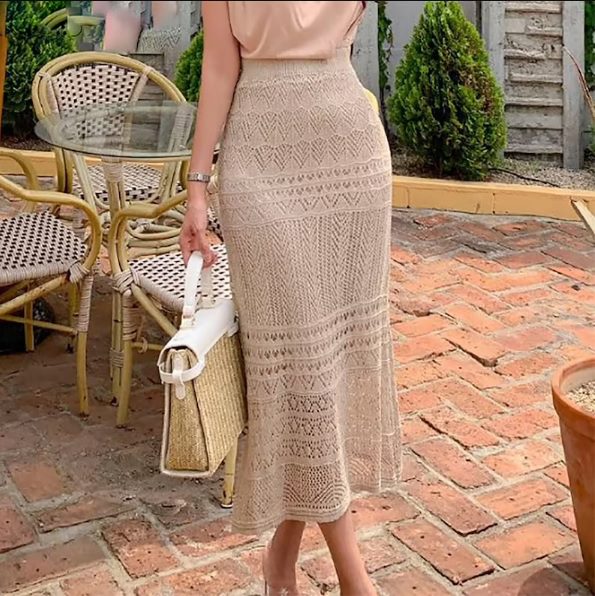 Disclosure: This post contains affiliate links, which means that if you click on one of the product links, a small commission may be credited to this site.
© All images are copyrighted by their respective authors.
I blame Emma Chamberlain for feeling like I need a knit skirt, preferably in a midi length and is beige even though it's blazing hot all year long here.
Hi. I'm here in hot and humid Malaysia and there's no need for me to wear a knit skirt right now.
But watching Emma Chamberlain trying out her knit skirt find and buying it the other day has made me rethink about how I could see myself wearing a knit skirt on cool days that might happen here soon hopefully.
If you don't know who Emma is, that's alright, there's Google. And there's just looking straight at the curated knit skirts down below because they're just plain awesome and can be part of your versatile capsule wardrobe.
I specifically choose to highlight the beige/white/peach ones because I've come to renew my appreciation for blending in the neutral backgrounds.
If you're all about that and happen to be looking for a knit skirt that's right for Autumn/Fall, happily check these knit skirts out and thank me and Emma later.
Enjoy the knits, kids:
Knit skirt inspo as a nod to the fashion inclination of one Emma Chamberlain...
Well folks, what do you think of the knit skirts? Do you prefer the long pencil silhouettes or the flared variety? What about the length? Do you prefer to stick to midis or go maxi long? Or are you the mini knit girl? Share your thoughts freely on your favorite platforms. I love getting comments here and everywhere else.
Till the next one, keep your brains stimulated in the right way, stay active, eat healthy and sleep soundly!
For more fashion inspired by the rare gem that is Emma Chamberlain, keep this space bookmarked.