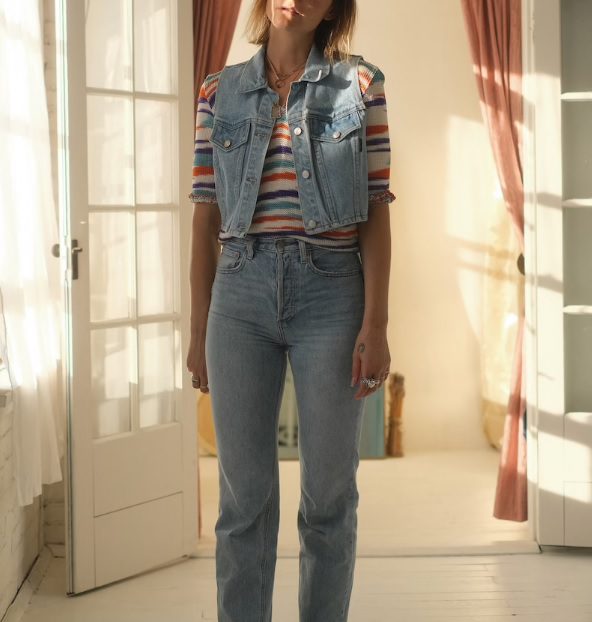 Disclosure: This post contains affiliate links, which means that if you click on one of the product links, a small commission may be credited to this site.
© All images are copyrighted by their respective authors.
I blame Emma Chamberlain for feeling like I need a crop denim vest top even though I've lived most of my life fine without one.
It's another post inspired by the style of one Emma Chamberlain. I must admit YouTube brought me to one of her videos and that was a life-changing one as I rarely get into watching the younger crowd's personalities but hers was pretty engaging. Especially her life commentary videos and at the rare times, she would show her viewers a peek into her mode of dressing. I never cared about vests of any kind until Chamberlain made it look quite good. Effortless. Like it's the thing.
So here's TEN crop denim vest styles (some are tops and can be worn as tops) that may just tickle your fancy if you're about that aesthetic. It reminded me a lot of the ugly duckling years of mine growing up. And still the phase extended till the Y2K. Probably is now even. But a vest in my wardrobe? I perfectly grew up with zero. So, why am I here?
Now that I'm inching into the glorious mid ages of my life, I finally am seeing it. A vest is it.
Check these out:
If you're all about that and happen to be looking for a denim vest that's right for all kinds of seasons, happily check these (mostly vintage_ denim pieces out and thank me and Emma later.
Enjoy the scroll-down now, kids:
Denim vest crop top inspo as a nod to the fashion inclination of one Emma Chamberlain...
Well folks, what do you think of these denim vest crop tops? Are they just versatile or what? Which one do you see yourself wearing?
Till the next one, keep your brains stimulated in the right way, stay active, eat healthy and sleep soundly!
For more fashion inspired by the rare gem that is Emma Chamberlain, keep this space bookmarked.