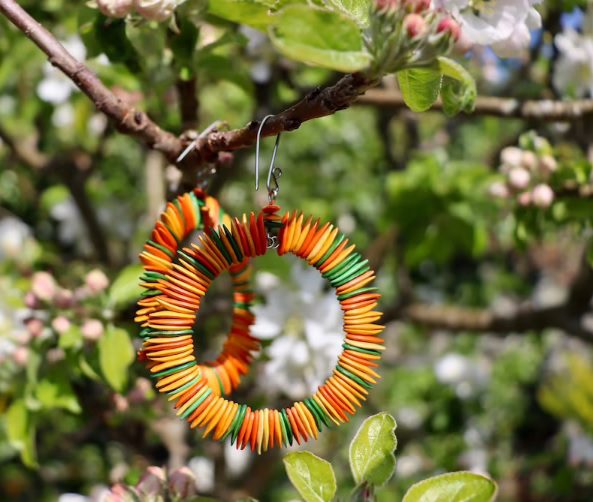 Disclosure: This post contains affiliate links, which means that if you click on one of the product links, a small commission may be credited to this site.
© All images are copyrighted by their respective authors.
Melon seeds put to good use. Brightly-colored eco jewelry that takes into account the beauty of dried melon seeds so you can wear them as earrings, bracelets and necklaces
Nature lovers with a hippie/boho style inclination shall rejoice! Colored melon seeds are ready to take over your bling game this year.
Wondering what unique eco jewelry are out there at the moment that you can wear with full knowledge that you're keeping it on good terms with the environment? Well, two words: melon seeds. Rendered in delicately layered arrangements in high-energy color schemes, these melon seed earrings, bracelets and necklaces will literally take you out of the usual accessory style box.
Their existence is a loving nod to Colombia's creative culture and resources. 
Here's how the melon seeds are processed:
The melon seeds have been dyed using plant extracts, pierced and then dried out in the sun and then threaded together -using a waxed wine to make this awesome ball effect or onto a stainless steel hoop for earrings/ onto a waxed twine to make necklaces/ onto a stainless steel hooks and finished with a comfy twine in the case of the Rasta bracelets. The workmanship involved is highly intricate!
They make for the perfect gift for sustainable, ethical souls and vegan friends.
The melon seed jewelry is fantastic for festival wear or to brighten up any outfit you happen to feel like wearing. The hoops are especially lightweight and so comfy to wear comparison to regular hoops.
The hooks are made from hypoallergenic stainless steel thus making them sensitive-skin-friendly. Colors may fade over time so it's best to keep them away from prolonged time in water. They are after all made of seeds with ZERO added to retain their natural earthy goodness.
For more melon seed jewelry with memorable styles and in a variety of colors –  Please get in touch with Humming Lotus Bird.
Let's eyeball the melon seed beauties now, shall we?
Melon seed jewelry to adorn yourselves & mother earth happy this year:
What do you think of the nature-loving melon seed jewelry? Which one are you moved to wear? Share below – I'm always thrilled to hear from you!
Till the next post, take care of your precious self, do what you love, smile from your heart, laugh from the belly and most of all: let all you do spring from that gooey soft corner in your heart!
To independent jewelry makers: Get in contact with us so we can share your unique creations in this space!
Cheers!
Are you an independent jewelry artist with a collection of unique earrings you're excited to show to the world? Drop us a message so we can have your designs featured here!
Stay inspired, eat healthy and be emphatic to others you meet in your path! We may be outwardly different but we're all the same life stuff on a journey. Take care!