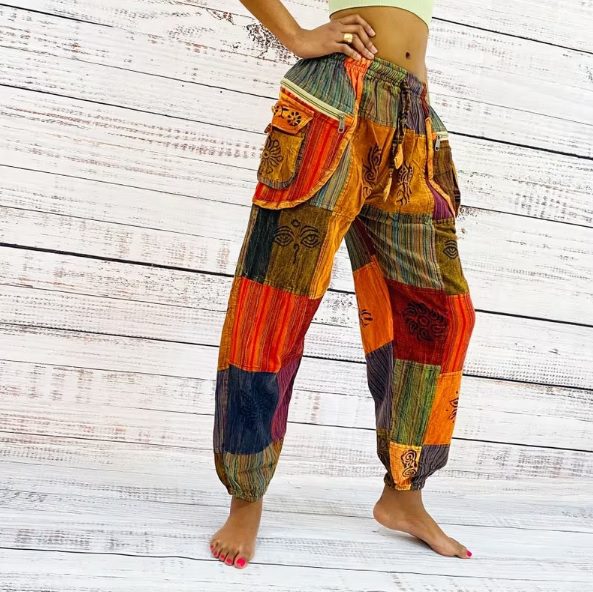 © All images are from and copyrighted by their respective authors.
This affiliate post features a look into the summer printed pants that are guaranteed to make your summer day dressing super fun. Keep the space bookmarked if you're into keeping up with summer trouser fashion inspiration.
Love taking a relaxing stroll in a pair or breezy summer printed pants? Well, I do too.
Don't know what it is with breezy pants with prints but I grew up utterly infatuated with wearing them. Since you're here, I'm guessing you share the same love?
There are a world variety of pants for the summer season and if you're in tropical Malaysia with year-round hardcore humidity, you will know that anything airy is a foolproof way to weather the temps. I've always had an inclination to slip my legs into a pair of cozy printed pants as long as they're super breezy. They call it holiday pants, I think, when I was growing up in the 90s.
I didn't know it then, but I am partial to wanting to wear the cozy pants even when the holiday's over and done with. I would wear them for a school trip when everyone else wore jeans (hey, it was the grunge era) and I would wear them for no other reason because I simply would rather be clad in them breezy patterned pants.
Now that time's completely gone by like in a flash, I still have quite the mad love for printed pants and wear them a lot during my evening walks and during outings. I just love them and so this post is a special nod to all the breezy summer printed pants everywhere that are a feature in your childhood and mine.
Gotta love the soft cooling feeling of the fabric on a hot day and happy prints on them only add to the appeal, right? Here are TEN pair of summer printed pants that you will absolutely adore, I'm sure:
Printed pants to make your summer an endless delight:
So, what do you think of these breezy summer printed pants?
What other summer fashion trends are you looking forward to seeing (and wearing) this year? Share with us!
We love fashion that trigger all kinds of good feelings.
Kindly email us if you would love to have your own unique fashion collection featured in this space. We'd love to hear from you!
Till the next one, keep healthy, move your body, nourish it well and make time for meditation!
Stay free.