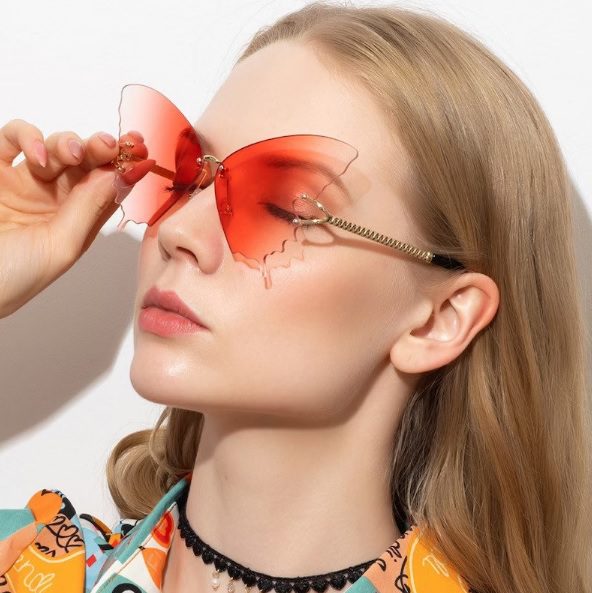 © All images are from and copyrighted by their respective authors.
This affiliate post features a look into the cool summer butterfly eyewear  that are guaranteed make your day-at-the-beach ensemble and everyday attire POP. Keep the space bookmarked if you're into keeping up with stylish sunglasses fashion inspiration.
Get your summer face framed with a pair of sassy butterfly sunglasses!
It's the season of sun-in-your eyeballs and we're here for it. After a long cool and wet spell here in tropical Malaysia, it's always nice to be brought back to life by very enthusiastic sunshine. With the good stuff comes the challenging stuff like attempting to see across the road while driving and the sun is LITERALLY in your eyes. The blind spot can be a killer. Sunnies are a super cool thing to wear during these periods and if they're shaped in the form of butterfly wings? Well, count me in!
So, summer's in full swing somewhere on Earth. With me being in sunny old Malaysia, we must protect the eyeballs at all cost from the glare with a pair of sunnies. It's a PLUS if they're cute too.
When the butterfly sunglasses popped up into my radar, I'm actually amazed that I'd gone years without being tempted to don a pair. Granted, I've only just spotted them today and I love cool-shaped sunnies and who isn't a fan of butterflies!?
If you think your face shape is going to struggle wearing this sunglass style, RELAX because you're definitely WRONG girlies. They will suit all kinds of face shape situation if you love the shape! Don't let anybody tell you otherwise. Of course, it's up to you. Some sunglass shapes work best on my oval face but I have a feeling that the butterfly ones will go well framing my shiny summer face game.
If you're into butterflies and are naturally excited about summer sunglasses, then let us peek into the world of butterfly sunnies out there, together. Scroll on and kindly enjoy!
Butterfly sunglasses to spice up your summer look:
So, what do you think of these butterfly sunglasses? Would you wear them for that cool summer look?
What other summer eyewear fashion trends are you looking forward to seeing (and wearing) this year? Share with us!
We love fashion that trigger all kinds of good feelings.
Kindly email us if you would love to have your own unique fashion collection featured in this space. We'd love to hear from you!
Till the next one, keep healthy, move your body, nourish it well and make time for meditation!
Stay free.