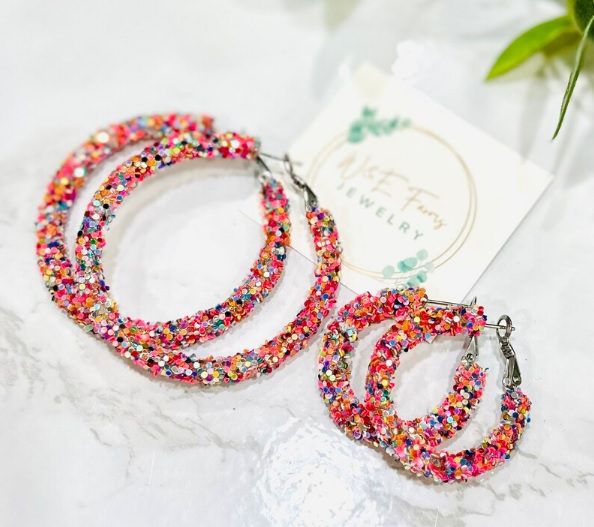 Disclosure: This post contains affiliate links, which means that if you click on one of the product links, a small commission may be credited to this site.
© All images are copyrighted by their respective authors.
For ears that are delightfully cheery: Get confetti earrings hanging on them.
Are you the kind that gets confetti thrown over your person OR the person in charge of releasing the confetti OR the cleaning crew that gets all the confetti removed from the space after the confetti-throwing ritual is done?
I'm the kind of person that sits there wondering who's going to clean up the confetti after.
Regardless of what you are in relation to the confetti, there's no denying that bits of paper/mylar/metallic material being festively thrown around can be a bit of a waste. Why not have them all strategically condensed in a pair of earrings? Well, jewelry designers have indeed thought of that and crafted them into stunning pieces of colorful and sparkly imaginations.
So, ff you're a confetti-appreciating person with a love for statement earrings, then perhaps, a pair of statement confetti earrings is the way to go! They're so many of them out there but I've carefully selected 10 confetti-themed earrings that you might just want to call your own.
Scroll on and enjoy!
Confetti earrings for happy ears all year long:
Did you know that 'confetti' is the plural of Italina 'confetto' meaning a small sweet?
What do you think of these confetti-inspired earrings? Which pair of statement confetti earrings would you love to wear? Share below – I'm always thrilled to hear from you!
Till the next earring post, take care of your health, do what you love, smile a little bit bigger, laugh a little bit louder and most of all: let all you do spring from that gooey soft corner in your heart!
To independent jewelry makers: Get in contact with us so we can share your unique creations in this space!
Cheers!
Are you an independent jewelry artist with a collection of unique earrings you're excited to show to the world? Drop us a message so we can have your designs featured here!
Stay inspired, eat healthy and be emphatic to others you meet in your path! We may be outwardly different but we're all the same life stuff on a journey. Take care!