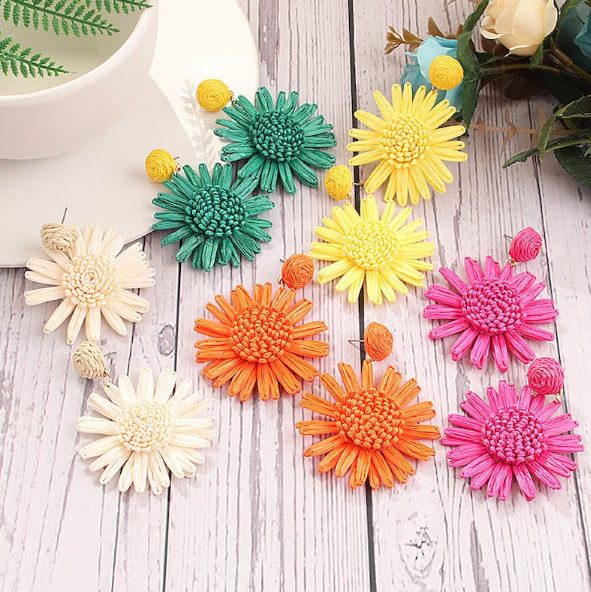 Disclosure: This post contains affiliate links, which means that if you click on one of the product links, a small commission may be credited to this site.
© All images are copyrighted by their respective authors.
Let raffia ratten earrings dangle on your ears as they frame your sun-kissed face this summer.
Summer time calls for airy fabrics and lightweight materials. Earrings that hang light and shine bright are the best summer jewelry option and we're all about it! Being a fan of rattan bags in general, I'm inclined to get excited when there is a world of rattan and raffia earrings to go gaga for. I love unique earrings that are made of unusual materials and both raffia and rattan are two summer-approved materials for a super lightweight ear game situation.
If you're one to don a pair of cheerful earrings to frame your happy summer face with a splash of color, then why not consider a pair of raffia rattan earrings. Raffia and rattan are materials you're inclined to spot in summer bags and accessories as well as summery home décor. 
A pair of earrings in raffia and rattan would just be the next natural coveted summer accessory! They can really sweeten up your summer attire and we'll let you decide after viewing our compilation of raffia rattan earrings below.
Enjoy!
Fun raffia rattan earrings for ears that whisper sunshine and breeze:
Did you know that 'raffia' is a palm tree native to tropical Africa and Madagascar?
What do you think of these raffia rattan earrings? Which pair of the lightweight summer earrings would you love to wear? Share below – I'm always thrilled to hear from you!
Till the next earring post, take care of your health, do what you love, smile a little bit bigger, laugh a little bit louder and most of all: let all you do spring from that gooey soft corner in your heart!
To independent jewelry makers: Get in contact with us so we can share your unique creations in this space!
Cheers!
Are you an independent jewelry artist with a collection of unique earrings you're excited to show to the world? Drop us a message so we can have your designs featured here!
Stay inspired, eat healthy and be emphatic to others you meet in your path! We may be outwardly different but we're all the same life stuff on a journey. Take care!