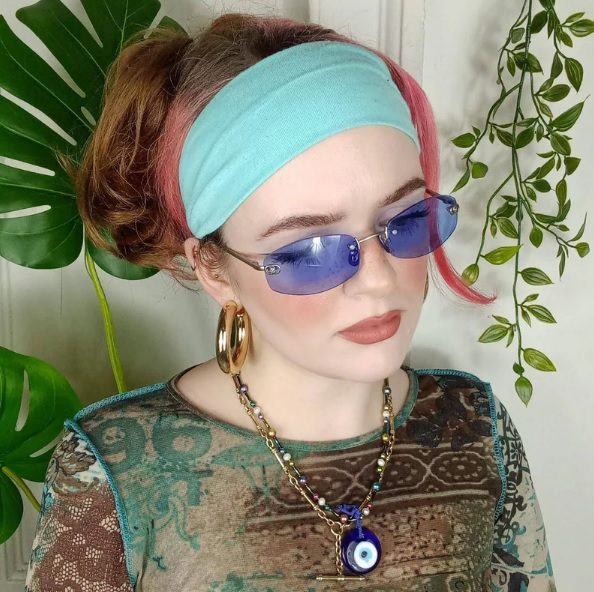 Disclosure: This post contains affiliate links, which means that if you click on one of the product links, a small commission may be credited to this site.
© All images are copyrighted by their respective authors.
Elevate your eyewear game this summer with statement blue lens sunglasses made cool by Johnny Depp.
Sunnies, well, there are so many of them! But I'm zooming in on the blue lens, folks.
This is the year to wear blue sunnies and I'm all for it!
I did not watch the whole courtroom situation streamed live on YouTube but I kinda dug those blue sunglasses worn by Johnny Depp. TBH, I didn't think sunglasses with blue tint had any functional difference aside from aesthetics but boy, was I wrong!
Do you find yourself acutely obsessed with blue sunnies upon seeing Johnny wearing his while in court? Me too! I've read that there are those blue sunglasses worn for nighttime ease of gazing into the screen but these blue ones are for the summer days with a lot of expanse of bright light.
Here's me wearing mine the other when it was both hot and rainy:
What do you think? Am I looking cute or super cute?
It is year 2022: I finally worn a pair of rimless blue sunglasses in a cat eye style that I got for a steal and I will tell you that it's a game-changer! I seriously thought blue tint sunnies are empty of function and it's purely for fashion. Now I know better!
Blue sunglasses are apparently great for when the weather is foggy and misty out like today here in old Malaysia.
For me personally, I have found from my new experience of the sunnies themselves, that the blue tint helps to neutralize the glare and improves my visual perception whilst driving as it opens up my visual field in the day. And when I am working with the screen on my phone, it's absolutely amazing at taking away the unnecessary glares at the periphery.
So what sort of blue tint sunnies are out there you wonder? Well, as per usual there are tons of blue lens eyewear styles and I am here to help you narrow down your choices to a few must-have designs.
Let's look at them now, shall we?
Freshen up your eye game with something blue and tranquil this summer:
Folks, what do you think of these blue lens sunnies? Would you be wearing them anytime soon? Which style is so right up your alley? Share away, please!
Till the next post, take care of your precious self, do what you love, smile from your heart, laugh from the belly and most of all: let all you do spring from that gooey soft corner in your heart!
To independent jewelry makers: Get in contact with us so we can share your unique creations in this space!
Are you an independent jewelry artist with a collection of unique earrings you're excited to show to the world? Drop us a message so we can have your designs featured here!
Stay inspired, eat healthy and be emphatic to others you meet in your path! We may be outwardly different but we're all the same life stuff on a journey. Take care!